Bye Bye UCMC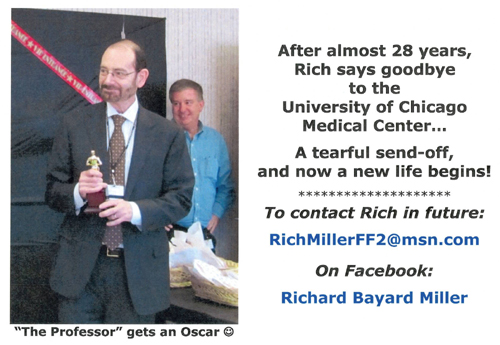 To: University of Chicago Medicine and Biological Sciences Leaders
From: James Watson, Chief Financial Officer
Re: Departure of Richard Miller
Date: February 22, 2012
It is with mixed emotions that I inform you that Rich Miller, vice president for finance, will be leaving the University of Chicago Medicine, effective March 9.
For the past 27 years, Rich has been a dedicated member of the University of Chicago Medicine community, providing expert stewardship of core financial operations through major organizational change and establishing himself as a trusted counselor and leader for the organization.
Rich joined the organization in April 1984 as a staff analyst in the Finance department. Since then, he has held the positions of assistant manager for cost reimbursement, assistant controller, director of internal audit, controller, executive director of finance and vice president of finance.
Richís tenure with the organization has yielded many remarkable achievements. Among them, Rich implemented the original payroll, accounts payable and human resources systems for the hospital in 1989 and 1991 and created the organizationís first internal audit department in 1988. He has been instrumental in recovering tens of millions of dollars for the organization through FICA refunds and Medicare recoveries. Rich was integral to major institutional transactions including the execution of the sale of Weiss Memorial Hospital. He helped the organization produce a string of clean audits and tax returns, including through a comprehensive examination program audit in fiscal years í97 and í98. Most recently, Richís leadership ensured the organization maintained its credit rating for bond offering throughout management transitions over the past three years.
Moving forward, Rich will be pursuing personal ventures, including the movie review website he created with his wife, Jan, which has recently garnered interest from media companies seeking to grow the enterprise.
Please join me in wishing Rich every success and happiness in the future and thank him for all he has done for the University of Chicago Medicine.
A search will be initiated to fill the VP of Finance position.