CHICAGO

IS

DI KATS'

KIND OF TOWN!
On Sunday August 15, 2004, Chicago's Jewish community delighted in a visit from Sholem Berger & Celeste Sollod, creators of the popular Yiddish edition of Dr. Seuss's beloved classic THE CAT IN THE HAT. The New York couple, in town for a family wedding, spent the afternoon acting out their book in both Yiddish & English, then signing copies for the happy crowd.

After the Berger-Sollods finished their part of the program, Tzivi & her friend Jaan taught the group a few simple Yiddish songs.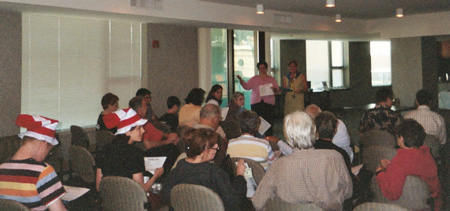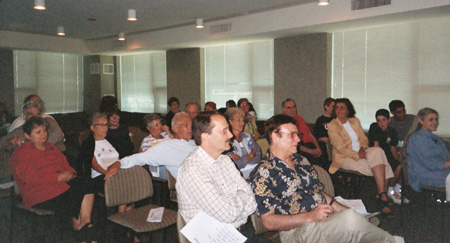 Then it was finally time for schmoozing & noshing!
The program was planned & organized by the Chicago Schvesters (Elisa, Joan, Sara & Tzivi), four friends who met & bonded in one of Rabbi Nathaniel Stampfer's popular Yiddish classes at Spertus Institute. Chicago YIVO provided mailing labels & helped get the word out to the local chaverim. Spertus, Rosenblum's, 57th Street Books, & Women & Children First also helped by distributing flyers.
Additional participants included Professor Howard Aronson of the University of Chicago, who provided contextual background for the famous children's song BULBES ("Potatoes"), & Chicago designer Miriam Bat-Rachel, who displayed items from her popular SIMCHA collection.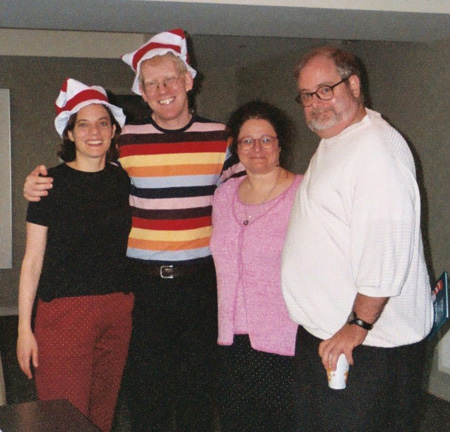 As the afternoon ends,
Sholem & Celeste take some time to relax
with Jan (aka "Tzivi") & Rich.