Jan & Rich Chat with David Spodak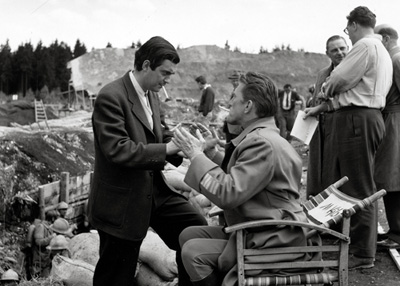 Director Stanley Kubrick (left) with Kurt Douglas on set.
Photo Credit: UNITED ARTISTS/Album/Newscom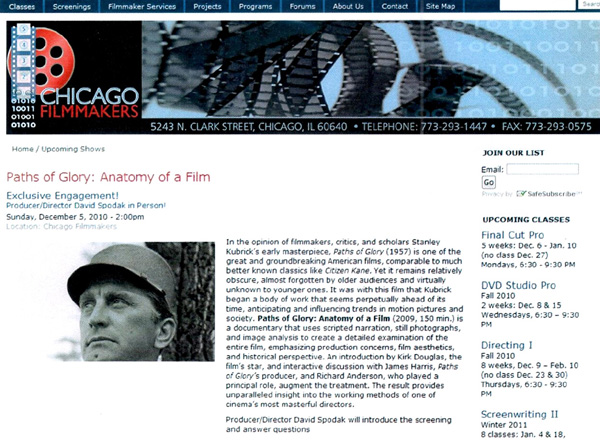 From Chicago Sun-Times Critic Bill Stamets:
David Spodak dissects a 1957 film by Stanley Kubrick for what he calls a "docu-commentary." His 150-minute PATHS OF GLORY: ANATOMY OF A FILM offers a textbook study of the 86-minute PATHS OF GLORY, a searing WWI drama.
This Columbia College Chicago instructor says he teaches aspiring assistant-directors "how to think like a filmmaker." MGM let Spodak sample long segments of the black-and-white film for educational use. This scene-by-scene study employs rewinds, slow-motion, freeze-frames and onscreen diagrams. Spodak notes Kubrick's use of focus, tracking shots and crash cuts.
For context, there's a short interview with Kirk Douglas, who plays a French colonel in PATHS OF GLORY. "It's an anti-war picture and I'm very proud of it," states the actor, who earlier played Ulysses and later played General Patton. Making-of comments come from producer James Harris, who also produced Kubrick's THE KILLING and LOLITA; and Richard Anderson, who plays a French major in PATHS OF GLORY.
The 28 year-old Kubrick spent 66 days shooting a 145-page script adapted from a 1935 novel by WWI vet Humphrey Cobb. Spodak's "close reading" omits interpretations by other critics, historians and scholars. Nor does he place PATHS OF GLORY in the context of FEAR AND DESIRE and FULL METAL JACKET, Kubrick's earlier and later combat films, respectively.
"This is filmmaking stripped bare of all artifice, shunning every cliche and crutch perfected over a half century of American cinema," instructs Spodak. PATHS OF GLORY: ANATOMY OF A FILM is an in-depth look into the narrative and visual style of an American auteur.
© Bill Stamets (12/3/10)