Jan chats with
internationally-acclaimed director
Mira Nair
about her new film
VANITY FAIR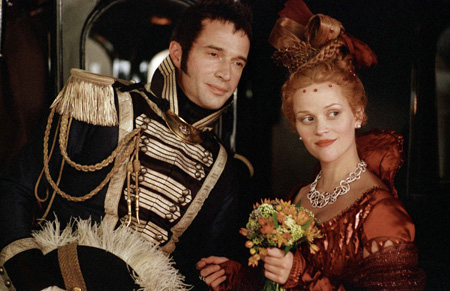 Reese Witherspoon & James Purefoy star in Mira Nair's new film VANITY FAIR,
adapted from the classic novel by William Makepeace Thackeray.
Photo courtesy of Focus Features.

Jan Huttner
Mira, we're here today to discuss your new film VANITY FAIR, but first I have to ask you one question that's really pulling at me. Denzel Washington is an extremely handsome man, and yet the only movie he's made in which he's really "hot" is your 1992 film MISSISSIPPI MASALA. What do you know that none of his other directors know?
Mira Nair
Number one, I have a very high bullshit barometer. I also have a very high recognition of the "ick" factor. One really good thing about being a female director, I know what we find icky in men and what turns us on.
I had to fight to get it from Denzel. I was nobody then, so it was quite hard for me. But I was totally in love at that time and I said that to him: "I am in the stupor of love, and you have to make me feel THAT. The women's audience will just kill if you do this scene the way I'm telling you to." He did it, and we saw the results in the audience. When that movie came out, women were screaming for him.
Jan Huttner
I know I was.
Mira Nair
People ask me: How come the men in VANITY FAIR are all so fantastic? Take William Dobbin, for instance, played in the film by Rhys Ifans. I love this champion of unrequited love, but it is so easy to make a man like that boring in his nobility and his suffering It could be icky, this selflessness How do you avoid that?
Jan Huttner
Well, I love the scene when he's in India and he's all scraggly with a big beard.
Mira Nair
Right! When he's in India, he's gone native. That was one way to keep him "manly" and interesting. You want to know him because he has the bravery in him to be different.
Jan Huttner
When Becky Sharp (Reese Witherspoon) and Rawdon Crawley (James Purefoy), the main characters in VANITY FAIR, have their big good-bye scene, she's so pregnant. She's wearing an incredible red negligee and that scene is really charged.
Mira Nair
That was the gift I asked for from Reese. I really loved the fact that she was pregnant. I said to her: "Your pregnancy is your gift to me. I want a pregnant love scene." And so we designed that scene for almost the very last day of shooting when she was at her biggest, as much as I could get of her. I lit the scene for her belly. And she was totally giving to me.
It's intimate space to be entering, and she totally trusted me. I think it's the sexiest thing in the world for a man to salute the belly, salute the woman who is the miracle of birth. She wasn't sure of that. I said: "Sweetheart, it's the sexiest thing you can do." And James [Purefoy] said: "You have no idea how beautiful you are!"

I think the relationship between Becky and Rawdon is like an earlier era Bonnie and Clyde – two rascals who recognize the rascal in each other; two people who recognize each other and love each other. They are meant for each other.

She makes a tragic mistake, and then he leaves her. These things happen in life. For me, it's heartbreaking. But she goes down that abyss, and then she has to rise again. She just has to keep on living, that's my view.



Director Mira Nair confers with her
star on the set of VANITY FAIR.
Photo courtesy of Focus Features.
I believe the character of Becky Sharp is timeless. She's modern. She's us. If you look at the Jane Austin heroines, they're all sitting in their drawing rooms hoping that the guys will come and propose.
Jan Huttner
Which is what Becky's friend Amelia (Romola Garai) does, because hers is the counterpoint character in the movie, right?
Mira Nair
Exactly. I've loved this novel since I was 16 and this is probably why – Becky never just sat around waiting for that proposal. She got out there because she had to. So that's what I've admired in her, the resilience of a survivor.
Reese Witherspoon is so irresistible; she is steely and yet fox-like. She's a "minx," which is exactly the word William Thackeray uses to describe Becky. She has that appeal and yet because of working together she has that great dramatic complexity that keeps us going with her.
Jan Huttner
The ending is so triumphant. Does Thackeray's novel end in India too?
Mira Nair
In the novel, Jos Sedley comes and marries her, and she goes off with him. Believe me, when we shot that final scene of them heading off into the English countryside, I just went to sleep. Forget it! I cannot do this! This is not the way I want to end it, red carriage in the English countryside, no!
In this day and age, we can't have Becky Sharp turn her face into the corner and have her stand there in punishment for all the "bad" deeds she's done. Forget about it! We're all Becky Sharps. We're all out there doing whatever we have to do in our lives. Since I was born and raised in India, I just said: "Please Thackeray, have a good meal and a cigar. You are smiling, aren't you? We are taking Becky back to the land of your birth." I think it's going to be all right.
Jan Huttner
The final scene loops the film back to a scene near the beginning, when Becky eats a pepper. It gives closure to her wanting to taste all the spices of life.
Mira Nair
Exactly, and all of that's in both the book and the movie, all of that. I just had to do it in a way that makes it pop out. In VANITY FAIR, we don't know the color beige!
Jan Huttner
I noticed that you included a dedication to Edward Said in the end credits. Is there something specific you want to say about him?
Mira Nair
Edward was a great friend of ours, our neighbor actually; we lived near him in New York. So his death was a real loss to us.
He was a great lover of my films, bless him, and we talked a couple of times in depth about VANITY FAIR and my approach to it, just as friends do. Actually, he wrote quite deeply about VANITY FAIR in CULTURE & IMPERIALISM, in the context of the relationship between England and the Empire and the Colonies. And, of course, with a great scholar and thinker like him, I wanted to credit him. His ideas will continue to inspire us, and I just wanted to remind everyone.
Jan Huttner
What do you think he gave you theoretically? Do you think there's anything you can point to that shows the influence of the conversations you had with him?
Mira Nair
Not that I want to give it all to him, but it's the point of view. Because I am directing it, the relationship between the empire and the colony (in this case, India) is laced through the whole film, both in the style and the aesthetics, as well as in the colors and the music, in all sorts of ways.
Edward obviously taught us how England viewed "the Orient." So it's just more fuel for people like us to see it from the other way, like he did, to make that world come to life from our point of view. His work always gave me courage. There is a point to this – for us to express ourselves based on where we come from, and put ourselves and our sensibility in the forefront. It is just that.
Jan Huttner
Do you think that perspective helps you understand new cultures, when you go into a new place and see what could be "other" for you, like the New Jersey family in HYSTERICAL BLINDNESS or the Cuban community in THE PEREZ FAMILY? Do you think the ideas you discussed with Edward Said serve to enrich your point of view when you look at people with backgrounds so different from you own?
Mira Nair
I definitely think so, Jan. For instance, HYSTERICAL BLINDNESS – when that script came to me, it was a story of utter and total bleakness. I respected that it was a story about a loveless universe. I respected that, but I told Laura Cahill, the screenwriter, to make it "American bleak, Bollywood style." I had to joke with her. I said: "You have to break my heart. It is not enough for you to just give me bleakness." When I direct it, I have to break audience hearts. I have to make them weep to understand Debby [the Uma Thurman character].
That is the difference. I am going to make your heart understand Debby from within, so that when she's dancing so awkwardly for the lumberjack, you really feel for her rather than laugh at her – which would be so easy for you to do.
Jan Huttner
Break your heart when Nick, the Ben Gazzara character dies? Debby's mother Virginia (Gena Rowlands) doesn't see that coming.
Mira Nair
None of that was in Laura's original script. In India, we're used to living with other generations in one home all our lives. We understand more than anything the power of the older generation for us in an integrated way. So I asked Laura to add the second love story with the older people. The unexpected love of the older generation becomes the foil. Debby says to her mother: "You have what I am looking for!"
When you look at the typical American movie, independent or not independent, it's all about two people making it or breaking it or whatever. It's almost never about how their love story impacts the generations. American life is often nuclear, just you two, not your family. In India, our lives are much more multi-generation.
Jan Huttner
That's a wonderful segue because I want to give you my husband's reaction to one of your films. When he saw THE PEREZ FAMILY, he didn't really enjoy it. He said: "I don't know what this is…" He's looking for something to be either a tragedy or a comedy. He said THE PEREZ FAMILY had too many "shifts of tone." That comment really surprised me. I said: "Sure! Just like real life!"
To me, "shifts of tone" are required when the story is about a community of characters. So my question is: how do you draw audiences into that web? How do you teach them to have the patience to watch, to watch "real life" with so much complexity? Your films can never be boiled down to a nuclear family, or to this one character or that one.
Mira Nair
It's all in how I do it. Keeping the buns on the seats is very important to me. It requires that ineffable thing called rhythm and balance in moviemaking. Foils have to be created, counter-weights. From the intimacy, let's say, of a love scene to the visceral, jugular quality of war. That shift is something in the editing, how one cuts from the intimate to the epic that keeps you there waiting. The energy propels you, the energy.
Jan Lisa Huttner (9/1/04)



Director Mira Nair adds her flair for color to the
cobblestone streets of Merry Old England.
Photo courtesy of Focus Features.

INTRODUCING
MIRA NAIR

by Jan Lisa Huttner
Mira Nair is the director of VANITY FAIR, a new adaptation of William Thackeray's classic novel, starring Reese Witherspoon as social climber Becky Sharp. She is also one of my all time favorite directors.
Born in India in 1957, Mira Nair was educated first at Delhi University and then at Harvard. She made her first feature film, called SALAAM BOMBAY!, in India in 1987. It was a huge international success, winning over twenty-five film festival awards culminating in an Academy Award nomination for Best Foreign Language Film. Even though the Oscar went to Bille August's haunting film PELLE THE CONQUEROR that year, Nair was launched.
Her subsequent films have taken her to locations around the world. Her most popular film to date is MISSISSIPPI MASALA, starring a very hunky Denzel Washington. Set in the American South, it concerns an Indian family expelled from their African home by Ugandan dictator Idi Amin. She followed this with THE PEREZ FAMILY about people forced out of Cuba when Castro came to power. These films have plot lines that make them sound like heavy-going, but they're not. To the contrary, all of Nair's films are filled with music, color, and vibrant life. People face their obstacles, weep, laugh, dance, and gossip, gossip, gossip – in a film by Mira Nair, reel life is just like real life compressed.
In 2001, Nair released MONSOON WEDDING to tremendous critical and commercial acclaim. Like the American hit MY BIG FAT GREEK WEDDING, MONSOON WEDDING is a family dramedy with a huge heart. Naseeruddin Shah stars as the patriarch of a Punjabi family trying to keep everyone moving forward while relatives pour into Delhi from points all around the globe. MONSOON WEDDING received a Golden Globe nomination for Best Foreign Language Film.
Nair has also directed two award-winning films for television. 1998's MY OWN COUNTRY is based on Dr. Abraham Verghese's best-selling memoir about a young immigrant doctor dealing with the AIDS epidemic. HYSTERICAL BLINDNESS, from 2003, is set in a working class neighborhood in New Jersey. Uma Thurman, who also served as Executive Producer, won a Golden Globe Award in the lead role, and Gena Rowlands (currently starring in this summer's surprise hit THE NOTEBOOK) received an EMMY Award in the role of Thurman's mother.
Nair has one son, Zohran, born in 1991. Her husband, Mahmood Mamdani, is Ugandan. Citizens of the world, this family travels constantly, and maintains residences on three continents (Africa, Asia, and North America). Nair is currently working on an adaptation of Tony Kushner's play HOMEBODY/KABUL for HBO, and there is also talk of taking MONSOON WEDDING to Broadway.
About her new movie, Nair says: "Looking at pre-Victorian London to adapt Thackeray's gloriously entertaining saga, VANITY FAIR, I find an enormous panorama of themes familiar to our society and to our cinema: a woman who defies her poverty-stricken background to clamber up the social ladder, unrequited love, seduction through song, a mother's sacrifice for her child, a true gentleman in a corrupt world... Human drama, ambition and its resulting folly, is never out of date."
Jan Lisa Huttner (8/15/04)