As the saying goes, "When the going gets tough, the tough get going." Historically, recent traumas in Jewish life have resulted in creative explosions. The Russian pogroms produced Sholem Aleichem, Marc Chagall, and the peak of Yiddish culture. The Holocaust gave us Saul Bellow, Philip Roth and Broadway's Golden Age. Now Despite a raging intifada and political controversies dividing the country, the last year has witnessed a cinematic revolution in Israel. After years in which the average national output was approximately a dozen, the last year has seen the release of over 20 noteworthy Israeli films. And as it did for the two Technion chemists recently recognized by the Nobel Prize committee, the world is taking notice.

This year's Chicago International Film Festival, for example, featured two Israeli films, CAMPFIRE and THE SYRIAN BRIDE, both of which have received multiple awards. THE SYRIAN BRIDE received the Audience Award at the Locarno International Film Festival (Switzerland), and four awards including the People's Choice Award at the Montreal World Film Festival. CAMPFIRE, which produced a Don Quixote Award for director Joseph Cedar at the Berlin International Film Festival, also received five top awards from the Israel Film Academy ("Offir Awards"), including Best Picture, making it Israel's candidate for Best Foreign Film at next year's Oscar ceremony.

Add those awards to the Olympic metals and Nobel Prizes, and Israel is having a good year. So when the 2004 Israel Film Festival opens at Loews Cineplex Pipers Alley Theater in Chicago on Wednesday, November 3rd, you owe it to yourself partake in the wonder of this resilient country.

The Chicago schedule runs from November 3 through November 14 and includes seven feature films, eight documentaries, and nine television programs. While we were not able to sample them all, there are five programs to which we'd like to draw special attention. In the feature film category, we recommend MISS ENTEBEE, NO LONGER 17 and TURN LEFT AT THE END OF THE WORLD. We also recommend the documentary COLUMBIA: THE TRAGIC LOSS and the television drama JERUSALEM BREW.

*****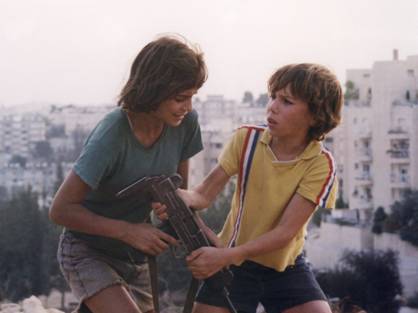 Courtesy of Aspamia Films
MISS ENTEBEE. Noa is a twelve year old girl on the cusp of womanhood, dealing with issues and emotions she only half understands. Sensing the tension in her parents' marriage, she reacts in a typically teenage manner: she distances herself from her mother and turns to her neighbor, the beautiful Elise, for friendship and advice. But then Elise leaves for what was supposed to be a short business trip, and is taken hostage on the fateful flight hijacked to Uganda's Entebbe Airport.
Facing this crisis, Noa and her neighborhood friends, including Elise's son, band together for comfort. They huddle in front of the television set, watching the "talking heads" confer, the strain on each one captured in stark black and white. Then they hike across the hills of Jerusalem, with its mesmerizing rows of pale stone apartment complexes punctuated by deep green trees and rock-strewn gullies. They get themselves into trouble, but the ordinary rules of daily life have been suspended; even when one of the fathers realizes that his Uzi is missing, the parents are too preoccupied to pay sufficient attention.
In addition to its tense storyline and top-notch performances, MISS ENTEBEE is distinguished by both its cinematography and its soundtrack. Of all the films featured here, it does the best job of capturing Jerusalem's unique physical qualities. MISS ENTEBEE received the Glass Bear Award at the Berlin International Film Festival's Kinderfilmfest in 2003, as well as First Prize at the Taiwan International Film Festival, and is suitable for anyone age ten and older.
*****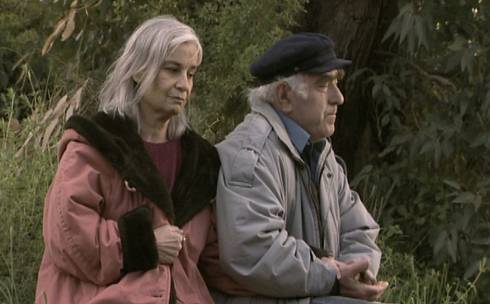 Courtesy of Israel Film Festival Office
NO LONGER 17. Last year the French-Canadian film THE BARBARIAN INVASIONS won the Oscar for Best Foreign Film. NO LONGER 17 is very much BARBARIAN's Israeli counterpart. In both films, a group of aging leftists face the economic and emotional consequences of earlier decisions. Both films are stand-alone sequels, which have additional resonance for those who've seen their prequels. (Most of the characters from 1986's THE DECLINE OF THE AMERICAN EMPIRE reappear in BARBARIAN. Similarly the key characters in NO LONGER 17 were all in NOA AT 17, released in 1982.) And in both films, a son who left the community long ago has made good in the world, and returns with sufficient money to save the day. But whereas BARBARIAN takes place in the world of academia, NO LONGER 17 is set on a kibbutz, reflecting the whole unfolding development of the Jewish state.
Young people may not be familiar with the kibbutz movement, but most Jewish–Americans over thirty will know exactly what a kibbutz is, and many will have spent time on one. The kibbutzim, collective farms first established in the early 20th century, took as their mission the creation a "new kind of Jew," tan, physically strong, and close to the land. Almost all of Israel's most prominent military and political leaders were kibbutzniks.
But as NO LONGER 17 shows with painful clarity, all of that is now old news. The kibbutz movement succeeded, probably beyond its greatest hopes, but the world has moved on and there is no future for these once mighty lions. Nevertheless, in the words of our great Jewish-American playwright Arthur Miller: "Attention must be paid." NO LONGER 17, named "Best Israeli Film" at the 2003 Haifa International Film Festival, is highly recommended for all adults as well as older, more sensitive teens.
*****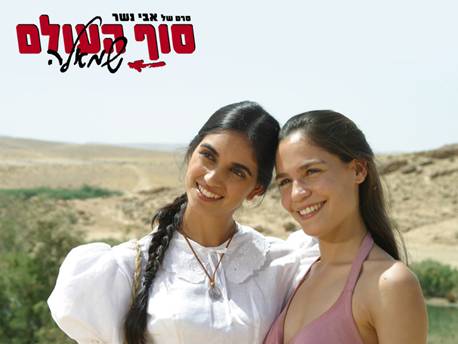 Courtesy of Israel Film Festival Office
TURN LEFT AT THE END OF THE WORLD. Although artistically the weakest of these three feature films, TURN LEFT is a real crowd-pleaser that has become a box office phenomenon in Israel. "The end of the world" referred to in the title is a barren piece of desert where two immigrant families experience a culture clash that is not supposed to exist in the idealized Israeli melting pot.
TURN LEFT is set in 1968 and begins with the arrival of the Talkars, new Indian immigrants placed in an apartment across the street from the Shushan family, who emigrated from Morocco sometime in the 1950s. It is immediately apparent that the two families have little in common beyond their Jewish heritage. The Talkars speak English. The women wear saris and serve curries, while the men play cricket. The Shushans speak French. The women wear flowery dresses and serve couscous, while the men play soccer. They are like most of Israel's Mizrachi founders, from the Moslem-dominated countries, many of whom passed through development towns just like the one portrayed so incisively here.
As the film continues, the children learn Hebrew in school and then advance into the military. The adults, however, feel forlorn and destined to remain in place. So they turn to sex – the great equalizer. (The sexual revolution was apparently alive and well in Israel in 1968!) Note that this film is NOT for children. It contains full frontal nudity and graphic sex acts.
*****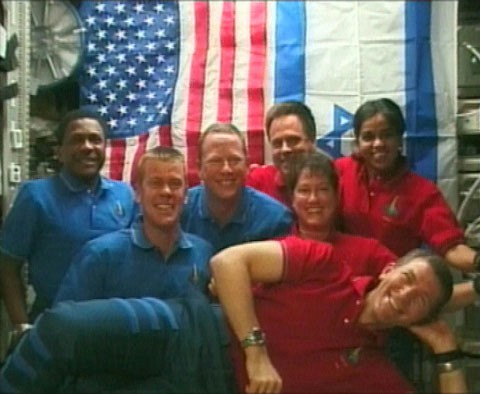 Courtesy of Israel Film Festival Office
COLUMBIA: THE TRAGIC LOSS. This one-hour documentary about the sixteen-day flight of the ill-fated NASA space shuttle, and focusing on Israel's astronaut, Ilan Ramon, who died aboard the spacecraft, is almost too heart-wrenching to watch, so be sure to take along a good supply of tissues.
In addition to extensive footage of Ramon cavorting with his colleagues, performing acrobatics in zero gravity, all of his family members are interviewed, as are key NASA ground team members. We also learn that his battered diary was discovered at one of the crash sites and lovingly pieced together by document specialists at the Israel Museum. We will never learn exactly what went wrong and whether more could have been done to save the crew, but this film wisely chooses to focus on Ramon life, as a husband, father, friend, and dedicated professional, rather than on the details of his death.
How many times now have we seen our tiny blue globe filmed through the window of a spacecraft, and yet never before has the shot zeroed in on the Middle East. For a pregnant moment, Columbia's window is filled first with the Sinai peninsula and then all of Israel, from Eilat on the Red Sea to the country's northern border with Lebanon, from the Mediterranean to the western edge of Jordan, and we hear Ramon's voice urging us to see it all the way the astronauts see it: whole and without borders.
In the final minutes of the film, we hear John Lennon sing "Imagine," as we get our last look at this remarkable multi-racial, multi-ethnic, dual gender crew of seven, and there can be no doubt that this is exactly how Ramon would want us to remember him.
*****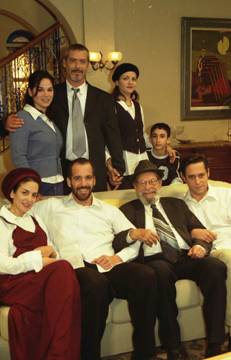 Courtesy of Israel Film Festival Office
JERUSALEM BREW. This segment presents two episodes from a popular Israeli television series about a modern Orthodox family living in contemporary Jerusalem. The patriarch, Eliyahu Sade, is a rabbi, his son Shimon is a prosperous building contractor, and his grandson Itzik is an aspiring rock musician. In the first episode, Shimon and his new wife Leah decide to adopt a handicapped child while Itzik begins a relationship with a secular girl. In the second episode, Eliyahu counsels Itzik to repair his relationship with his father, while Shimon worries that his daughter Ariela will stray from tradition like her brother did.
Even though the shows contain only minimal introduction, they are surprisingly engrossing. The characters are clear and well-developed, and their conflicts are immediately familiar. Credit goes to writer/director Nir Bergman, creator of the wonderful 2002 film BROKEN WINGS, as well as the warm and winning cast anchored by Shmil Ben Ari as Shimon. JERUSALEM BREW was named "Best TV Drama" at the 2003 Jerusalem International Film Festival.
*****
SUMMARY:

© Jan Lisa Huttner (11/1/04)
FF2 EXTRAS:
Click here to read Alan Waldman's overview of LA's IFF Schedule.
Click here to read
Israeli Films: Coming Soon to a Theater Near You!
(Jan's article on 2005 theatrical releases for the JUF News)
FINAL FF2 NOTE:
This article is a slightly expanded version
of the reviews originally published
in the November 2004 edition of the
WORLD JEWISH DIGEST
(Volume 2 Number 3)
& is posted here with their permission.
For WJD subscription information:
Call 312.332.4172 extension 42
or
Fax 312.332.2119