What's happened to Loveleen Tandan?

From Jan (6/27/11): Watching this year's Oscar ceremony on February 27, 2011 was an exhausting experience for me.
One year after the exhilaration of Kathryn Bigelow's historic win (first woman in Oscar history to be named Best Director) & two years after the elation of seeing Loveleen Tandan take to the stage when SLUMDOG MILLIONAIRE was named Best Picture, Oscar Night had returned to same old, same old. Although two films by female filmmakers had made the list of Best Picture candidates, all the Best Director candidates where male and no woman filmmaker was rewarded that night in any category.
So I asked writer Laura Vasilion to follow-up on Loveleen Tandan to see what she was up to two years after "My Slumdog Brouhaha."
It is Written:
The Destiny of Loveleen Tandan
By Laura Vasilion
SPECIAL FOR FILMS FOR TWO®
Dressed in a scarlet sari, Loveleen Tandan was one of the people called to the stage at the 2009 Academy Awards ceremony when SLUMDOG MILLIONAIRE was named Best Picture. But earlier that evening, when Best Director was announced, Danny Boyle took the stage alone. Tandan, listed in the credits as "Co-Director (India)," was not nominated.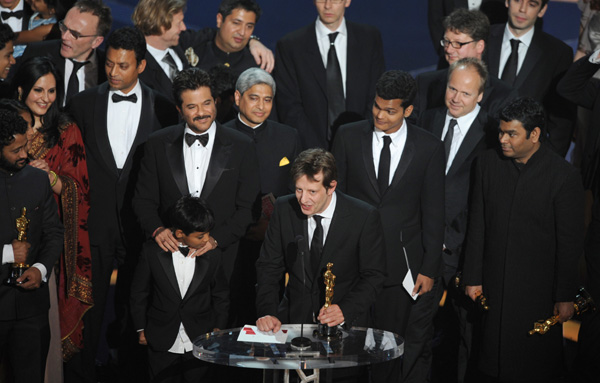 Producer Christian Colson gives acceptance speech at the 81st Academy Awards.
Photo Credit: Gabriel Bouys/AFP PHOTO/NewsCom (2/22/09)
When advocates for women in the film industry found out Tandan's name had not even been placed on the ballot, they cried foul, suggesting sexism played a part in the decision. It isn't hard to follow their logic and understand their outrage. Before Kathryn Bigelow won the Best Director Oscar in 2010 for THE HURT LOCKER, not one woman had received the award and only three had ever been nominated—in over 80 years.
With all the attention heaped on SLUMDOG MILLIONAIRE in 2009, hopes were high that Tandan would be the face of change. But it wasn't to be, despite a global letter writing campaign started by this site's author, Jan Lisa Huttner, demanding to know why Tandan's name wasn't on the ballot. Learning of that effort, Tandan did her best to squelch the rumors. Staunchly and gracefully, she maintained she was honored to have worked with Boyle, who was the real genius and deserved all the praise he was receiving.
That should have been the end of it, I suppose.
But two years after the controversy, the questions it raised still wend their way through the conversations of many critics. I know there are those who are willing to dismiss the exclusion of Tandan by pointing to the rules, or rather lack of them, concerning the academy's nomination of co-directors. Neither the Academy of Motion Picture Arts and Sciences (AMPAS) nor the Directors Guild of America (DGA), I am told, has ever recognized a co-director. In short, there is no Oscar designation for co-direction. Further, only one person can receive the Best Director Oscar each year.
I wish I could agree with them and leave it at that.
The trouble is I also know that there is one really glaring exception to these rules: The Coen Brothers (real brothers Joel and Ethan Coen) were jointly nominated by both AMPAS and the DGA as the co-directors of NO COUNTRY FOR OLD MEN (2007) and TRUE GRIT (2010). Husband and wife team Jonathan Dayton and Valerie Faris also shared a DGA nomination (and won an Independent Spirit Award) as the co-directors of LITTLE MISS SUNSHINE (2006). This suggests to me that organizations are more than willing to change the rules they purport to uphold when it suits them to do so. The question I find myself asking is, when, why, and for whom are they willing to do this?
Perhaps I am naďve, but I believe the majority of academy members do their best to honor the talents of the film industry's gifted assemblage. I am certain they do not cast their ballots lightly. Critiquing peers and their art may involve a fair amount of favoritism but it is a task done with caution and some trepidation. Opinions may just be opinions, but these opinions have the power to make and break careers.
In an industry that relies heavily on peer acceptance and favorable reviews to garner funding for future projects and further careers, being overlooked by the academy for anything not directly related to an academy member's performance is intolerable. To suggest that sexism plays a part in the process is abhorrent to me (and in Loveleen Tandan's case there are also racial and colonial aspects as well).
That said, I cannot explain the dearth of women directors nominated by the Academy of Motion Pictures Arts and Sciences each year.
Which brings me back to Loveleen Tandan, the woman Boyle called his cultural bridge for her work on SLUMDOG MILLIONAIRE. Without her input, Boyle told Huttner, "It would've been such a different, poorer film if she hadn't been involved, and I take credit for that, of course! As I was casting with her, I realized, because I'm not a fool, that I needed her there every day." Of the decision to promote her from casting director to co-director, Boyle said, "She's a proper director. You can feel it." Of Tandan's insistence that Boyle have the children speak in their native Hindi, not English, he said of the change, "It was like a million times better straightaway."
So while Boyle will always be credited with the success of SLUMDOG MILLIONAIRE, Tandan's part in it is undeniable. Working in tandem with Boyle, Tandan doesn't just transport us to the film's location; she deposits us inside it because she understands it. With her, we take to the streets with Jamal and his friends, jabbering along with them in slumdog slang. We slip in and out of the children's terrors and triumphs because we are there with them, feeling the world hurtle past, dodging from its dangers. Yes, life is tough and dirty and unfair in the slums of Mumbai. But through Tandan's eyes we also experience the resilience, loyalty, and love that reside there.
This is Tandan's legacy and the reason why Danny Boyle promoted her to the status of co-director in the first place. So how is it the awards committee couldn't recognize Tandan's invaluable contributions? Was it a case of sexism?
In her public pronouncements at the time, Tandan said no. Mortified by being pulled into the spotlight this way, she said, "I can't tell you how embarrassed I am by this. The suggestion is highly inappropriate." In interviews, Tandan went on to say, "I am greatly honoured by the credit I have been accorded. It would be a grave injustice if the credit I have should have the effect of diminishing Danny Boyle's magnificent achievement."
I admire her loyalty to Boyle and believe she meant every word of what she said. But I think it is possible that Tandan wasn't ready to accept that she'd become, perhaps unwillingly, a catalyst for change. Because of her and the discussions that took place in 2009, thanks in large part to Huttner and her campaign to nominate Tandan, I think it's no small coincidence that Kathryn Bigelow became the first woman to be awarded an Oscar for Best Director the very next year.
Of the film, Tandan has said that SLUMDOG MILLIONAIRE is a story of hope and how life is the greatest teacher of all. That is certainly true for Jamal, who finds the game show questions he has to answer are related to chapters in his life. After many challenges, he finally embraces the fact that his destiny has already been written, because of who he is.
But what of Loveleen Tandan's destiny?
Since 2009, she has receded from the international spotlight and returned to India where it is rumored she is working on the script for a film of her own. Attempts to contact her and her agent for updates have been unsuccessful. Meanwhile, Danny Boyle's career continues on an upward climb. In 2010, he directed 127 HOURS, which was nominated for six Academy Awards (although Best Director was not among them).
One thing is certain. When Tandan re-emerges, I believe it will be as a full-fledged director. I admire her humility and adherence to her principals. Whether she believes she became a catalyst for change in 2009 isn't important. Her destiny has been written. I know we will see much more of her in the years to come.
I also believe, by following her example, she has written the destiny of many female directors to come.
© Laura Vasilion (7/1/11)—SPECIAL FOR FILMS FOR TWO®