Click on cover for Amazon link.


Dixie Chicks Rule!
Go five for five!!!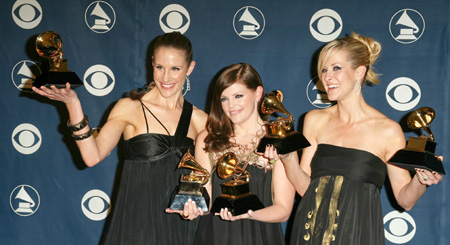 The Dixie Chicks rule the 49th Annual Grammy Awards.
Photo Credit: Amanda M. Parks/iPhoto/NewsCom
Dear Readers,

FF2 is a movie site, so we normally don't track the Grammy Awards. Hard to believe now, but one year ago, FF2 didn't know much or care much about the Dixie Chicks. Now, thanks to SHUT UP & SING, the outstanding new doc by Barbara Kopple & Cecilia Peck, we finally knew enough to jump up & down with excitement when The Dixie Chicks received FIVE Grammys for their new "comeback" album TAKING THE LONG WAY.
To Martie Maguire, Natalie Maines, Emily Robison,
(& to Barbara Kopple & Cecilia Peck),
hearty congratulations from FF2.
Follow this link for more information on the 2007 GRAMMY nominations in general.
Follow this link for a complete list of all the numerous GRAMMY Awards already received by the Dixie Chicks:
Feb 11th Update: DIXIE CHICKS WIN FIVE GRAMMY AWARDS!!!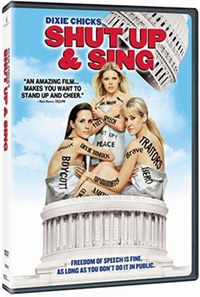 Read Jan's Review of SHUT UP & SING in The Digital Filmmaker.