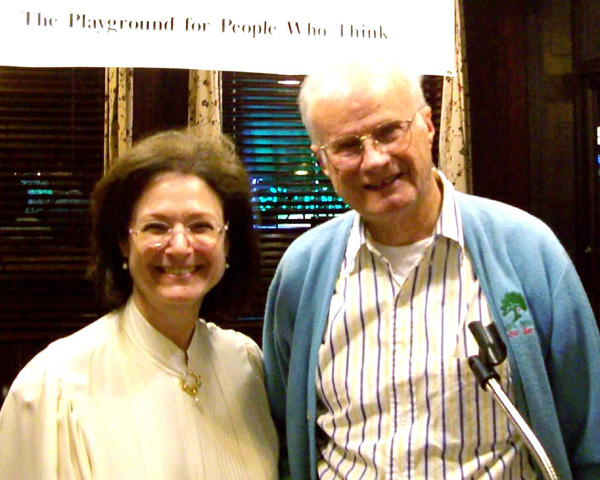 Jan with Hyde Park Peace Activist Brad Lyttle
(Photo Credit: Rich Miller)
CELEBRATE JANE ADDAMS DAY!
Now available for the FIRST time on DVD:
DINNER AT JANE'S
a documentary film created by Suzanne Lacy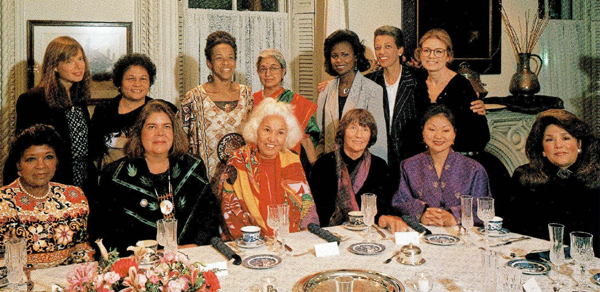 Shot at Chicago's Hull-House Museum in September, 1993,
during the centennial celebration of the Columbian Exposition.

In homage to the founders of Hull-House, who discussed agendas for change and visions of a better future at each evening's meal, fourteen world-renown international activists (Magdalena Abakanowicz, Cheryl Carolus, Hyung-Kyung Chung, Johnetta Cole, Mirna Cunningham, Nawal El Sadawi, Susan Faludi, Susan Grode, Anita Hill, Dolores Huerta, Devaki Jain, Wilma Mankiller, Gloria Steinem, and Addie Wyatt) were invited to actively envision the future within the context of a place rich with historical significance for women.
"Our vision higher; our love deeper; and our work more equal."
(Toast made by Korean activist Hyun-Kyung Chung at the end of DINNER AT JANE'S.)
Click HERE for more info about DINNER AT JANE'S
(including more photos of various dinner guests).
Important note from Jan:
DINNER AT JANE'S
can now be rented for public screenings from
Video Data Bank.
For pictures of audiences all around Illinois watching DINNER AT JANE'S,
visit the "Jane Addams Day" section of Jan's Blog.