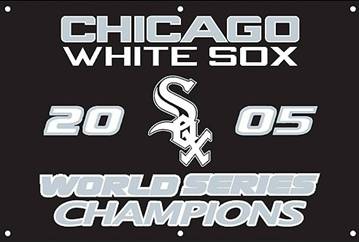 In honor of our beloved White Sox, FF2 presents the thoughts of our grad school buddy Jon Jarrett (as told to Sabryna Cornish of UIC News):

ASK THE EXPERT: THE LURE OF BASEBALL

What makes Americans so nuts about baseball?

This week's expert is
Jon Jarrett
(UIC philosophy professor
&
lifelong baseball lover):
Baseball has a uniquely powerful capacity to magically transport me back to my childhood. I can watch a bunch of kids playing baseball in the rain and see myself out there with them, 10 years old again, having the time of my life.
The appreciation of baseball is passed on from one generation to the next, establishing an unbreakable bond in the process. I take indescribable comfort in this continuity.
Sportswriter Alison Gordon eloquently touched on this feature of the game when she said, "I once stood outside Fenway Park in Boston, a place where the ghosts never go away, and watched a vigorous man of middle years helping, with infinite care, a frail and elderly gentleman through the milling crowds to the entry gate. Through the tears that came unexpectedly to my eyes, I saw the old man strong and important 40 years before, holding the hand of a confused and excited 5-year-old, showing him the way. Baseball's best moments don't always happen on the field."
A recognizable form of baseball is played by children who can barely walk, while the game remains a challenge to the most brilliant and talented adult athletes. History, physics, geometry, aesthetics and psychology converge in baseball to yield a remarkable joy. People who complain that the game is too slow just don't know how to grasp the wonders before their very eyes and they have my sympathy.
For true lovers of baseball, there is a special, slightly masochistic pleasure in enduring the winter months. In November, with memories of the World Series still fresh, baseball season is a long, bleak winter ahead of us. We yearn for the game, but we know that only time can return it to us. Whenever possible, we share our suffering with each other. Most of the time, we simply mask it as best we can.
Each baseball game is an amazing tangle of magnificent possibilities. As the rhythm of the game pulls us ever more deeply into these possibilities, the anticipation of those that might be realized becomes truly sublime.
Author William Saroyan put it this way:
"Baseball is caring. Player and fan alike must care or there is no game. The caring is whole and constant, whether warranted or hopeless, tender or angry, ribald or reverent. From the first pitch to the last out the caring continues. With a score of 6-0, two outs, two strikes, nobody on, only an average batter at bat, it is still possible, and sometimes necessary, to believe something can still happen — for the simple reason that it has happened before, and very probably will again. And when it does, won't that be the day?"
© UIC News. Post Date: 10/26/05. Reprinted with permission.
FF2 Addendum
Jon's Favorite Baseball Films

The starting line-up
(in alpha order):
On the bench
& in the bullpen:
61*
BAD NEWS BEARS (1976)
BANG THE DRUM SLOWLY
EIGHT MEN OUT
BULL DURHAM
FOR LOVE OF THE GAME
DON'T LOOK BACK (1981)
MAJOR LEAGUE
FIELD OF DREAMS
A LEAGUE OF THEIR OWN
THE NATURAL
THE PRIDE OF THE YANKEES
STEALING HOME
Jon Jarrett is an Associate Professor in the UIC's Department of Philosophy. He attended Iowa State (B.S., Physics, 1975), Cornell (M.S., Physics, 1977), and the University of Chicago (Ph.D., Conceptual Foundations of Science, 1983). Before joining the UIC faculty, he taught at the University of Vermont, Harvard, and Cornell. His specialty is the philosophy of science with a particular emphasis on the foundations of physics. He also has more general interests in logic, metaphysics, and epistemology. His publications include "Bell's Theorem: A Guide to the Implications," in PHILOSOPHICAL CONSEQUENCES OF QUANTUM THEORY edited by J. Cushing and E.McMullin (1989). Jon is also a fabled collector of baseball cards & related memorabilia.
Jon can be reached at jarrett@uic.edu
Sabryna Cornish, associate editor of the UIC NEWS and former production associate at the CHICAGO TRIBUNE, received a bachelor's degree in journalism and a master's in communications from Northern Illinois University. Before joining the TRIBUNE, Cornish was county reporter/editor at PRESS-REPUBLICAN Newspapers in the western suburbs. She is a member of the Society of Professional Journalists and the NIU Northern Star Alumni Association.
Sabryna can be reached at sabrynac@uic.edu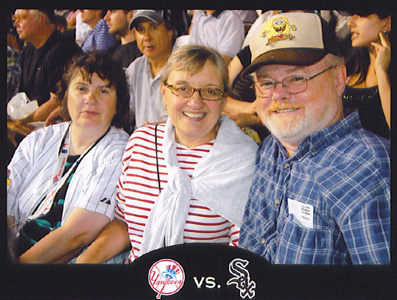 8/10/06: Jon & our good friend Dorthea (in red)
cheer the Sox on to another win over the Yankees!