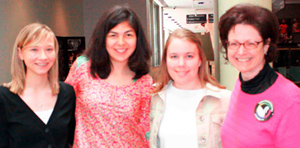 Jan with her 08/09 mentees (from left):
Rebecca Sutich, Erica Trejo, & Brigid Presecky.


INTRODUCING
THE CINDY BANDLE
YOUNG CRITICS
CIRCLE


From Jan: In May 2007, Cheryl Corley (a Chicago-based correspondent for National Public Radio) and her friend Willa Taylor (the Director of Education and Community Programs at Chicago's internationally-renowned Goodman Theatre) attended a program called "Where Are the Female Critics?" sponsored by AWJ (Chicago's Association for Women Journalists).
Leaving the program, Cheryl and Willa has a brainstorm: why don't we train some?!? And so began the innovative Cindy Bandle Young Critics Circle.
Last year, I was privileged to serve as mentor to three very special young women: Brigid Presecky, Rebecca Sutich, & Erica Trejo. Over the course of many, many Saturdays, we met in large group & break-out sessions to discuss challenging works like Regina Taylor's MAGNOLIA as well as fun plays like A CHRISTMAS CAROL. We were also among the first people on the planet to see Lynn Nottage's incredible RUINED, which went on to win the 2009 Pulitzer Prize for Drama!
Becca, Brigid & Erica: You all taught me way more than I taught you! It was a pleasure getting to know all of you, & I hope we always stay friends!

READ REVIEWS BY MORE CBYCC CRITICS:
27 DRESSES
NICK & NORAH'S INFINITE PLAYLIST
SHERRYBABY
THE TWILIGHT SAGA
UNDER THE SAME MOON
About the Cindy Bandle Young Critics Circle: Offered completely free to young women in the 11th grade throughout Metro Chicago, this joint venture between Goodman Theatre and AWJ introduces young women to theater criticism and the world of professional writing. Participants receive press tickets to Goodman productions and one-on-one mentoring from professional journalists. They also have the opportunity to interview artists associated with Goodman Theatre productions!

Click HERE to read more about the Cindy Bandle Young Critics Circle.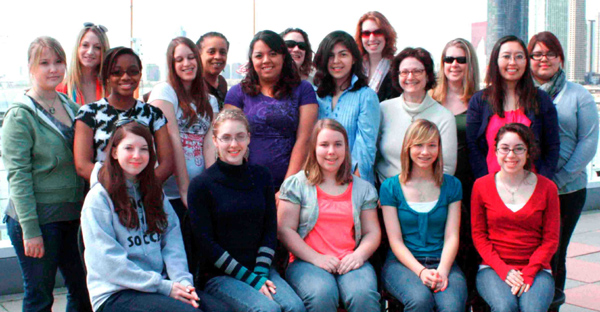 All Photo Credits © Cheryl Corley.
THANKS, Cheryl!!!