BOLLYWOOD ON TCM
Special Intro for FF2 by David Chute

You read last year's monumental FILM COMMENT "midsection" supplement "Bollywood Rising: A Beginner's Guide to Hindi Cinema" and have been seething with frustration ever since because you just can't find the time to give Indian popular cinema a squeeze. Now the enterprising Turner Classic Movies (TCM) cable channel has taken all the guesswork out of dipping your big toe into this Indian Ocean of movies.
Programmed by FILM COMMENT contributor Nasreen Munni Kabir, the twelve-film mini-festival "Hooray for Bollywood" (three films each Thursday evening in June) is a near-perfect masala survey course, ranging from revered official classics like Guru Dutt's majestic PYAASA (THIRST, 1957) to top-drawer recent hits such as Farhan Ahktar's yuppie/buddy romance DIL CHAHTA HAI (THE HEART DESIRES, 2002).
Every last title is either delightful or historically pivotal or both: Aditya Chopra's DILWALE DULHANIA LE JAVENGE (THE BRAVE HEART WILL CARRY OFF THE BRIDE, 1995) is a trend setting NRI romance set partly in Europe, while Ram Gopal Varma's RANGEELA (COLORFUL, 1995) is simultaneously one of the most propulsive recent Bollywood musicals and a rare behind-the-scenes satire of the Bombay film world.
However, the date we're circling in red on our calendar is June 19, when the career-making film of our all-time favorite Bollywood star, Shammi Kapoor (the so-called "Indian Elvis"), screens at 10:30 PM. This is an event not just because Kapoor's JUNGLEE (SAVAGE, 1961) was the film in which he perfected his hip-swinging, hair-tossing style, but also because it is not currently available on DVD in any form.
A complete schedule for the series is available on line at www.turnerclassicmovies.com. Be there or be square.

SCHEDULE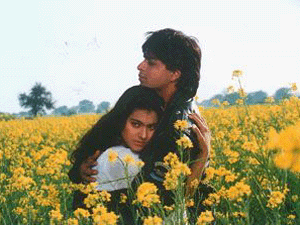 Thursday PM, 6/5
| | |
| --- | --- |
| | Dilwale Dulhania Le Jayenge (1995) A young man follows the woman he loves to India to stop her arranged marriage. Shahrukh Khan, Kajol, Amrish Puri. D: Aditya Chopra. C 181m. LBX |
| | Bombay (1995) Religious unrest threatens the marriage of a Hindu man and a Muslim woman. Arvind Swamy, Manisha Koirala, Nasser. D: Mani Rathnam. C 135m. LBX |
| | Amar Akbar Anthony (1977) Three brothers separated at birth come together to track a kidnapper. Vinod Khanna, Rishi Kapoor, Amitabh Bachchan. D: Mammohan Dasai. C 162m. |
Thursday, 6/12
| | |
| --- | --- |
| | Rangeela (1995) A young actress' rise to stardom is complicated by conflicting affections for her co-star and her childhood sweetheart. Jackie Shroff, Aamir Khan, Urmila Matondkar. D: Ram Gopal Varma. C 143m. |
| | Dil Chahta Hai (2001) Three friends have their lives transformed by love during one marvelous summer. Aamar Khan, Saif Ali Khan, Akshaye Khanna. D: Farhan Akhtar. C 185m. LBX |
| | Sholay (1975) A vengeful police chief forces two small-time crooks to hunt down the bandit who destroyed his family. Dharmendra, Amitabh Bachchan, Sanjeev Kumar. D: Ramesh Sippy. C 162m. |
Thursday, 6/19
| | |
| --- | --- |
| | Pakeezah (1971) A free-spirited young woman refuses a prince's proposal for love of a man she only met once. Ashok Kumar, Meena Kumari, Raaj Kumar. D: Kamal Amrohi. 146m. LBX |
| | Junglee (1961) Young lovers defy the caste system to fight for happiness. Shammi Kapoor, Saira Banu, Helen. D: Subodh Mukherji. C 140m. |
| | Awaara (1951) A bitter young man vows revenge on the two men who destroyed his mother's life. Raj Kapoor, Prithvari Kapoor, Nargis. D: Raj Kapoor. BW 168m. |
Thursday, 6/26
| | |
| --- | --- |
| | Mother India (1957) A family struggles to survive the machinations of an evil moneylender. Nargis, Sunil Dutt, Raaj Kumar. D: Mehboob Khan. C 174m. |
| | Do Bigha Zamin (1953) Family members risk all in a move to Calcutta to raise money and save their land. Balraj Sahni, Nirupa Roy, Ratan Kumar. D: Bimal Roy. BW 125m. |
| | Pyaasa (1957) A young poet searches the world for pure love. Guru Dutt, Mala Sinha, Waheeda Rehman. D: Guru Dutt. 141m. |
Follow this link to read David's essay:
The Road to Bollywood