Screenwriter Lizzy Weiss on BLUE CRUSH
Excerpts from an interview written by Alan Waldman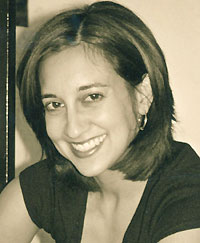 Tell me about your career prior to your big breakout with BLUE CRUSH.

I was born and raised in Los Angeles. Growing up, I always knew I would be a writer. I earned a B.A. in Sociology and Women's Studies at Duke in 1992 and thought I might go on for a PhD and become an academic, because I loved writing papers in college. But then I took a playwriting class that I really loved. So when I went to graduate school at NYU, I started in the Cinema Studies department, because I thought it would be a nice meld of writing and film--but I disliked it, so I switched my major to communications and got an M.A. in that in 1993.

What did you do after grad school?

My first screenplay, The Nineteenth, dealt with Susan B. Anthony's struggle to obtain women's suffrage in the U.S. After her death, the 19th Amendment became law. I enjoyed writing about her, because there was plenty of story value in her life, so the script had a lot of texture. I wrote it for practice, rather than to sell it. Then I was selected to participate in an AFI Television Writers Workshop in L.A., where actors come in and read your script and a professional writer worked on it. That gave me and my work some much-needed validation.
I spent the next five years doing random day jobs… while writing in the evenings. Then I was "hip-pocketed" by a number of agencies, including two of the biggest, for my script Holding Patterns, which told about five twentysomethings who agree to be bumped by an airline on the day before Thanksgiving and then the flight they were supposed to be on crashes. So they spent the night rethinking their lives. A number of young actors and directors were interested in it.
In '99, MTV optioned Holding Patterns as an original movie, and that was the first time I got paid to write. They also paid me to rewrite it. But ultimately it didn't air. However MTV then hired me as a writer on Roland Joffe's sex comedy (television series) Undressed. I spent four months writing several episodes of that, and they aired.

How did BLUE CRUSH happen?

It was based on an article in Outside magazine, by Susan Orlean, called "Surf Girls of Maui," that I was given to read while writing Undressed. I had been put up for a lot of girls' coming-of-age projects, because my two spec scripts dealt with those issues, so I was given the article and asked to come up with a story about girl surfers.

How did you go about writing BLUE CRUSH?

During the previous summer, the U.S. women's soccer team had won the world cup, and the 100,000 women and girls screaming in stadiums woke up Hollywood to the fact that women and girls were excited about women athletes. So it felt like the right time to do this kind of movie. What appealed to me was the passion these surfer girls feel about what they do. They have a deep love for being in the water and spending time together, and they have created a distinctive lifestyle. I took surfing lessons in San Diego at a women's-only clinic. I went to a pro surf contest in Santa Cruz. And then I spent 10 days in Hawaii, meeting the original girls in the article. Since the story I had created was about surfer girls who worked as housekeepers in luxury hotels, I interviewed a number of luxury hotel housekeepers. I wrote three drafts alone, and then Imagine hired John Stockwell to direct … So he (Stockwell) and I did three more drafts together in 2001. Then I was called back for onsite production polishing. The movie is very close to the last draft we wrote together.

How do you feel about doing a film being referred to as a female The Fast and the Furious?

It's very exciting. We are hoping to do it with our own twist, incorporating all the best elements of Fast and the Furious--excitement, action orientation and strong appeal to boys--but also allowing girls to feel incredibly empowered and thrilled. I think that people have always found surf culture to be intriguing.
What were your primary challenges in writing this script?

First, to write a movie that excited both boys and girls. The reason we went through so many drafts was to be certain that this was both a movie where girls were front and center and one which boys would find exciting. I think we really succeeded at that. Boys have seen the preview and seem to be very excited about going to the movie when it comes out. Another real challenge was to make it as authentic as possible to the surf world. If you alienated the real surfers and didn't get them on board, it would be disastrous. Fortunately, John Stockwell is a surfer, as is [Imagine co-head] Brian Grazer. John and I were sent to Hawaii to make sure we understood the intricacies of North Shore Hawaii surf culture, as well as the girl surfer issues, which are very specific. In production, we have top world surfers as surf doubles. A lot of the surf community contributed and felt like this was their movie too, instead of just an exploitation of their sport and lifestyle. So we had the challenge of making a surf movie that was authentic enough to involve real surfers but not so "in" as to exclude non-surfers. And I think we succeeded at that.

What are your thoughts about screenplay structure?

I am big on structure. A screenplay is very different from a novel or short story, which have fewer or no rules. But the best movies follow the rules seamlessly and don't let the viewers see how you hit all your marks--how your character grows and changes, how you introduce a conflict early, how you have the character face their biggest fear near the end, and other old classic devices that work. You just need to learn to do them with a twist.

What about dialogue writing?
In BLUE CRUSH, it was crucial to sound authentic. Other times your goal is to be wittier and funnier than life. It depends on the project. I love Friends' sharp, witty banter, but that doesn't work in every script. Sometimes what you are looking for is messy, real-life, unpolished conversations that go nowhere, with people talking over each other.

And Character?

I love characters who are imperfect. In studio mainstream movies, the goal is always to have a protagonist the audience likes and identifies with, but we also like insecurities and flaws that we relate to. Those are the people we know in real life. So don't let character become too one-dimensional.

What are your thoughts about the treatment of women writers today?

It's a very exciting time for women writers. In the '80s, when I was growing up, it was the time of Porky's, and conventional wisdom was that nobody made movies for girls, because they didn't impact the box office. Now there are tons of projects aimed at girls and women. I am excited and feel lucky that has changed. People call all the time with projects requiring a strong, cool, independent female protagonist, rather than one with some of the previous limited stereotypes. This a great time for women who want to write about women.
FILMS FOR TWO ADDENDUM:

Alan Waldman is a multi-award winning Los Angeles freelance writer who has enjoyed seeing more than 2000 of his articles published in 50 magazines, including TV Guide, The Hollywood Reporter, Honolulu, Texas Monthly, The Los Angeles Business Journal, Sport and Television International. He was elected by his Bellaire High School graduating class the "student least likely to be found dead in a motel room, alone." Waldman graduated from Brandeis University in 1968, with a B.A. in Theatre Arts. He was president of a controversial campus organization called the Dionysian Orgy Society which held lavish toga parties featuring professional wrestlers, belly dancers and theatrical sets.

Waldman has lived and worked in Amsterdam, New York City, Houston, Honolulu, Boston, Cincinnati, New Haven, Dallas and Mainz, Germany, but now loves life in Encino, California with his third and favorite wife, Sherry. Alan and Sherry were in love when they were 15, but they lived on the far opposite ends of Houston, so they tied up their parents' phones for an hour or more each evening. After two unsuccessful marriages apiece, they met nine years ago, when Alan looked Sherry up after reading that a dear friend of hers had just died of A.I.D.S. They met, sparks flew and they married 28 months later in a little Las Vegas chapel. Sherry works for the Universal Television exec in charge of the three brilliant Law & Order shows. The Waldmans have written several travel articles together for AAA magazines and have enjoyed fabulous romantic vacations together to Australia, England, Canada, Mexico, Washington, Oregon, Florida, Maine and throughout California. Sherry is also a professional personal historian and turns people's life stories into personalized books.
FILMS FOR TWO would like to thank Alan Waldman and the Writer's Guild of America for permission to excerpt from their illuminating interview with Lizzy Weiss. We are also grateful to Elaine Brosnan Garza at Outside Magazine for faxing us a copy of Susan Orlean's original article. You can get a copy of "The Maui Surfer Girls" in her new collection THE BULLFIGHTER CHECKS HER MAKE-UP.

To read the full text of Alan Waldman's interview with Lizzy Weiss CLICK HERE

To read Jan's review of BLUE CRUSH in DVDWolf CLICK HERE

Finally, here are a baker's dozen of Alan Waldman's favorite Coming-of-Age Films:

| | |
| --- | --- |
| | 28-UP |
| | 35-UP |
| | 42-UP |
| | 400 BLOWS |
| | BILLY ELLIOTT |
| | BREAKING AWAY |
| | CINEMA PARADISO |
| | GRADUATE |
| | LAST PICTURE SHOW |
| | LITTLE ROMANCE |
| | MY LIFE AS A DOG |
| | OCTOBER SKY |
| | STAND BY ME |
One caveat: please keep in mind that we began FILMS FOR TWO in 1999. Our method of selection is to try to stay current on new releases, and fill in "history" as films appear on our premium cable stations. Therefore, although we've seen many of the films he has named, some of our own favorites have yet to be included in our database (e.g., STAND BY ME).