DOUBT:
Nostalgia for Hardy Souls
Special to FILMS FOR TWO®
by Kris Berggren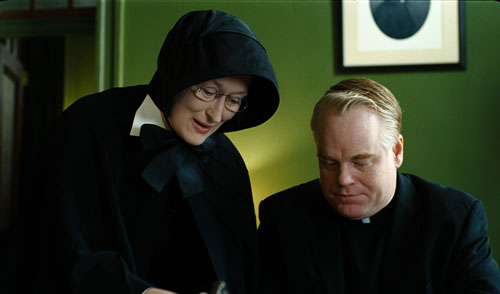 Meryl Streep and Philip Seymour Hoffman in DOUBT.
Photos courtesy of Miramax Films

The A-list leads of DOUBT take on iconic characters of Catholic culture—the tough mother superior, her idealistic young subordinate, and the well-liked parish priest—who, in another screenplay, a different film, would be sanitized and sentimentalized by a musical score or a feel-good plot about underdog kids or a community resurrected by a clever grass-roots fundraiser. Nothing about these characters is whitewashed here—yet nothing but the religious costumes they wear is black and white. This is fitting for a film based on a play originally subtitled "A Parable."
Although the specter of clergy sexual abuse drives the emotional drama involving Sister Aloysius (Meryl Streep), Father Flynn (Philip Seymour Hoffman) and Sister James (Amy Adams), DOUBT is really an exploration of authority and social order, of power and hierarchy. It's about a man's word versus women's intuition—in a man's world. That world is the Catholic Church in 1964, at the cusp of seismic changes in both church and society.
Specifically, in a Bronx, N.Y. parish of first- and second-generation immigrants, Sister James, a young nun teaching 8th grade, suspects popular pastor Father Flynn's patronage of a new student at St. Nicholas is inappropriate and possibly abusive. School principal Sister Aloysius, also wary of Flynn's intentions, elevates her own inquiry into his behavior, confronting a formidable all-male clerical culture that protects its own—the thin black line, you might call it. Yet the boy's own mother (Viola Davis) pleads for her son to remain in the school. The priest denies he's done anything wrong with the boy and challenges the sisters to produce more than circumstantial evidence.

| | |
| --- | --- |
| Streep successfully conveys the strict, unsmiling leadership style that a good many parochial school graduates of a certain age will recognize. (Although Cherry Jones, who originated Sister Aloysius on Broadway, apparently channeled my elementary school principal, Sister Marcella, Streep's portrayal is very fine, and as usual, her Bronx accent is spot-on.) Steeped in a lifetime of following rules and obeying hierarchical order, Sister Aloysius doubts her very foundations as she confronts the psychological trauma of charging her superior, Fr. Flynn, with a serious crime—as well as her doubt that the church that owns them both will even blink at such conduct, much less address it. | Amy Adams as Sister James |
Hoffman conveys Father Flynn's range of affect well. He's jocular yet authoritative with the students as he coaches basketball or holds court among a group of altar boys; he is also filled with growing rage at Sister Aloysius's unrelenting challenge to his reputation and authority, as she probes his relationship with Donald Muller, a student who craves a loving father figure and maybe more. Hoffman is charming and pastoral with the earnest, wide-eyed Sister James whose naïve piety is also threatened by what may be going on in the St. Nicholas sacristy. Adams is excellent as Sister James, taking her religious fervor seriously and portraying her despair at what may well be the unraveling of the orderly way of life she cherishes in her Church. What she's privy to brings sleepless nights and her own doubts about whether to believe Flynn's denial that anything untoward has taken place—or to trust Sister Aloysius's seasoned judgment.

| | |
| --- | --- |
| Viola Davis | "God Is Love," reads a faded, framed picture above the dinner table at the convent. (By the way, the sisters' austere meal—not a morsel wasted, not a word spoken unless in response to Sister Aloysius—contrasts baldly with the rectory dinner, practically an orgy of bloody roast, flowing alcohol and ribald jokes.) But that simple statement of faith is really the heart of the story. Is God about love or rules? Who has the right answers: the church of the past in which everyone— ordained, vowed religious or lay person—knew his or her place; or the church of the future, where such boundaries are erased and dangerous barriers could well be crossed? Who can be certain that he or she knows what God expects? What clues do we have: our feelings, our tradition, our consciences, our observations? As Fr. Flynn says in a homily, "Doubt can be a bond as powerful and sustaining as certain." |
The film's screenplay fleshes out the original script with sensual details that help create the setting and mood, but which sometimes draw attention away from the dramatic tightrope of the Broadway version. For example, the film's Gothic imagery—howling winds and pounding thunderstorms, a recurring blown light bulb over Sister Aloysius's desk and phones ringing at critical moments of discovery—seemed so obvious. And for me, ironically, the film's rich setting provided something of a sentimental journey through the halls of my own Catholic elementary school building. The ghosts of my uniformed classmates come to life in the rows of Irish and Italian-surnamed kids cast as extras. Let's just say I could almost smell the Murphy's Oil Soap and incense. Writer and director John Patrick Shanley, like me a cradle Catholic, formed for better or worse in that church, gets the nostalgia right.
Still, I think it's too bad Shanley, a 1998 Oscar winner for his screenplay for MOONSTRUCK, didn't outsource either the direction or the screenwriting of DOUBT. The original Broadway play, directed by Doug Hughes, which I saw in 2005, was tighter, more powerful and more gripping than the screen version, earning Shanley a Tony, a New York Drama Desk award and a Pulitzer that year. It's worth noting that the Playbill for that production included the playwright's dedication to "the many orders of Catholic nuns who devoted their lives to serving others in hospitals, schools and retirement homes. Though they have much been ridiculed, who among us has been so generous?" Shanley clearly values the Church's vast mechanism of social influence, greased for centuries by tenacious, persevering, strong women with the grit of Sister Aloysius and the heart of Sister James.
It's fitting that the end credits give props from this cast to their Broadway counterparts: Jones, who won the 2005 leading actress Tony award for her role; Brían O'Byrne and Heather Goldenhersh who fully inhabited Father Flynn and Sister James, respectively; and Adriane Lenox as Mrs. Muller, the mother of the boy in question.
EDITOR'S NOTE: As of the date below, DOUBT has been nominated for five Golden Globes (for actors Streep, Hoffman, Davis and Adams, as well as for screenwriter Shanley), has won five awards and has been nominated for 14 others.
© Kris Berggren (12/28/08)
************
| | |
| --- | --- |
| | Kris Berggren is a columnist and contributor to NATIONAL CATHOLIC REPORTER and MINNESOTA PARENT and writes for other online and print publications. Her entirely subjective list of favorite feel-good films includes but is not limited to MARY POPPINS, A LEAGUE OF THEIR OWN, IT'S A WONDERFUL LIFE, STRANGER THAN FICTION and the A&E version of PRIDE AND PREJUDICE. She lives in Minneapolis. |