This March, just in time for Women's History Month, the feminist classic A JURY OF HER PEERS is celebrating its Silver Anniversary, so this sets our theme.
If the title A JURY OF HER PEERS rings bells for you, it's probably because you once read a story by that name in college. The film version of Susan Glaspell's popular novella was adapted by filmmaker Sally Heckel, who turned it into an Oscar-nominated dramatic short in 1980.
A JURY OF HER PEERS is the story of two rural women, Mrs. Hale and Mrs. Peters, who meet at the scene of a puzzling murder. The men investigating John Burke's death are certain that his wife Minnie is responsible. But they don't understand why she killed him, and without clues they have no way to build their case. Once Mrs. Hale and Mrs. Peters come to understand the secrets of Minnie's house, they must decide whether or not to tell the investigators what they know.
After many years in which it was all but forgotten, A JURY OF HER PEERS is now available on video once again, thanks to the distributor "Women Make Movies" (www.wmm.com). You can make a valuable contribution to your community by joining with some friends to purchase and donate a silver anniversary copy of A JURY OF HER PEERS to your local library in honor of Women's History Month. Everyone who borrows it will thank you!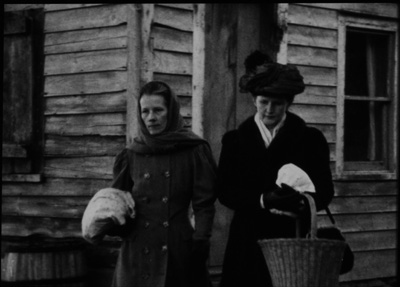 By the time Mrs. Hale and Mrs. Peters
leave Minnie Burke's house,
their lives have been forever changed.
Photo courtesy of Sally Heckel
*****
The "real" Minnie Burke was a woman named Margaret Hossack, and the allegation that she had murdered her husband rocked the small Iowa community in which she lived. "Domestic violence" was not recognized as a crime at the turn of the 20th Century, and her neighbors were horrified by the thought that a woman would take the law into her own hands. Have things changed since then? Yes and no.
A year ago, beautiful actress Charlize Theron received an Oscar for her stunning transformation into serial killer Aileen Wuornos. But the real star of the film MONSTER was writer/director Patty Jenkins, who managed to tell a difficult and painful story with honesty and compassion. Like Margaret Hossack, the real Aileen Wuornos was a victim of violent abuse in the one place she should have been safe, her own home. Jenkins' film is brutal, with none of the delicate understatement that makes Heckel's film such a classic, and yet it is just as thought-provoking.
*****
Despite the star power of Jessica Lange, Jennifer Jason Leigh, and Michelle Pfeiffer, Jocelyn Moorhouse's 1997 adaptation of Jane Smiley's powerful novel A THOUSAND ACRES died at the box office. Audiences weren't ready to see three such glamorous actresses play a beleaguered farm family. But ask yourself this: the first time you read KING LEAR, didn't you wonder why his daughters were so mean to the old guy?
Laura Jones' eloquent screenplay reveals the tragic story of a ruthless man who turned on his daughters after his wife's untimely death, and dared his neighbors to intervene. Michelle Pfeiffer, in particular, gives a brilliant performance as Rose, the middle daughter, a woman so consumed with rage that she will not rest until her father's brutality is finally acknowledged, whatever the cost.
*****
Valerie Jean Solanas, the narrator of I SHOT ANDY WARHOL, also endured her father's abuse, and the experience left her brittle and cynical but also highly resourceful. She became a writer, and pushed her way by sheer force of will into Manhattan's downtown scene. Shooting Pop Art innovator Andy Warhol in 1968 was a turning point in her life, making her a media star in a celebrity-obsessed culture, and a spokeswoman for radical feminism thereafter.
Like MONSTER , I SHOT ANDY WARHOL is a fact-based story told with great sensitivity. Glencoe-native Lili Taylor was already an established star of independent films when writer/director Mary Harron cast her as Valerie, but breathing life into this damaged, kooky character brought Taylor tremendous acclaim, including special recognition for her outstanding performance from the 1996 Sundance Film Festival jury.
*****
Domestic violence is a grim topic, one that most of us would rather ignore. And yet these four courageous women filmmakers want us all to know the moral risk we face when we close our eyes. By telling the stories of Minnie Burke, Rose Cook, Valerie Jean Solanas, and Aileen Wuornos, they remind us of all the women and children around the world still suffering today.
© Jan Lisa Huttner (3/1/05)
FF2 NOTE:
This article was originally published
in the March/April 2005 edition of
THE WOMAN'S NEWSPAPERSTM
&
is posted here with their permission.
Click here to read about the Silver Anniversary Celebration for
A JURY OF HER PEERS, held at the Chicago Cultural Center on 3/19/05.