Larry Gelbart & his wife Pat at a Pen USA Fundraiser held at LA's Skirball Cultural Center called "Forbidden Fruit: Readings from banned works of Literature." April 6, 2006.
Photo Credit:
Dimitri Halkidis/WENN Photos/NewsCom

Tribute
to
Larry Gelbart

By Jill Jaracz

SPECIAL FOR FILMS FOR TWO®

A successful comedy writer manages to find the funny in everyday life and write about it in a believable fashion. Larry Gelbart, who died on September 11, 2009 after a short battle with cancer, was one of these comedic masters.
While this writer/producer/director may be most well-known for bringing the movie M*A*S*H* to the small screen and turning it into one of the most successful TV shows of all time, he also made his mark on the movie world with several comedic screenplays, two of which earned Oscar nominations. In looking back at Gelbart's Oscar-nominated scripts, they acknowledge the full spectrum of his abilities: adaptation and original work.
Gelbart scored his first Oscar nomination for 1977's "OH, GOD!" This adaptation of Avery Corman's novel tells the story of "Jerry Landers," (John Denver) a non-religious assistant grocery store manager who's picked by "God" (George Burns) to spread His message—most specifically that we're doing OK, we should be nice to each other, and we should treat the planet with care because it's all we've got. Although casting George Burns as God was a stroke of genius, the real testament is how well Gelbart translated the novel to the screen, and even though the material was not original, he added many lines to it to increase the humor.
Gelbart's take on the book works as a highly entertaining movie because the characters in it also commit to the idea at hand. Jerry Landers isn't a religious man, but when God levels with him, Jerry becomes a believer. How could you not when God honestly admits choosing you was a crapshoot, makes a building taller than it really is, or creates a thunderstorm inside your car?
Once Jerry believes, the humor escalates. Instead of the laughs solely coming from a humorous, semi-unbelievable situation, Jerry's commitment to God and his earnestness in spreading His message drive the comedy. Jerry draws us in as the underdog who has to convince everyone that God is working through him. His religious wife "Bobbie" (Teri Garr) acts as an initial foil to Jerry's work. Then he has to win over a panel of experts—including one hypocritical televangelist-type preacher—and convince them that God really is using him as a messenger.
After answering a series of questions that only God would know, the panel lets Jerry off the hook—except the televangelist, whom Jerry has a fairly blunt message for. The televangelist sues Jerry for slander, which leads to a climatic courtroom scene where God appears to everyone in the room to set the record straight. The comedic value of God's one-liners is great, but the situation is funnier when the review of the court reporter's transcript and audiotape isn't able to record God's presence. Gelbart's gentle treatment of the situation—heightening the funny without going over the top was the key to this film's success.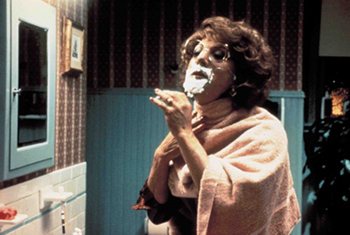 Actor Michael Dorsey transforms himself into soap opera star Dorothy Michaels.
Dustin Hoffman received the 5th of his 7 Best Actor Oscar nominations for this role.
TOOTSIE received 10 Oscar nominations in 1983, including Best Picture & Best Original Screenplay,
& Jessica Lange won a Best Supporting Actress Oscar playing Julie Nichols.
Photo Credit: Columbia Pictures Album/NewsCom
Gelbart's second nomination came for his work on TOOTSIE, an original screenplay written with Murray Schisgal, from a story created with Don McGuire. This movie tells the story of "Michael Dorsey," (Dustin Hoffman) a perpetually out-of-work actor with a rotten reputation, who decides to disguise himself as a woman named "Dorothy Michaels" in order to win a part in a soap opera and earn enough money to produce a play. Dorsey is an incredible success as Dorothy, and the more she takes over his personality, the funnier this comedy gets.
Dorsey is a smart, quick thinker who makes a choice based on inspiration, but then he has to live with the consequences of that choice. At first, it isn't hard to do because he's finally earning the money he wants to make. However, he falls in love with "Julie Nichols," (Jessica Lange) one of his co-stars on the soap, who only knows him as Dorothy Michaels. As feelings evolve, the relationship between all the characters is more than just a love triangle—it's a much bigger shape than that. Dorsey's girlfriend "Sandy" (Teri Garr) still loves him; Dorsey loves Julie Nichols, who's both dating the director of their show and tries to set up Dorothy with her father "Les" (Charles Durning); and Dorothy's co-star "John Van Horn" (George Gaynes) also falls for Dorothy. Every scene in the movie ratchets up the intensity of these relationships and insanity of the situation, yet we can still relate to the madness because we've all been in situations that have quickly spiraled beyond our control. We just may not be able to write them as funny as Gelbart did.
In order to get to that level of humor, Gelbart takes the time to listen to his characters. He creates them, fleshes them out, and then he sits back and records what they have to say. Doing this takes patience and being able to trust your characters, but Gelbart does this with aplomb in TOOTSIE. The characters are so into themselves and into their goals in the movie, that they don't really speak lines. They embody themselves, and the lines they speak are simply projections that Gelbart has managed to capture on paper. Plus, each one of them is smart in his or her own way, even the daffy John Van Horn or Dorothy's ditzy dressing room partner "April" (Geena Davis). As the characters find themselves spinning out of control, we're pulled further into what they're fighting for, whether it be love, money, or respect. When Dorsey decides he has to reclaim his life, he makes a drastic choice, but it's the only way out. Gelbart follows Dorsey down this road, and in doing so, the movie has a satisfying conclusion.
I have to admit TOOTSIE is one of my all-time favorite movies, because every time I start watching it, I'm immediately immersed in the fantastic dialogue. Dorsey does a horrible job of juggling relationships, but he tries so hard that you can't help but be on his side, especially when his character starts to change and relate to women on a level he never imagined. The dialogue zings with one-liners that are incredibly realistic, and as the characters become more exasperated with their situations, the movie gets funnier.
Both TOOTSIE and OH, GOD! work because they follow the simple axiom of truth in comedy. Gelbart writes his characters in such a way that you believe their situations could actually happen, that George Burns could show up in your bathroom and tell you to spread his message, that your favorite soap opera actress could really be a man. Where Gelbart excels is in making his characters smart. This is a Gelbart trademark, whether he was writing for television, the Broadway stage, or the big screen. It's what gives these movies their longevity, and made Gelbart one of the great comedy writers of this era.

FF2 ADDENDUM
Larry Gelbart was a hometown boy, born in Chicago in 1928.
Both parents were Jewish immigrants from Eastern Europe—father Harry from Latvia, and mother Frieda from Poland.
Larry & his wife Pat were married for 53 years. What a mensch!
Read more about Larry Gelbart's life on Wikipedia.
************
| | |
| --- | --- |
| | Jill Jaracz is a Chicago-based freelance writer who has written for a number of print and web sites, including NOT FOR TOURISTS. Before becoming a writer, she spent over a decade as a research librarian for a consulting firm, which included a stint in the company's Munich office. Her list of favorite movies includes TOOTSIE and THE BLUES BROTHERS. |