Mel Brooks and Anne Bancroft at a
Beverly Hills event in 1994
Photo Credit: David Keeler Online USA/Getty/NewsCom

Tribute to
ANNE BANCROFT

Special Thoughts for
FILMS FOR TWO
by Alan Waldman
Anne Bancroft, who died of uterine cancer in New York City on June 6, 2005, at age 73, was one of the greatest screen actresses of the past half-century. She had an enormous range, beautifully playing all kinds of dramatic, funny, sexy and dignified lead and character roles in 53 movies and 12 TV works, over her 53-year career. I loved every performance of hers that I saw, even when she played unlikable characters—like the "mom from hell" in TORCH SONG TRILOGY (1988).
Mike Nichols, who skillfully directed her in THE GRADUATE declared, "Her combination of brains, humor, frankness and sense were unlike any other artist. Her beauty was constantly shifting with her roles, and because she was a consummate actress, she changed radically for every part."
Dustin Hoffman, her GRADUATE co-star, called Bancroft "one of the most alive people I ever met. And her acting just pierced you."
Patty Duke, who, with Bancroft won an acting Oscar in 1963 for THE MIRACLE WORKER, stated, "I don't know if we'll ever see the particular likes of her again. She leaves us with that great throaty rasp and that wicked sense of humor."
Arthur Penn, who directed Anne in MIRACLE WORKER on stage and screen—and whom Bancroft cited as the greatest influence on her career—called her: "a magnificent actress; a woman of rich, rich emotion and great humor. She could do anything. She could play Queen Victoria in a minute. Her great strength was her ability to draw on her emotions. This is very hard for people to do night after night and play after play. What she was able to do was extraordinary."
Bancroft won scads of awards, including an Oscar, two Tonys, two Golden Globes, an Emmy, three BAFTAs and an American Comedy Award for lifetime achievement. She was Oscar nominated five times, for MIRACLE WORKER, THE PUMPKIN EATER (1964), THE GRADUATE (1967), THE TURNING POINT (1977) and AGNES OF GOD (1985). She was also nominated for seven BAFTAs, for films including YOUNG WINSTON (1972), THE PRISONER OF SECOND AVENUE (1975) and THE TURNING POINT (1977)—winning for MIRACLE WORKER, PUMPKIN EATER and 1987's 84 CHARING CROSS ROAD. Bancroft was also nominated for seven Emmys, two SAG awards (1996's HOMECOMING and 2003's THE ROMAN SPRING OF MRS. STONE—both on TV), five Golden Laurels and eight Golden Globes (including 1983's TO BE OR NOT TO BE, 1985's GARBO TALKS and 1986's 'NIGHT MOTHER—winning for GRADUATE and PUMPKIN).
Bancroft was half of one of America's great stage and screen couples, with her husband of 41 years, award-winning writer-producer-director-actor-recording artist-wag Mel Brooks. They did three comedies together: SILENT MOVIE (1976), TO BE OR NOT TO BE and DRACULA: DEAD AND LOVING IT (1995). Their mantel must be crowded, because Mel won an Oscar (THE PRODUCERS), three Emmys (MAD ABOUT YOU), three Grammys (THE PRODUCERS and THE 2000-YEAR-OLD MAN IN THE YEAR 2000), a Nebula (YOUNG FRANKENSTEIN), three WGAs (BLAZING SADDLES, PRODUCERS and career achievement) and three Tonys (for writing, producing and composing Broadway's smash hit THE PRODUCERS: THE NEW MEL BROOKS MUSICAL. (I recently saw and howled through his Broadway-bound next hit musical, YOUNG FRANKENSTEIN.)
ALAN WALDMAN'S 15 FAVORITE ANNE BANCROFT FILMS:
1. THE PUMPKIN EATER (1964)
2. THE TURNING POINT (1977)
3. THE GRADUATE (1967)
4. AGNES OF GOD (1985)
5. THE MIRACLE WORKER (1962)
6. 84 CHARING CROSS ROAD (1987)
7. THE ELEPHANT MAN (1980)
8. MALICE (1993)
9. DON'T BOTHER TO KNOCK (1952)
10. TO BE OR NOT TO BE (1983)
11. UP AT THE VILLA (2000)
12. SILENT MOVIE (1976)
13. GARBO TALKS (1984)
14. YOUNG WINSTON (1972)
15. FATSO (1980)
To help me explain why I find some of my favorite Bancroft pics the most enjoyable, I recently had the great pleasure of re-watching a dozen of them (unfortunately not counting THE PUMPKIN EATER, which is not currently available from Netflix.com).
THE PUMPKIN EATER
Bancroft was nominated for an Oscar, won a Golden Globe and a BAFTA and was named Best Actress at Cannes for this searing marital drama, written by England's then-top playwright Harold Pinter, helmed by Jack Clayton (Oscar nominated for ROOM AT THE TOP), and co-starring Peter Finch, supported by James Mason and Maggie Smith.

The film took four BAFTAs, including Pinter's screenplay, Oswald Morris's cinematography and Motley's costuming. Bancroft plays a woman who seems to find self-esteem and happiness only when she is pregnant and raising kids. After she has eight children, husband Finch convinces her be sterilized, but she is furious once she discovers that he has been cheating on her. Bancroft's stunning portrayal of this lost, lonely, bitter woman helps create an unforgettably realistic portrait of a bad marriage. When I saw this film in 1964, it blew my mind.





THE TURNING POINT
Audrey Hepburn and Grace Kelly weren't available for the roles, so Bancroft and Shirley MacLaine earned Oscar nominations (as did dancers Mikhail Baryshnikov and Lesley Browne) in this excellent drama about two regretful ballerinas—one who chose love and family over career and the other who stuck with ballet into lonely middle age. The ballet scenes are great; Baryshnikov is astonishing. Bancroft is so good (aided by careful editing) that she convinces you she is a real ballerina—at age 46. This fine film garnered an amazing 11 Oscar nominations (including nods for Best Picture, director Herbert Ross and screenwriter Arthur Laurents). Bancroft was given her choice of the two roles, but chose Emma because she "had a stronger message for the women I want to speak to—women who work," she explained. "I wanted to tell them that choosing to work doesn't make them oddballs and isn't antisocial."





THE GRADUATE
In her most famous role, Bancroft is super as the sexy, wryly unhappy older woman who seduces her daughter's 21-year-old boyfriend. AFI ranks this classic black comedy as the seventh-best movie ever. The pic's seven Oscar noms include Best Picture, director Mike Nichols (he won), the adapted screenplay by Buck Henry and Calder Willingham and the performances of Dustin Hoffman, Bancroft and Katherine Ross.

Nearly all her friends discouraged Bancroft from playing Dustin Hoffman's middle-aged seductress (when she was only 36 and he was 30), because it was the highly shocking topic of sex with a younger man. Yet Bancroft related to the character's unfulfilled dreams while stuck in stultifying conventional marriage. New York Times critic Bosley Crowther praised Bancroft's "sullenly contemptuous and voracious performance."

Most members of the original audience best remember Hoffman's classic line: "Mrs. Robinson, you're trying to seduce me. Aren't you?" Mrs. Robinson just laughed.


Bancroft lamented that this one performance came to dominate public perception of her for the next 38 years of her career. "I am quite surprised that with all my work—and some of it is very, very good—that nobody talks about THE MIRACLE WORKER, but insists of seeing me as Mrs. Robinson," she said in 2003. "I'm just a little dismayed that people aren't beyond it yet." This film became a classic and penetrated the national culture, because it so well reflected it. Hoffman became a new type of movie hero, the Simon & Garfunkel score was the first non-Beatles pop-music soundtrack and the flash of a body double's bare breast made movie history. Nonetheless, this pic would not have been the spectacular bombshell hit it was if the originally sought actress had been cast as Mrs. Robinson: Doris Day.





AGNES OF GOD
Bancroft is powerful as the conflicted Mother Superior in a convent where a mentally shaky young nun (Oscar nominee Meg Tilly) appears to have murdered her newborn baby. The mystery is gripping, and both Tilly and Jane Fonda are strong in the leads, but Bancroft is so compelling, subtle and masterful in her scenes with them that they seem like amateurs. I feel that some plot foolishness towards the end weakens this work, whose writing rates about a B+. This is a good but not a great film, but it offers superb Bancroft.

THE MIRACLE WORKER
Utilizing what Irish author Edwin O'Connor called "the most astonishingly accurate Irish accent I've ever heard"—and considerable wrestling skills—Bancroft astonishes in her commanding role of half-blind teacher Annie Sullivan who ultimately succeeds in teaching blind-deaf child Helen Keller (12-year-old Patty Duke). This dramatic telling of a true story won Oscars and scads of other honors for both actresses, while director Arthur Penn, writer William Gibson and costumer Ruth Morley got Oscar nods. The film is no picnic, however; Sullivan physically forces the spoiled child to control her violent emotional outbursts and to learn sign language—which Keller sees only as a finger game until the breakthrough scene at the water pump. Though hard going at times, the movie is ultimately uplifting and satisfying for the audience.

"Most of Annie Sullivan is myself," Bancroft explained while playing the role on Broadway. "It's my own blindness I draw on, my unawareness of myself." L.A. Times critic Charles Champlin called Bancroft's Sullivan "a miraculous portrayal."





84 CHARING CROSS ROAD
Bancroft shines as ascerbic, witty, eccentric Jewish-American TV writer Helene Hanff, who carries on a wonderful 19-year correspondence with quiet, reserved London bookseller Anthony Hopkins (terrific, as usual) and his colleagues. Bancroft is outstanding—funny, touching and surprising. She maximizes all the sly wit in the screenplay, making this film—which has little dialogue and is mostly told through the actual correspondence—a treat. Bancroft won the Best Actress BAFTA while Judi Dench (as Hopkins' wife) and screenwriter Hugh Whitemore were also nominated; Hopkins won Best Actor at the Moscow Film Fest. This enjoyable flick was produced by Anne's devoted husband, Mel Brooks.





ELEPHANT MAN
In another fine serious film produced by Brooks,
director/co-scripter David Lynch brings his dreamy take to the true story of a seriously deformed man, John Merrick (John Hurt) who is rescued from a sideshow and cared for in a hospital by sensitive surgeon , masterfully played by Anthony Hopkins. When he is befriended by popular actress Madge Kindle (Bancroft), Merrick becomes a social celebrity. Although Lynch—fresh on the heels of his breakout freakout ERASERHEAD—delivers the legal maximum in grotesque imagery, this remains a poignant, deeply moving and uplifting film. It features fine work from Hurt, Hopkins, Bancroft, John Gielgud, Freddie Jones and Wendy Hiller. It was justifiably nominated for eight Oscars (Best Picture, Hurt, Lynch, screenwriters, composer, editor, art director and costumer) and seven BAFTAs (winning Best Picture, Director and Art Direction).





MALICE
A good, well-written thriller by Oscar nominees Scott Frank (OUT OF SIGHT) and Aaron Sorkin (A FEW GOOD MEN—and winner of six Emmys for THE WEST WING), Bancroft is great in her one scene as the bitter, alcoholic mother of con-woman Nicole Kidman. This plot has lots of twists and turns, with good performances by Bill Pullman, Alec Baldwin and George C. Scott.


DON'T BOTHER TO KNOCK
In her first screen role, 20-year-old Bancroft does a good supporting turn as the nightclub singer whose rejection sends unreliable boyfriend Richard Widmark into the arms of Marilyn Monroe. MM is very good as a mentally ill woman who tries to hold it together through one stressful night of babysitting. Bancroft has a memorable scene where she attempts to talk the Marilyn out of suicide.

© Alan Waldman (8/1/05)
****************
About Alan Waldman
| | |
| --- | --- |
| | Alan Waldman (at right in photo with wife Sharon) has published more than 2000 articles in dozens of magazines, newspapers and websites, from New York to New Zealand, Amsterdam to Honolulu, Missoula to Orlando—and many points in between. |
When Waldman was a thin, scruffy, starving actor in Hollywood, 35 years ago, he was cast in a production of the short-lived stage musical Oh Fuck, Visigoths (later shortened to Visigoths). Because its producer was too cheap to hire an African-American understudy, Alan understudied all male roles. That included the part of "Leroy the Black Militant," ably played by Ted Lange (below). Waldman recalls, "Had Ted been ill, I'd have had to put on dark makeup and played Leroy with a phony black street accent—and the audience would have torn me limb from limb. So each day during rehearsals or before our four performances, I'd ask Ted if he was OK and if there was anything I could get him. He'd reply, to my great relief, was always: 'No, Al, I fell fine and I'm going on.'"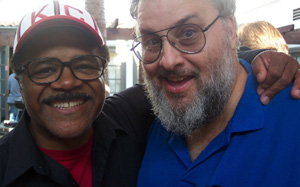 Later in his career, Lange starred in TV's long-running hit THE LOVE BOAT (1977-1986) as Isaac the loveable bartender. Other roles included "Melvin the Pimp" in 1973's TRICK BABY, "a militant" in 1974's BLACK BELT JONES, "bartender #2" in 2003's GANG OF ROSES and Pam Grier's chief bra-drawer organizer in 1975's FRIDAY FOSTER. Waldman offered to understudy Lange in the latter role, but he was only able to offer $500 for the job, while numerous other candidates coughed up four and five figures. Lange directed and starred in the 1989 film OTHELLO, wrote several outstanding plays and won several major awards, including the NAACP's Renaissance Man Theatre Award and the AFI's Paul Robeson Award. Award-wise, Waldman was selected one of poker hustler Mick "Slick" Friedberg's "Seven Most Amusing Cousins" and one of Sharon "Bite Me" Waldman's "Two most annoying husbands."