TRIBUTE TO BLAKE EDWARDS
Special Thoughts for FILMS FOR TWO
by Alan Waldman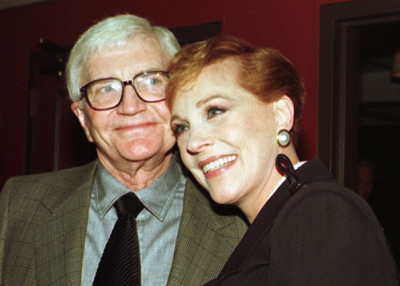 Blake Edwards & Julie Andrews pick up Outer Critics Circle Awards
for their collaboration on the Broadway version of VICTOR/VICTORIA.

Photo Credit: Ezio Petersen/Newscom (5/24/96)

Edwards will receive a Lifetime Achievement Award
at the 76th Oscar Celebration on February 29, 2004.
Blake Edwards, who will receive an honorary lifetime achievement award from the Academy of Motion Picture Arts & Sciences on February 29, 2004 has written, directed and produced a number of wonderful movies—as well as a larger number of stinkers. Three of his PINK PANTHER movies, starring the incomparable Peter Sellers as bumbling Inspector Clouseau, were brilliant, original comedies that were enormously popular. Unfortunately, Edwards kept churning them out long after they stopped being funny and even after Sellers' weak heart stopped beating.
Edwards' gender-bending 1982 comedy, VICTOR/VICTORIA, starring his second wife Julie Andrews as a woman who pretends to be a male transvestite, was a critical and box office hit, earning Blake French and Italian Best Picture honors and his only Oscar nomination (for best adapted screenplay).
Edwards has done good work in a wide range of genres, including Westerns, thrillers, musicals, romances, and navel-gazing pics (THE MAN WHO LOVED WOMEN and THAT'S LIFE, which he co-scripted with his analyst).
Within the comedy genre—for which he is best known—Edwards' work has ranged widely, in both sub-genre and quality. They include slapstick (THE PARTY, THE GREAT RACE), gender-switch and gender-war comedies (A FINE MESS, BLIND DATE and SWITCH), silly farces (SKIN DEEP, MICKEY AND MAUDE) and the highly inventive second, third and fourth Clouseau sequels (A SHOT IN THE DARK, RETURN OF THE PINK PANTHER and THE PINK PANTHER STRIKES AGAIN).
Over his 52-year career, Edwards directed 39 movies and eight TV projects, penned 45 pics and seven TV series or films and produced 18 movies, two TV series and a pair of TV flicks. He won a trio of British Evening Standard awards for three Pink Panther sequels; garnered American Comedy, DGA, WGA and L.A. Film Critics' awards for lifetime achievement and was honored with the French Legion of Honor, made a French commander of arts and letters and earned the Italian Master of Cinema honor. He was nominated for seven Writers Guild Awards, winning two for VICTOR/VICTORIA and THE PINK PANTHER STRIKES AGAIN. His fun late 50s TV series PETER GUNN earned Edwards Emmy nominations for writing and directing. On the other hand, he was nominated for Worst Director and Worst Screenwriter Razzie awards for S.O.B. and took the Worst Director Razzie for SUNSET.
Edwards and the brilliant composer Henry Mancini worked together on 30 films, two TV series and a Broadway musical over their 35-year association, with Mancini's themes and tunes adding joy and unforgettably to classics such as BREAKFAST AT TIFFANY'S, THE DAYS OF WINE AND ROSES and the better PINK PANTHER films. Blake made eight movies starring Andrews, another octet with his actress daughter Jennifer Edwards and a few with son Geoffrey Edwards as co-screenwriter or co-editor.
Blake was born in Tulsa, Oklahoma on July 26, 1922. When he was four, his mother moved to Los Angeles and married Jack McEdwards, who worked both as a stage director and as an assistant director and production manager at 20th Century-Fox.
William Blake McEdwards attended Beverly Hills High, served in the Coast Guard and then pursued a brief acting career as Blake Edwards. His stepfather got him jobs as an extra, which graduated to larger and larger speaking parts. Fox signed the handsome youth to a $150 per week contract, and he appeared in two dozen pics from 1942-48, including William Wyler's Oscar-winning THE BEST YEARS OF OUR LIVES (1946).
Edwards wrote the popular RICHARD DIAMOND radio series for Dick Powell. He co-wrote, co-produced and appeared in the 1948 Western PANHANDLE, and made his directing bow on TV with 1952's FOUR STAR PLAYHOUSE (also scripting four episodes). He gained respect as a screenwriter by penning seven scripts for director Richard Quine from 1952-62, including MY SISTER EILEEN, OPERATION MAD BALL and THE NOTORIOUS LANDLADY.
In 1953, Blake married actress Patricia Walker, whose final film was his 1953 musical ALL ASHORE. He co-created the sitcom HEY MULLIGAN for his former roommate, Mickey Rooney. The first film he directed was the light-hearted 1955 musical, BRING YOUR SMILE ALONG.
A felicitous contract at Universal produced his first two hits: MISTER COREY (1957, starring Tony Curtis) and the submarine comedy OPERATION PETTICOAT (1959, Cary Grant). After the latter success, Edwards ungraciously called Grant as "a pain in the ass to work with."
From 1958-1961, Edwards created, directed and sometimes wrote for two hip TV detective series I enjoyed as a teenager: PETER GUNN and MR. LUCKY. CBS cancelled the latter because its brass considered the show's gambler hero to be a poor role model for impressionable youths such as myself—but the damage was already done.

Edwards returned to the big screen with a series of wellmade, successful films: his charming adaptation of Truman Capote's BREAKFAST AT TIFFANY'S (1961, Audrey Hepburn), the thriller EXPERIMENT IN TERROR (1962, Lee Remick and Stephanie Powers), the powerful alcoholism drama THE DAYS OF WINE AND ROSES (1962, Jack Lemmon and Lee Remick), the comic mystery THE NOTORIOUS LANDLADY (1962, which satirized the genre), the bittersweet comedy/drama SOLDIER IN THE RAIN (1963, Steve McQueen and Jackie Gleason) and the first two PINK PANTHER flicks.

TIFFANY'S earned Edwards a DGA Best Director nomination, WINE AND ROSES got him BAFTA Best Film and Golden Globe Best Director noms, and PANTHER was nominated by the WGA as the Best Comedy Screenplay.
Two days before shooting on THE PINK PANTHER began in Rome, Peter Ustinov, who'd signed to play the inept Inspector Clouseau, suddenly backed out. Ironically, Peter Sellers was available, because he had just walked out on TOPKAPI, so the two stars swapped films. Sellers was masterful throughout the Panther series, deadpanning hilarious mispronunciations and pulling off classic bits of imaginative physical shtick. Edwards co-scripted A SHOT IN THE DARK with William Peter Blatty, who became famous nine years later for writing THE EXORCIST.

After the first two Clouseau films, Edwards swore he'd never do another movie with Sellers—a vow he decidedly failed to keep. "In the second half of A SHOT IN THE DARK, Peter became a monster—bored, angry, sullen and unprofessional," Edwards explained two years after Sellers 1980 death (at age 54). "He wouldn't show up for work and he began looking for anyone and everyone to blame. On virtually every movie he made, he'd eventually think was a total disaster and want to buy it and chuck it out."

The toast of Hollywood at the start of 1965, Edwards was sought to direct virtually every film comedy headed for production. But his expensive ($12 million) 1965 flop-ola, THE GREAT RACE, dedicated to Laurel and Hardy, was nothing more than a long series of Silent movie sight gags—featuring the biggest pie fight ever (2,357 desserts dispatched).

Edwards then struck out with two more awful comedies: WHAT DID YOU DO IN THE WAR, DADDY (written by Blatty; directed by Edwards) and THE PARTY (which Blake co-scripted with my non-relatives Frank and Tom Waldman). For 99 minutes of my young life, I suffered through THE PARTY—an elephantine travesty of slapstick, toilet humor, racism and soap suds.

As Edwards' turbulent 14-year first marriage was imploding, the sun was also setting on the nine-year union of America's favorite actress, Julie Andrews (THE SOUND OF MUSIC), and Brit scenic designer Tony Walton (MARY POPPINS). Andrews' previously stellar career was gobbled up by three consecutive turkeys: TORN CURTAIN, THOROUGHLY MODERN MILLE and STAR! (which Fox chief Daryl Zanuck dubbed "my Edsel").

Edwards and Andrews were only nodding acquaintances when Julie heard that Blake had speculated in public that her popular success was due to her having "lilacs for pubic hair." A few weeks later she sent him a lilac plant—and for the past 34 Novembers she has given him lilacs for each of their wedding anniversaries.

Edwards and Andrews met and married during a long disastrous period for each of them; she didn't have a hit from 1965 (SOUND OF MUSIC) to 1979 ("10") and he whiffed nine straight times between 1964 (SHOT IN THE DARK) and 1975 (RETURN OF THE PINK PANTHER). They both suffered from depression—Edwards also had Chronic Fatigue Syndrome—and went through periods of five-day-a-week psychoanalysis.

After pledging their respective troths, they worked together on the most expensive and disastrous movie musical Paramount ever mounted (and dismounted), DARLING LILI—which lost $20 million and nearly bankrupted the studio. Years later, when the Austin Film Society requested a copy of the picture, Paramount informed them that its print no longer existed.

A dozen years later, Edwards said of DARLING LILI: "People at Paramount would say things to me and then deny they'd said them, and after a while, I became totally paranoid." He began recording every conversation or phone call, enabling him to prove that some Paramount execs' later statements were untrue.

Edwards feuded with MGM head James Aubrey, who severely cut his films THE WILD ROVERS (1971) and THE CAREY TREATMENT (1972). One pundit called Aubrey "the madman of MGM" and claimed "he was doing his best to put the studio out of business" when he "butchered Edwards' films."

Edwards lamented, "Aubrey, who'd just become head of MGM, personally destroyed WILD ROVERS, cutting out 40 minutes and changing the ending and a lot of the relationships. Then he suckered me into directing another film for him, THE CAREY TREATMENT, by Michael Crichton. I said I'd do it only if I could make certain changes, and Aubrey agreed. Then he simply reneged. I found out Aubrey was cutting the movie even before I finished shooting it."

Andrews has recalled, "Blake was explosively angry, deeply depressed, and virtually suicidal." The couple moved to Europe, spending most of the next decade in England and Gstaad, Switzerland, where he mostly wrote scripts and she authored children's books.

In 1975, Edwards and Peter Sellers, whose career had also declined, convinced Sir Lew Grade to make another Pink Panther film. Sellers and Edwards agreed to do THE REVENGE OF THE PINK PANTHER for nothing upfront and 10% of the back end—which made them both rich again (since it cost $3 million and brought in more than $40 million. This was Blake's second highest-grossing film, after "10".

Despite Sellers' failing health and mental facilities, Edwards banged out three PANTHER sequels between 1975 and 1978. Then some execs who departed United Artists to found Orion Pictures were interested in doing an Edwards script called THE FERRET. Blake negotiated a three-picture deal with them, including "10" and S.O.B. FERRET disappeared down a development hole, but "10" was a critical and box office smash and S.O.B. (Edwards' slap at Paramount over its treatment of DARLING LILI) appealed to a number of critics, moviegoers and awards bodies.

| | |
| --- | --- |
| Ironically, Edwards wrote "10" for his favorite actor, Jack Lemmon, who didn't like the script. George Segal was then cast in the lead, but he dropped out a few days before shooting, was sued, and had to give Blake some money. So Dudley Moore accepted this career-making role.Edwards last good and/or successful flick was 1982's stylish comedy VICTOR/VICTORIA, which netted him an Oscar nom and won Julie Andrews her fourth Golden Globe.The 10 Edwards films that followed were all seriously flawed—but none worse than the shameless PANTHER sequels he made after Sellers death, crassly cobbled together from old footage. I agree with the critic who fulminated, "There's a special corner of hell for people who do Clouseau without Peter Sellers!" | |
In recent years, Edwards has suffered progressively from recycling fever, staging VICTOR/VICTORIA as a Broadway musical, working on BIRTH OF THE PINK PANTHER (with Steve Martin as Clouseau), planning the remake 10 AGAIN and preparing a musical stage version of THE PINK PANTHER.
I loved the great films that Edwards wrote and/or directed (see below), but for the past decade or so he has struck me as an increasingly arrogant and desperate jackass. I am glad his good works are being recognized at the Oscars, but I have scrupulously avoided most of his hare-brained comedy excesses of the last 20 years, lest they further diminish the respect I once had for him.
But to lighten the mood, let's end with a wry nugget of advice from the honoree himself: "Make 'em redecorate your office," Blake Edwards once counseled. "That's primary, to let them know where you stand. Then, when you're shooting interior sequences, use your own interior decorator and set dresser. That way everything on the set will fit your house when you're finished."
ALAN WALDMAN'S FAVORITE BLAKE EDWARDS FILMS:

1. A Shot in the Dark (1964)
2. Return of the Pink Panther (1975)
3. Victor/Victoria (1982)
4. The Pink Panther Strikes Again (1976)
5. Breakfast at Tiffany's (1961)

© Alan Waldman (2/3/04)

Los Angeles freelance writer, frog impersonator, party-pooper, and occasional transvestite Alan Waldman recently recovered from a period of depression and paranoia in which he suspected either that African bushmen were criticizing him excessively, or that he was insufficiently criticizing Bush men.

Awarded the Bronze Kishke for Chutzpah by the Yonkers Young Yentas' League, Waldman was frequently ejected from seminars of the Saskatchewan Sex Surrogates' Society and is rarely mentioned at major military, religious, conservative and public decency functions. His latest estranged wife, Sharon "Bite Me" Waldman, has recently been recommended for sainthood.