CLAUDE BERRI

A Tribute by:
Alan & Sharon Waldman
SPECIAL FOR
FILMS FOR TWO©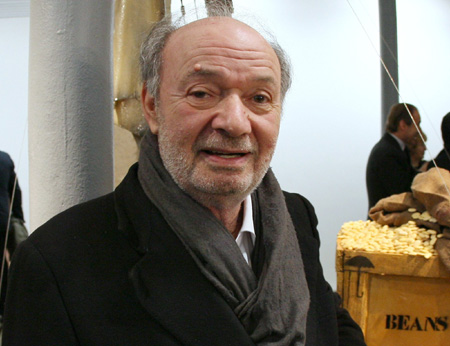 Photo Caption: Agence France-Presse Photo, Francoise Guillot
Massively talented actor, director and producer Claude Berri was "the most legendary figure of French cinema," according to French President Nicolas Sarkozy. After Berri's death from a serious neurological condition on January 12, 2009, at age 74, Cannes president Gilles Jacob declared that "French cinema is now an orphan."
Claude Berri produced 58 films between 1961 and 2008, performed in 33, wrote 24 and directed 23. As a writer-director he produced many French blockbusters, including his Zola adaptation GERMINAL and his magnificent films of Marcel Pagnol's JEAN DE FLORETTE and its sequel/second half MANON OF THE SPRINGS which had powerful international appeal. Berri spoke to a wider world audience than any French director in history. As a producer, he brought international success to the works of many top directors, including Roman Polanski (TESS), Milos Forman (VALMONT), Patrice Chéreau (QUEEN MARGOT), Claude Miller (LA PETIT VOLEUSE), Yvan Attal (MY WIFE IS AN ACTRESS), Claude Chabrol (LES BONNES FEMMES), Jean-Jacques Annaud (THE BEAR), Costa-Gavras, Bertrand Blier and Eric Rohmer.
Unlike some producers or directors whose work falls off late in their careers, Berri had his greatest boxoffice success in 2008, producing Danny Boon's comedy WELCOME TO THE STICKS, which set a French-film record by selling 20.4 million tickets; it is currently the second highest-grossing ever. And in 2007 Berri produced Abdel Kechiche's SECRET OF THE GRAIN, which won 17 major awards (including the Best Film César award for Berri and three other Césars).
Claude Berri won a 1962 Oscar for his adorable short LE POULET and a 1979 best pic nom for TESS. (See Alan's tribute to Polanski). Berri had another seven wins and 21 nominations for nine of his other films. His masterpiece, JEAN DE FLORETTE, earned the Best Film BAFTA and many other honors. Berri was also nominated for 13 César Awards (five for producing best films, five for directing and four for writing).
Although many of the films he wrote, directed and produced fall into the category of "art fare," Berri proved to the world that France could also produce big-budget pictures with high production values that rivaled Hollywood's best work.
Sharon and Alan both saw and loved the three terrific Berri-directed films that are easily available on video/DVD and Netflix: JEAN DE FLORETTE, MANON OF THE SPRINGS and THE TWO OF US. (Netflix also offers Berri-produced films HAPPILY EVER AFTER (directed by Yvan Attal), VA SAVOIR (Jacques Rivette), LES BONNES FEMMES (Chabrol); the Berri-directed off-beat comedy THE HOUSEKEEPER and Henri-Georges Clouzot's 1960 Oscar-nominated thriller LA VÉRITÉ (starring Brigette Bardot and including a performance by Berri).
In years gone by, Alan also thoroughly enjoyed the following films written and directed by Berri (which might be difficult to find on DVD, but which are for sale on VHS at Amazon.com): GERMINAL (1993), LUCIE AUBRAC (1997), URANUS (1990), LE SEX-SHOP (1972) and MARRY ME! MARRY ME! (1969).
JEAN DE FLORETTE and MANON OF THE SPRINGS
(Alan): These two films comprise a masterpiece of storytelling. They blew me away in 1986, and they hold up very well today. They are visually stunning, emotionally powerful and perfectly directed. They are enriched by stunning performances by three of France's greatest actors: Yves Montand (nominated for a BAFTA for this role; he also starred in classics THE WAGES OF FEAR, Z and LA GUERRE EST FINIE), Gerard Depardieu (Oscar nom for CYRANO DE BERGEREAC; won 16 other awards and 19 more noms for works including THE MAN IN THE IRON MASK, LES COMPÈRES, GREEN CARD and THE LAST METRO) and Daniel Auteuil (Won Cesar and BAFTA for this role and took 10 awards and 14 other noms for works including THE CLOSET, A HEART IN WINTER and GIRL ON THE BRIDGE). The film JEAN DE FLORETTE was nominated for 10 BAFTAs, winning two for Berri for Best Film and Best Screenplay (along with Gérard Brach), and others for Auteuil and cinematographer Bruno Nuytten; it also took six other major awards and garnered 10 additional nominations. MANON OF THE SPRINGS took four other awards (including the Best Supporting Actress César for 25-year-old sensation Emmanuelle Béart) and two more noms. This pair of films feature a haunting musical theme adapted from Verdi's THE FORCE OF DESTINY and brilliantly performed by the century's greatest harmonica master: Belgium's Toots Thielmans.
The first, highly dramatic film, JEAN DE FLORETTE, tells how a greedy farmer (Montand) and his dim nephew destroy an earnest hunchback (Depardieu) who wants to operate the Provenςal farm he inherited. The second film (MANON) details how his daughter wreaks revenge on them and the townspeople who silently supported their cruelty. The screenplay is beautifully adapted by Berri and Brach (THE NAME OF THE ROSE) from a novel by French master storyteller Marcel Pagnol (MY FATHER'S GLORY, MY MOTHER'S CASTLE, FANNY).
This duology grabs you from the beginning of JEAN and and never lets up until it moves you with the surprise ending to MANON. This inextricable pair of pics comprise one of the great, great films of all time. They were highly impactful, creating a worldwide outpouring of affection for France, and for Provence in particular.
(Sharon): These films blossom with surprises from start to finish. At first, you care about Montand and Auteuil's old farmer and his nephew, and want the nephew's red carnations to bloom. As the pair's cruelty increases, killing a man, then plugging the spring so no one else can use it, we begin to see how vicious they really are. When Depardieu and his family move into the adjacent farm and try earnestly to farm it without a water source, no one—not even the townspeople, tells them of the spring. They are destroyed and the forces of evil have won.
In the second film, the nephew falls in love with a young shepherdess, who happens to be Depardieu's daughter, Manon. She has grown up almost as a wood sprite, enjoying the nature that her father so loved. Manon discovers the spring, realizes what they did to her father, and stops up the water until the farmers and the townspeople are desperate and have to listen to her accusations against the villains.
THE TWO OF US
(Alan): This highly autobiographical 1967 movie is a total delight, featuring one of the great performances in French cinema, by 72-year-old legend Michel Simon (BOUDU SAVED FROM DROWNING, THE TRAIN). Claude (well played by Alain Cohen) is a young Jewish boy who misbehaves so much in class and in public that his parents fear arrest by the Nazis—so they send him to stay with an elderly couple in the country. The old man, Pepe, is a vocal anti-Semite and supporter of the collaborationist Petain regime, but he does not realize that Claude is Jewish. A wonderful, rich, amusing relationship develops between them. Young Claude is tormented by classmates and has his head shaved by the principal because he wrote a love letter to a girl in his class. Pepe comforts him and guides him in the appropriate response. Avoiding typical clichés, the film is a lovely blend of comedy, drama and sentiment, showing how love can help one surmount tragedy. The DVD includes Berri's charming Oscar-winning short, LE POULET.
THE TWO OF US (Le Vieil Homme et L'enfent) won the Best Foreign Film award from the Kansas City film critics and was nominated for four awards at the Berlin Film Festival (three for Berri), winning two for him and the Best Actor honor for Simon.
(Sharon): This charming film is a must-see for everyone. The combination of a naughty little boy and a grumpy old man, not to mention a chicken, is a recipe for pure pleasure.
GERMINAL, a stirring, highly realistic 1993 historical drama Berri adapted from an influential Emile Zola novel, about the unbearable exploitation of coal miners in Northern France who decide to go on strike, was deeply moving and dramatic, starring a brilliant Gerard Depardieu. It was nominated for 12 César awards, including Best Film, Best Director and Best Screenplay nods for Claude. It is available on VHS from Amazon.com, as is URANUS (1990), which also stars Depardieu. In it he plays a simple bar owner who is harassed by local Communists who are seeking out former Petain supporters to punish and who suspect him of sheltering one. It was nominated for seven Césars (including three for Berri). It is an outstanding film: a complex, multi-layered examination of a post-war French town struggling back toward normalcy, and of an uneducated, womanizing drinker who is pressured hard by his townsfolk. It also stars outstanding French actors Philipe Noiret (CINEMA PARADISO, IL POSTINO) and Michel Blanc (four major awards and eight other noms for works including MONSIEUR HIRE and READY TO WEAR).

Amazon also sells used VHS videocassettes of the enjoyable Berri movies LUCIE AUBRAC (1997), LE SEX-SHOP (1989) and MARRY ME! MARRY ME! (1969)—although the one available copy of the latter is currently priced at $250.
LUCIE AUBRAC (more favorably priced at $1-and-up at Amazon) is an exciting true story of a woman who twice rescued her husband from the Gestapo. (During the filming, Berri made headlines for firing lead actress Juliette Binoche and replacing her with Carole Bouquet.) LUCIE earned Berri another of his five Berlin Film Festival Golden Bear nominations and was also nominated for the Best Foreign Language Film BAFTA.
LE SEX SHOP is a funny-sad comedy about a middle-class man (played by Berri himself) who decides to convert his money-losing bookshop into a sex shop, but whose attempts to sample the swinging lifestyle some of his kinky customers enjoy are doomed to failure.
The first Berri film I saw (and thoroughly enjoyed) was the romantic comedy MARRY ME! MARRY ME! (Mazel Tov ou le Mariage), which he wrote, directed and starred in as a Jewish encyclopedia salesman who knocks up a Brussels diamond merchant's daughter. To win the approval of her family in order to do the right thing (marry her), he takes English lessons from a lovely British woman, falls in love with her and proposes marriage to her. This film was a lot of fun, and it put me on the look-out for the work of Berri for the next 40 years. Actually, off the top of my head, I can't think of a film of his that I didn't like—even though they ranged widely in genre, tone and budget. (Oh, I didn't like one he produced, QUEEN MARGOT, which was way too chaotic and violent for my taste.)
Claude Berri Langman was born in Paris on July 1, 1934, the son of Polish furrier Hirsch Langmann and his Rumanian wife Beila. Claude's sister became screenwriter and film editor Arlette Langmann (who wrote LOULOU, co-wrote À NOS AMOURS, brilliantly edited JEAN DE FLORETTE and shared a Best Screenplay César nomination with Claude for GERMINAL).
From 1953 to 2004, in addition to his writing, directing and producing, Berri performed in 33 movies, including works by French legends Jean Renoir, Claude Chabrol, Maurice Pialat and Jacques Rivette.
In 1973 he developed his own distribution company, AMLF, which has since distributed more than 215 movies in France, including AMADEUS, FAREWELL MY LOVELY, RUMBLE FISH, THE MOSQUITO COAST, WHITE MISCHIEF, DANCES WITH WOLVES, DIABOLIQUE, BLUE VELVET and SEX, LIES and VIDEOTAPE).
When Roman Polanski fled the U.S. in 1979 to escape a statutory rape charge, Berri rescued his historical drama TESS (adapted from Thomas Hardy's 1891 novel Tess of the d'Urbervilles) and shepherded it to three Oscars and three other noms (including Best Picture statuettes for Claude and fellow producer Timothy Burrill).
Although Berri enjoyed many triumphs, he also endured tragedy. In 1995, his ex-wife Anne-Marie, who suffered from depression, committed suicide. Seven years later his son, who had been paralyzed in an accident, also took his life.
Berri soldiered on, finding solace in his new relationship with writer Nathalie Rheims and in his love of collecting modern art. He was involved in films until his death, spending his last days on the set of his final film, TREASURE.
Throughout his career, Claude Berri was fond of saying: "I never worked in my life; I'm just enjoying myself."
© Alan Waldman and Sharon Waldman (February 19, 2009)
****************
About Alan and Sharon Waldman
| | |
| --- | --- |
| | Multiple-award-winning journalist and funster Alan Waldman and widely beloved personal historian/teacher/sex-symbol Sharon Waldman live happily with their mischievous tuxedo cat Winky in lovely-but-damp Corvallis, OR. They have been married for 30 years—13 of them to each other. At local Linn-Benton Community College, Sharon teaches courses in "Writing Your Memoirs" and "How to Remain Adorable After 60," while Alan teaches "Writing Salable Articles" and "How to Pass for Being Solvent." |