TRIBUTE
TO
JACK
PALANCE

Special
Thoughts
for
FILMS FOR TWO
by
Alan Waldman
Classic movie tough guy Jack Palance, who made 63 American movies, 37 TV episodes and 27 foreign films (when work was slow in Hollywood), was born Volodymir Ivanovich Palahniuk on February 18, 1919, in Pennsylvania coal country, son of a Ukrainian-born miner who died of black lung disease. Young Jack toiled in the mines before earning a football scholarship to University of North Carolina. He dropped out, boxed professionally for a while (winning his first 15 bouts—12 by knockout), was a decorated WWII bomber pilot, studied journalism at Stanford and worked as a San Francisco sports writer, before hitting the stage in 1947.
Palance's second role was understudying and occasionally replacing Marlon Brando in Streetcar Named Desire, on Broadway (once after breaking Brando's nose during some off-stage horseplay). In 1949, Jack he won a Theatre World Award as "Most Promising Personality," and that gained him a 20th Century Fox contract. His first movie role (billed as Walter Jack Palance) was as a violent gangster who developed bubonic plague in Elia Kazan's thriller PANIC IN THE STREETS.
Jack's third and fourth films earned him Oscar acting nominations. In 1952's SUDDEN FEAR, he and girlfriend Gloria Grahame plotted the murder of his wealthy wife, Joan Crawford (who earned another of the film's four Oscar nominations). Next he played the creepy, sadistic, ever-grinning gunslinger Jack Wilson in 1953's legendary Western SHANE.



After several strong roles, including the honest, brave soldier in 1956's ATTACK, he won an Emmy for one of his first sympathetic roles, as the down-and-out boxer in Rod Serling's TV drama Requiem for a Heavyweight.

Palance appeared in bunches of B movies and lots of Italian pics during the middle of his career, but bounced back with his dour cowboy in the smart 1991 comedy CITY SLICKERS—which won him an Oscar, a Golden Globe and an American Comedy Award.

Some of Palance's less memorable movies include: BLACK COBRA WOMAN, COCAINE COWBOYS, CYBORG 2, IL RICIAMO DEL LUPO, MARQUIS DE SADE'S JUSTINE, OUTLAW OF GOR, UN DOLLARO PER 7 VIGLIACCI, HAWK THE SLAYER, EVIL STALKS THIS HOUSE, THE IVORY APE, WELCOME TO BLOOD CITY and HORROR OF THE HUNGRY HUMONGOUS HUNGAN. (I ain't making any of these up.)

Palance played a lot of evil movie villains, but his three comic turns at ages 69-74 (in 1988's delightful BAGDAD CAFÉ, CITY SLICKERS and 1994's CITY SLICKERS 2) endeared him to more recent audiences.
In addition to acting, vegetarian Jack Palance was a cattle rancher, an exhibited painter and a published poet who spoke six languages. He died from natural causes on Nov. 10, 2006, at the California home of one of his three children.
On your behalf, I just watched five of Palance's most acclaimed performances, and I enjoyed them all, although some of the older ones are a bit corny for modern audiences.



Most enjoyable, of course, was CITY SLICKERS, where Jack played a tough, take-no-nonsense trail boss who copes with the antics of dudes Billy Crystal, Bruno Kirby, Daniel Stern, David Paymer and my college pal Josh Mostel. Grinning like the maniac he played in SHANE (and spoofing a lot of his movie heavies), Palance was very funny. At one point, a frightened Crystal asks him, "How many people have you killed today, Curly?" The broadly grinning, 6-foot-4 cowboy replies, "None. But the day's not over yet."

One reason CITY SLICKERS was such a great film, besides the fine performances of the whole cast, was the very funny script from Lowell Ganz and Babaloo Mandel, who also wrote the fine films SPLASH (which earned them Best Screenplay Oscar noms), PARENTHOOD, NIGHT SHIFT and A LEAGUE OF THEIR OWN, as well as the classic sitcoms Happy Days and Laverne & Shirley. CITY SLICKERS also won American Comedy Awards for Palance and Crystal, a Best Comedy/Musical Golden Globe nom and the People's Choice award for Best Comedy.

Critics loved City Slickers, and especially Palance's performance. Chicago Sun-Times mega-critic Roger Ebert wrote, "City Slickers comes packaged as one kind of movie—a slapstick comedy about white-collar guys on a dude ranch—and it delivers on that level while surprising me by being much more ambitious and successful than I expected. This is the proverbial comedy with the heart of truth, the tear in the eye along with the belly laugh. It's funny, and it adds up to something.
"What brings these scenes to life is the quality of the dialogue, by Lowell Ganz and Babaloo Mandel, with additional lines that sound a lot like Crystal. There are moments of insight, of secrets sincerely shared, of the kind of philosophical speculation that's encouraged by life on the range. (What do guys talk about when they're on a cattle drive to Colorado? How to program the VCR, of course.) Ron Underwood's direction is professional and focused; all of the subplots, like Crystal's love for a baby calf he helps deliver, pay off at the end. There is also the kind of crazy heroism that can be indulged in only by guys who don't understand the real dangers they're in, and the dreamy nights around the campfire when they stand back and look at their lives, their marriages and the meaning of it all."
Washington Post critic Desson Thompson wrote, "In this Three-Men-and-a-Midlife-Crisis comedy, Stern is a mega-henpecked grocer. Kirby is a frustrated Marlboro Man. Crystal, an almost-40 radio-ad salesman, is depressed at just about everything. Every year, the friends take macho, wifeless vacations to re-oil their fifth-wheel manliness. This year's rugged respite involves joining a real cattle drive in the Southwest, tour-guided by yuppie-hating, square-jawed Jack Palance.
"'Did you see how leathery he was?' asks Crystal. 'He's like a saddlebag with eyes.'"
In accepting his Oscar, the 73-year-old Palance commented on the tendency of casting directors to underestimate older actors. He then dropped to the stage, did a series of one-handed push-ups, stood up to audience cheers and then calmly continued his speech. Referring to co-star Billy Crystal, who is nine inches shorter than him, Palance repeated one of his lines from the movie, "I crap bigger than him."



My second-favorite Palance performance was in his first movie, PANIC IN THE STREETS, where he and Josh Mostel's uber-talented daddy Zero are New Orleans gangsters who are on the run from Richard Widmark's public health official, thinking he is the cop investigating Palance's recent murder of an underling—when Widmark is really trying to keep them from spreading bubonic plague.

This is a tense, well-crafted thriller, and Palance is fine as the tough, heartless gangster who terrorizes his underling Mostel and everyone else who crosses his path. Creative Loafing's critic wrote that this film "benefits immeasurably by a menacing turn by Jack Palance."

Jonathan Rosenbaum of the Chicago Reader opined, "This best and most neglected of Elia Kazan's early features is an expert and taut thriller, PANIC IN THE STREETS. Filmed on location in New Orleans with a superb secondary cast: Paul Douglas, Barbara Bel Geddes, Jack Palance and Zero Mostel. Scripted by Richard Murphy and Edward and Edna Anhalt (who) won an Oscar for their original story."
I also greatly enjoyed the film noir that earned Palance is first Oscar nod—SUDDEN FEAR. Although scenery-munching Joan Crawford was way over the top, as usual, Palance was excellent as the spurned actor who seeks revenge on her by winning her heart and then planning her murder. Unfortunately, he plots that killing and confesses he never loved his wife to girlfriend Gloria Grahame, while wifey's dictating machine, accidentally left on, records the conversation—letting Crawford in on the plan. She manages to turn the tables on them, in a dark, spooky, strangely empty San Francisco neighborhood at midnight. It is fun to see Palance do both charming and snaky in the same pic.
In ATTACK, which won the Venice Film Festival's Italian Critics' Award, Palance plays a brave lieutenant who is furious with his cowardly captain (Eddie Albert) and with the politically motivated/tuchis-protecting colonel (Lee Marvin) who refuses to kick Albert upstairs, where he can do no harm to front-line soldiers. Palance and a strong cast (including Buddy Ebsen and Robert Strauss) bring this former stage melodrama to vibrant life, under the strong direction of Robert Aldrich (THE LONGEST YARD, THE KILLING OF SISTER GEORGE). Albert promises to back Palance up when he leads his platoon on a very dangerous mission—and then fails to follow through. So Palance returns for revenge—but things take a surprising turn.
The role that most older viewers know and love Jack Palance for is as the ruthless gunslinger in the quintessential Hollywood Western, SHANE. His climactic shootout with Alan Ladd (which is actually over in less than a minute) is one of the classic armed confrontations in cinema history.
Palance doesn't appear until halfway through the movie, and then for a while he doesn't speak, but just grins at his foes. Suddenly, he ruthlessly guns down young Elisha Cook Jr., in the muddy main street of a lonely Western town. According to my good wife, the ill-starred Cook was killed in virtually all his movies.
SHANE was nominated for seven Oscars: Best Picture, actors Jack Palance and 11-year-old Brandon De Wilde, director George Stevens and screenwriter A.B. Guthrie Jr., winning for Loyal Griggs' unforgettable cinematography.
Critics adored SHANE, calling it "one of the greatest Westerns," "a masterwork" and "one of the most intelligent Westerns of its era." John Puccio of DVDTown.com suggested, "Shane transformed the American cowboy saga, introducing psychological elements into the usual gunplay." I enjoyed it again after 53 years, and Palance was great fun as the monomaniacal heavy.
Notable Jack Palance Quotes:
"Most of the stuff I do is garbage."
"I go to see maybe seven films a year at the most, and since I only go to see the best, it follows that I very rarely see my own."
"The only two things you can truly depend upon are gravity and greed."
"I used to be six foot four. Now that I'm old, I slouch. So, I'm six foot three."
"One of the most important reasons for living is to do something—live outside of yourself and put together an idea, an idea that you want to explore and then complete... Awaken your creative sensitivities!"
ALAN WALDMAN'S NINE FAVORITE
JACK PALANCE MOVIES
1. CITY SLICKERS (1991)
2. PANIC IN THE STREETS (1950)
3. SUDDEN FEAR (1952)
4. SHANE (1953)
5. ATTACK (1956)
6. BAGDAD CAFÉ (Out of Rosenheim, 1988)
7. YOUNG GUNS (1988)
8. CONTEMPT (Le Mépris, 1963)
9. OKLAHOMA CRUDE (1973)
© December 1, 2006
*************
About Alan Waldman
For many years, Oregonian ALAN WALDMAN was a Los Angeles-based freelance writer and tackling dummy. He attended Brandeis University on a hardship scholarship and a dare. His latest wife, personal historian Saint Sharon Waldman, has lived with him, his constant jokes and his manias for 12 of the past 13 years, earning international honors and much sympathy. In addition to writing more than 2000 published articles in more than 60 newspapers and magazines, Alan has done public relations writing for Siegfried & Roy, Jan Huttner & Richard Miller, The Harlem Globetrotters, The Moscow Circus, The Power Rangers, Honolulu Magazine, Self-Abnegation Monthly and the Van Nuys Boulevard Hookers' Association (pro bono).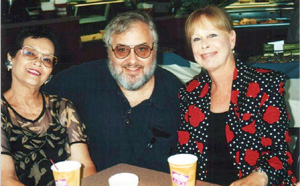 "Alan Waldman and two of the few
women who haven't yet married him."