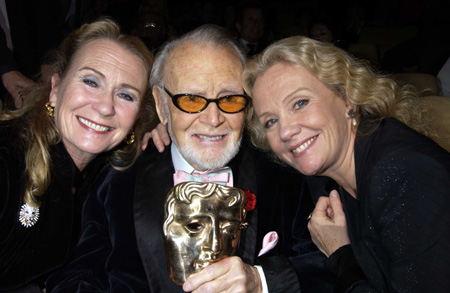 Sir John Mills, pictured above with daughters Juliet & Hayley,
received a BAFTA Fellowship in London in 2002.
Photo Credit: INFGoff.com/NewsCom
Tribute to John Mills
Special Thoughts for FILMS FOR TWO®
by Alan Waldman
During his distinguished 73-year film career, Sir John Mills embodied the best of his native England, beautifully creating in his 104 movies a range of characters who were usually decent, loyal, honest, courageous and self-deprecating. British Prime Minister Tony Blair described Mills as "a great actor and a true gentleman…who made us proud to be British."
Actor-director-producer Sir Richard Attenborough (CRY FREEDOM, A CHORUS LINE, two Oscars for GANDHI) said Mills "gave film acting in England an integrity and a stature that nobody else did. There was no one else who gave such a variety of absolutely impeccable performances." Actress Sylvia Syms (who co-starred with Mills in 1958's ICE COLD IN ALEX) declared "Johnny could play whatever you wanted him to—heroic, cowardly—and he never wanted to present an image of himself. He was an actor, not a film star."
No male British actor enjoyed such a long and accomplished film career while appearing predominantly in English movies. Sir John was better able to play across class barriers than many of his brilliant colleagues and pals (including Sir Laurence Olivier, Sir John Gielgud and Sir Ralph Richardson). John Mills produced two films, directed one and appeared in 12 TV movies, five miniseries and three series. His many contributions to cinema also include his talented actress daughters Hayley (THE PARENT TRAP) and Juliet (AVANTI), plus writer son Jonathan.
The British Academy of Film and Television Arts honored Sir John with its highest honor in 2002, and a recent Sky Television survey ranked Mills eighth all-time greatest among male British actors.
Mills won an Oscar and a Golden Globe as best supporting actor for his role as the brain-damaged, mute, snaggle-toothed, Irish villager in David Lean's 1970 popular romantic drama RYAN'S DAUGHTER. "I thought I'd been wasting my time learning all these millions of lines for 38 years, when I got an Oscar for not speaking," Mills once quipped.
His many honors include Best Actor at the San Sebastian Film Festival for THE FAMILY WAY (1966), Best Actor at the Venice Film Fest for TUNES OF GLORY (1960) and BAFTA Best British Actor nominations for HOBSON'S CHOICE (1954) and TUNES OF GLORY (which he often identified as his two favorite roles).
I greatly enjoyed John Mills in a lot of movies. The best film he ever appeared in was GANDHI (1982), which won eight of the 11 Oscars for which it was nominated, including Best Picture, Best Actor (Ben Kingsley) and Best Director (Attenborough). It also was nominated for 16 BAFTAS, winning five. I found Mills brilliant and deeply affecting in RYAN'S DAUGHTER, but I consider it a lousy movie—after suffering through it both in 1970 and once again last week.
To refresh my memory of his work, I recently ordered three great Mills performances from Netflix: TIGER BAY (1959), TUNES OF GLORY and KING RAT (1965).
John Mills was excellent in TIGER BAY, even though he was totally upstaged by his 12-year-old daughter Hayley, who made her screen debut as the star of this film. Hayley's street urchin character, Gillie, witnesses a murder committed by Polish sailor Horst Buchholz, with whom she subsequently becomes close friends. She lies to police Superintendent Graham (Sir John) to protect her pal, and this leads to a thrilling confrontation on a tossing ship off the Welsh coast.
A typical newspaper headline when the film came out was: "Little Miss Mills Acts her Father off the Screen." MOVIE MAGAZINE INTERNATIONAL's critic wrote: "TIGER BAY was well-scripted and briskly-paced, but as anticipated, Hayley Mills as the mischievous Gillie, stole every scene she was in—even the ones she played with her father, John." Mills, as always, was solid. This taut, well-made thriller won five BAFTA nominations, and Hayley won as "Most Promising Newcomer." This launched her own successful career, in which she often appeared with her dad.
John Mills gave one of his greatest film performances—and earned a Venice Film Festival Best Actor award—as a neurotic, too-tightly wound British martinet determined to restore order to his Scottish regiment in TUNES OF GLORY. James Kennaway's outstanding screenplay was Oscar-nominated, and this powerful drama earned five BAFTA nominations, including nods for Mills, Guinness and Best Picture. BOXOFFICE MAGAZINE said: "In this superlative picture about a power struggle between two would-be commanders, Guinness is the crusty war dog who refuses to let go, while Mills is the disciplined traditionalist who will settle for nothing less than order. This is as fine a military drama as has ever been made; A SOLDIER'S STORY and A FEW GOOD MEN crumble in its shadow."
TUNES OF GLORY grabs you early and never lets go. Guinness has the larger, showier role, but Mills more than holds his own. His work is strong yet subtle here, and he uses to great advantage the few scenes that give us a peek into his motivation.
Mills plays a smaller, but pivotal role, in Bryan Forbes' gripping, gritty, prisoner-of-war drama, KING RAT. Set in Singapore's notorious WWII Changi prison camp, the film's powerful ensemble cast includes star George Segal (as an American hustler), James Fox, Tom Courtenay, Denholm Elliott and Patrick O'Neal. Mills plays the highest-ranking officer among the prisoners, who bravely stands up to his Japanese oppressors, risking his life to save a colleague. The film has some weird, dark humor and lots of strong drama. (Trivia note: both Paul Newman and Steve McQueen turned down the starring role that went to Segal.)
I recall greatly liking John Mills, Hayley Mills and Hywel Bennett in the excellent 1966 marital drama THE FAMILY WAY, which won the British Writers Guild Best Comedy Screenplay award for Bill Naughton (who also wrote ALFIE) and several awards for supporting actress Marjorie Rhodes.
John Mills' other highly regarded movies include GREAT EXPECTATIONS (1946), GOODBYE MR. CHIPS (1939), HAMLET (1996), THE CHALK GARDEN (1964), ROCKING HORSE WINNER (1950) and THE WRONG BOX (1966), a black comedy co-starring Peter Sellers, Ralph Richardson and Michael Caine—and introducing comic geniuses Peter Cook and Dudley Moore.
John Mills was born Lewis Ernest Watts on February 22, 1908 at the Watts Naval Training College in North Elmham, Norfolk, England. He grew up in the Suffolk fishing town of Felixstowe, where his dad was a mathematics teacher and his mom was a theater box office manager
Short of stature, young Lewis was unhappy at Norwich High School, where he was bullied by bigger blokes, until he learned ju-jitsu and began defending himself. He became a good enough soccer player to get a trial with the Norwich City professional team, but the family preferred the safer option of a shipping clerkship with a local grain merchant.
John's mother (who had once aspired to be a professional dancer) and his older sister Annette (a London nightclub dancer) taught him dance steps from an early age. When Lewis was about 20, Annette, who had become a beloved children's TV star on MUFFIN THE MULE, encouraged him to change his name, give up the grain game and come to London to pursue a career as a song and dance man. He did, and began studying at the legendary Royal Academy of Dramatic Art.
"I started my performing career in a very tatty double act with a man called George Posford who played the balalaika while I sang 'Sonny Boy'", Mills once recalled.
He aspired to be the English Fred Astaire and worked in the chorus of the 1929 musical, THE FIVE O'CLOCK GIRL at the London Hippodrome. Later that year, he joined The Quaints company and got to play a wide range of roles, from the Second Gravedigger in HAMLET to the title role in YOUNG WOODLEY. In Singapore, Noel Coward saw him perform and suggested Mills look him up in London.
Mills made his acting breakthrough later in 1929, when, at 22 year-old, he scintillated as Hamlet at The Old Vic. Throughout the 1930s, the short (5'8"), wiry song-and-dance man began to appear regularly on the London stage in revues, musicals and legitimate plays—including some of Coward's works. Noel wrote the popular song MAD DOGS AND ENGLISHMEN specifically for Mills to sing.
John went to Hollywood in 1939 to appear with Robert Donat in GOODBYE MR. CHIPS, but he turned down American studio contract offers and returned to England. Then he made his name during World War II, playing military roles ranging from a Cockney seaman in Coward's wartime classic IN WHICH WE SERVE (1942) to an RAF pilot in the wildly popular THE WAY TO THE STARS (1945) to an AWOL soldier with an adulterous wife in WATERLOO ROAD (1945). By the end of the 1940s, war movies had turned Mills into one of the most familiar faces in British cinema.
His own military career in the Royal Engineers lasted little more than a year, due to a duodenal ulcer. In 1941 he divorced actress Aileen Raymond and married actress-turned-playwright Mary Hayley Bell.
As Mills aged, he made a seamless transition from lead to character lead to character actor roles. Meanwhile his children became popular performers. Juliet achieved West End stardom in an early Peter Shaffer play FIVE FINGER EXERCISE (1958). After the success of TIGER BAY, Hayley was swept off to Hollywood but returned for WHISTLE DOWN THE WIND (1961), which was based on a novel by her mother. John appeared with Hayley in a number of films and directed her in SKY WEST AND CROOKED (1966), which was co-scripted by his wife.
John was nominated for the 1962 Best Actor Tony Award for his role in Terence Rattigan's ROSS, as the lead character in a fictionalization of the life of T.E. Lawrence (best known as "Lawrence of Arabia"). In 1976, he was knighted by Queen Elizabeth II, becoming Sir John Mills.
At age 92, he and wife Mary, age 89, renewed their marriage vows at St. Mary's Church, next to their home in Denham, England—because they had been denied a church service when they had wed 60 years earlier (because John serving in the Army).
Sir John's sight and hearing began seriously failing in 1990, but he continued to work, in both blind and sighted roles. From 1990 until his death on April 23, 2005, Mills appeared in eight movies and six TV productions. At age 89 he performed in the Rowan Atkinson comedy, BEAN; at 90 he played "Gus the Theatre Cat" in a TV and video production of Andrew Lloyd-Webber's CATS; and at 95 he limned a cocaine-snorting comedian in Stephen Fry's BRIGHT YOUNG THINGS.
Mills once explained this late-in-life burst of activity thus: "Among actors of my generation, retirement is a dirty word."
ALAN WALDMAN'S NINE FAVORITE JOHN MILLS FILMS:
1. GANDHI (1982)
2. TUNES OF GLORY (1960)
3. KING RAT (1966)
4. TIGER BAT (1959)
5. THE FAMILY WAY (1966)
6. HOBSON'S CHOICE (1954)
7. ROCKING HORSE WINNER (1950)
8. GOODBYE MR. CHIPS (1939)
9. THE WRONG BOX (1966)

© Alan Waldman (5/17/05)


Over the past 31 years, Los Angeles freelance journalist, left-wing blogger, middle-aged sex symbol and full-time smart-aleck Alan Waldman has written more than 2000 articles, which have appeared in dozens of publications, including four of the following five: TV GUIDE, SPORT, THE MISSOULA INDEPENDENT, THE HOLLYWOOD REPORTER, and SWEATY VOYEUR MONTHLY. Alan's older-but-shorter cousin Dr. Michael "Snappy" Lewis owns two NBA championship rings from the years he served as team orthopedist for the Chicago Bulls (tending to Michael Jordan's knee, Scottie Pippin's foot and Dennis Rodman's dress).

Alan, Dr. Lewis and several of their other infamous relatives try to live by "Waldman's Law", which generally goes: "You don't have to spend time with jackasses; surround yourself with delightful people instead." Following his own philosophical dictum, Alan has been married for 10 years to the bright, lovely and multi-talented personal historian, cat fancier and noodge, Sharon "Charge It" Waldman. They live happily in the overpriced L.A. suburb of Encino, where they enjoy foreign and independent films, Asian food and erotomania.
FINAL FF2 NOTE:
As usual, Alan has done a terrific job of summarizing the work of one of the great actors in cinema history. We've seen most of the films listed above although they're not in our database (yet) because we saw them before we started FILMS FOR TWO & one of our rules is not to rate anything based solely on memory. Nevertheless, we'd like to single out one film Alan missed, namely SCOTT OF THE ANTARCTIC, the 1948 biopic about British explorer Robert Falcon Scott. Jan also has fond memories of RYAN'S DAUGHTER (directed by one of her all-time favorite directors, David Lean), but Richard is more inclined to remember it Alan's way. We both agree, however, that KING RAT is a must see.