Tribute
to
Marlon Brando

Special Thoughts for
FILMS FOR TWO®
by Alan Waldman
Marlon Brando was widely considered to be the greatest of all American actors, although, truthfully, his forty-two films in fifty-four years included a handful of great performances, many interesting performances in so-so to awful movies, and a few that he sleepwalked through for the money. He won the Best Actor Oscar twice for ON THE WATERFRONT and THE GODFATHER, and was nominated for six other films. He also earned five Golden Globes, an Emmy, three BAFTAs, and major honors from France, Spain and Japan. Britain's EMPIRE magazine named him one of the fourteen sexiest film stars ever. He also garnered the Worst Supporting Actor "Razzie" award for THE ISLAND OF DR. MOREAU in 1997, and the 1961 "Sour Apple" as "Least Cooperative Actor."
I thought he was terrific, except in a handful of cases where he was clearly just going through the motions. Jack Nicholson, his friend and next-door neighbor for 30 years, declared Brando "a genius who was the beginning and end of his own revolution." Then Nicholson added, "He gave us our freedom."
Al Pacino summarized the views of many thespians, critics and moviegoers when he affirmed: "Brando's God, man." But David Thewlis (Brando's co-star in ISLAND OF DR. MOREAU) voiced the opinion of numerous others: "It's no secret that he's as mad as a hatter."
Brando's crusades for African-American and American Indian civil rights, the environment, Soviet Jewry and other humanitarian causes kept him in the public eye throughout his career. "Not only was he a uniquely gifted and influential actor, but he was also an aroused citizen with broad social perspectives," said Warren Beatty. "Generous with his friendship and candid personal insights, he was an endlessly entertaining good neighbor."
Brando was the planet's greatest practitioner of "method acting," which he learned from legendary New York drama teacher Stella Adler. Method acting replaced the more grandly theatrical, classical, British acting style that had dominated American stage and film from their beginnings—with a deeper psychological approach to character that drew on personal emotional experiences. Combined with Brando's innate genius, and drawing on his personal pain and vulnerability, his performances turned stage and movie acting on their head. It emboldened two generations of performers—including Paul Newman, Montgomery Clift, James Dean, Robert DeNiro, Al Pacino, Jack Nicholson and Dustin Hoffman—to take chances and thereby raise acting to a newer, truer, level that made a more visceral impact on audiences.
On stage, Brando changed his performance every night—in films, on every take. Some co-stars loved the spontaneity this engendered, while others resented the way it interfered with their own work.
All directors benefited from his legacy, because after seeing Brando perform, actors were more willing to dive deeper into their own psyches and to do numerous retakes, trying different ways to speak, move and react. His impact is now felt in every acting class in America, as well as in almost every movie or TV show we tune in.
On Broadway in the late 1940s and in films of the 1950s, Brando stunned audiences and critics with his unorthodox, brand-new approach—which was simultaneously intense, muscular, brooding, sensitive and highly sexual. Classic actors had emphasized speaking clearly, but Brando sometimes mumbled or slouched, while conveying anything from slack-jawed stupidity to menace to feral cunning.
He had a massive cultural impact on drama, fashion, photography and more—some of which is still felt a half-century later. He symbolized the emerging rebellion against post-war conformity. At a time when stars had to be glamorous, Brando's tight jeans, leather jackets and torn T-shirts became a national uniform for disaffected youth.
In his five decades on film, Brando played a kaleidoscopic range of characters including a Japanese peasant, a foppish British naval officer, a singing gangster, an aged Mafia chief, a South African anti-Apartheid lawyer, a Nazi soldier, a junkie, a dancing psychiatrist, a fascistic motorcycle gang leader and a mad scientist in drag, as well as the historical giants Napoleon and Emiliano Zapata.
Ironically, he was both an icon and an iconoclast, and that dissonance led to his tragic downfall, ultimately turning his life into bizarre soap opera.
Brando's colossal ability earned him enormous fame, which he hated almost from the beginning. His angry rebellion against both Hollywood and the glorification of acting made him increasingly eccentric and reclusive throughout his life—and that only spurred the media to savage him more egregiously.
"I'm a concerned human being who occasionally acts," Brando once explained. "Making movies is 'time out' for me, while the rest of my life is what's real for me. Another time he complained. "I don't know what people expect when they meet me. They seem to be afraid that I'm going to piss in the potted palm and slap them on the ass." On one occasion he declared, "I am myself," and if I have to hit my head against a brick wall to remain true to myself, I will do it." And later: "The only reason I'm here in Hollywood is because I don't have the moral courage to refuse the money."
Brando was an angry young man who became an obese hermit after his poor film selections and reputation for being difficult drove him out of Hollywood. But every time the business wrote him off, he bounced back with another mesmerizing performance: 1972's THE GODFATHER, 1979's APOCALYPSE NOW, and 1989's A DRY WHITE SEASON.
Brando's off-screen antics fascinated the public and the press as much as his legendary performances did. He boasted of having bedded hundreds of women and is believed to have fooled with a few fellas too. He married three pregnant women and had at least nine children—by his wives, his housekeeper, and several other admirers as well. Once he suggested, "I don't think it's the nature of any man to be monogamous. Men are propelled by genetically ordained impulses, over which they have no control, to distribute their seed."
Under Stella Adler's tutelage—at the New School and later at the famed Actor's Studio—Brando embraced Method acting and took it to a new level. Working from the inside out, he introduced the character driven by passion rather than control. Adler also opened him to great works of literature, music, and theater.
"Stella taught me to be real and not try to act out an emotion I didn't personally experience during a performance," Brando later said. "I came from Nebraska, with no sense of culture and hardly any education. Stella took me into her family, and I spent a lot of time living at her house."
He made his breakthrough performance on Broadway in 1947 as Stanley Kowalski in A STREETCAR NAMED DESIRE—which set him on the painfully bumpy road to fame and fortune. The play hit Broadway like a tornado, turning Marlon into an overnight star. Brando was uncomfortable with all his new attention. He hated the fans' hysteria and suffered through interviews. When his two-year contract ended, Brando never appeared in another play.
For his first film, Marlon declined several big studio offers and joined independent Stanley Kramer for THE MEN. To research this 1950 role as a bitter paraplegic war veteran, Brando spent a month in bed and wheelchair at a veteran's hospital.
In 1951, Brando reprised Kowalski on film. He earned his first Best Actor nomination for A STREETCAR NAMED DESIRE, directed both on Broadway and on film by the legendary Elia Kazan, but lost to Humphrey Bogart (in THE AFRICAN QUEEN), despite Oscar wins by his three co-stars, Vivien Leigh, Karl Malden and Kim Hunter. Significantly, Brando's Kowalski dealt a blow to the Hollywood production code, because he was the first sexually threatening male star since silent film star Rudolf Valentino.
Widely acclaimed as the greatest actor of his generation, Brando earned four consecutive Oscar noms in the next two years—for VIVA ZAPATA, JULIUS CAESAR, THE WILD ONE and ON THE WATERFRONT, and the golden statuette finally came his way for his magnificent turn as WATERFRONT thug Terry Malloy who laments throwing fights for his gangster brother with the line: "I coulda been a contender. I coulda been somebody."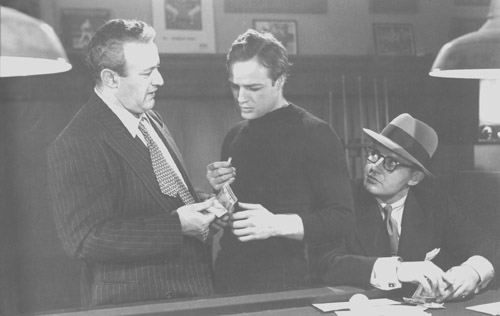 The 1954 Academy Award-winning drama ON THE WATERFRONT starred Marlon Brando (center) as ex-prize fighter Terry Malloy. Lee J. Cobb (left) and Rod Steiger (right) co-starred as Johnny Friendly and Charlie Malloy respectively. Brando won the Best Actor Oscar while both Cobb and Steiger received Academy Award nominations in the Best Supporting Actor category. Eva Marie Saint, in her screen debut, won the Oscar for Best Supporting Actress for the role of Edie Doyle.
(KRT) NC KD 2002/NewsCom
This pivotal taxi scene was originally written with one brother pulling a gun the other but Brando found that false so he persuaded Kazan to let him and Steiger improvise what became the legendary screen version. During the production, however, Brando angered Steiger by refusing to be on set reading his lines during Rod's close-ups.
(Click here to read Alan's related Tribute to Elia Kazan.)
Brando walked out of Fox's THE EGYPTIAN, then played Napoleon in DESIREÉ, which flopped. In 1955, he completely switched gears, doing his own singing and dancing in the film adaptation of the Broadway hit GUYS AND DOLLS. Co-star Frank Sinatra hated doing multiple takes, and was sometimes known to walk out after his first take, with a "use it or else," attitude. Brando infuriated Sinatra on GUYS by insisting on take after take after take, during which he experimented with various nuances. In one scene, Sinatra had to eat cheesecake in every take, until he erupted: "You New York actors! How much cake do you think I can eat?" Brando later quipped: "Sinatra's the kind of guy that, when he dies, he's going to give God a bad time for making him bald."
From 1955 to 1958, movie exhibitors voted Marlon Brando one of the top 10 box-office draws in the nation, although most of his late-'50s work was in "commercial" projects that failed to measure up to earlier scripts. After 1960's THE FUGITIVE KIND became a financial disaster, Brando set out to mount his own production of the idiosyncratic anti-Western ONE-EYED JACKS. Stanley Kubrick and Sam Peckinpah each left the project, so Brando took over as director. It did decent box office, but it went too far over budget to become profitable.
Brando's reputation suffered more following MGM's 1962 catastrophic remake of MUTINY ON THE BOUNTY, which came in grotesquely over budget. He was blamed for a change in directors and for some of the record $19 million budget, which nearly bankrupted MGM, although he denied responsibility for either.
"They deserve what they get when they give a ham actor, a petulant child, complete control of an expensive picture," fumed the director, Lewis Milestone. Co-star Trevor Howard harrumphed, "The man is unprofessional and absolutely ridiculous." During a crucial scene, Brando forgot his lines, so a crewman pasted them onto the other actor's forehead. Brando reportedly threw tantrums, tried to change the script, had affairs, and got fat during the shoot. A clause in his contract paid him $5,000 for each day they went over the allotted filming time, so he ended up taking home $1.25 million for the role. Brando's behavior on MUTINY made him an object of scorn for the first time in his career.
Although Brando remained compulsively watchable, his downward spiral continued with 1963's THE UGLY AMERICAN, 1964's BEDTIME STORY, 1966's THE CHASE, 1967's A COUNTESS FROM HONG KONG, 1968's CANDY and other misguided efforts. He was quoted as declaring acting to be a "neurotic, unimportant job." That earned him few friends in the biz. "An actor's a guy who, if you ain't talking about him, ain't listening," he declared. Refusing most interviews for half a century, Brando once explained, "If there's anything unsettling to the stomach, it's watching actors on television talk about their personal lives."
In 1970, when director Francis Ford Coppola was seeking an actor to play aging Mafia don Vito Corleone in his adaptation of Mario Puzo's best-selling novel THE GODFATHER, Paramount suggested Burt Lancaster, Orson Welles, George C. Scott, and Edward G. Robinson. Coppola told studio execs he wanted Brando, but they refused, believing he was not only trouble, but box office poison. So Coppola persuaded Brando to do a so-called "makeup test." When he showed the studio suits Brando's astonishing transformation in that screen test, they relented.
THE GODFATHER was a massive critical and box-office success—acclaimed as a classic almost immediately. Brando's on-set behavior was said to be impeccable, and he earned a second Academy Award for his best performance in 18 years.
Brando balked at the prospect of Burt Reynolds playing Sonny Corleone in THE GODFATHER, insisting on James Caan. Coppola gave Brando leeway to play with the role, and that resulted in a richer, more nuanced performance. But Caan, Robert Duvall and Brando were also pranksters, regularly mooning cast and crew.
Brando said, "I think THE GODFATHER is about the corporate mind, because the Mafia is the best example of capitalists we have."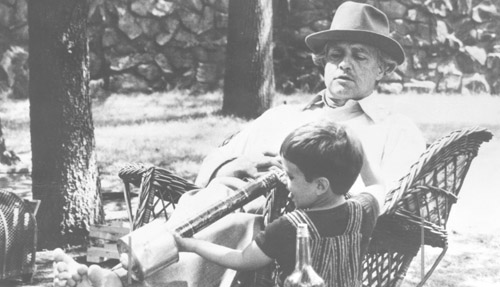 Marlon Brando received his second Best Actor Oscar as Mafia chief Don Corleone in Francis Ford Coppola's Oscar-winning epic THE GODFATHER. The Don is shown here playing with his grandson in his sunset years.
(PH) NC KD 2001/NewsCom
In arguably the most famous event of Brando's career, he refused to show up for the 1973 Oscar ceremony. Instead of going himself, he sent a woman identified as "Sasheen Littlefeater" to refuse it on his behalf. She dressed in Apache ceremonial garb and attacked Hollywood's mistreatment of Native Americans from the podium. It turned out that she really wasn't an Indian; she was actress Maria Cruz, winner of the 1970 Miss American Vampire Contest. (I am not making this up.)
Next Brando gave a brilliant performance as a middle-aged American, carnally involved with a young stranger, in Bernardo Bertolucci's X-rated 1973 shocker, LAST TANGO IN PARIS. The controversial flick created a media and public frenzy, because of its nudity and sexual frankness. TANGO, which garnered Marlon another Oscar nom, was a largely improvised film that included several autobiographical Brando speeches, including one about being abandoned and humiliated. Brando later wrote in his memoir "Songs My Mother Taught Me," that TANGO "required a lot of emotional arm wrestling with myself, and when it was finished, I decided that I wasn't ever again going to destroy myself emotionally to make a movie."
He never worked at that level of intensity again. He received more money ($14 million) for his nine-minute appearance in SUPERMAN (1978) than Christopher Reeve did in the title role. Then Coppola chose Brando for another memorable role: the insane Col. Kurtz in 1979's APOCALYPSE NOW.
Brando lived in self-imposed exile on the Pacific island he bought after filming MUTINY, growing obese and refusing the few overtures producers made him. Only in 1989 did a project appeal to Brando's deep political convictions, so he worked for scale in the powerful anti-Apartheid drama A DRY WHITE SEASON, earning his eight Oscar nomination.
Brando earned $3 million for three weeks' work in 2001's THE SCORE. When he showed up on the set with day-glo make up and a full-blown lisp, director Frank Oz explained that he was seeking a more subtle portrayal of homosexuality. Marlon fought with Oz and barred him from the set in one scene, forcing the director to give Brando's instructions to co-star Robert DeNiro through an earpiece, so that the former TAXI DRIVER could "direct" him.
In order to be certain that he was not filmed below the waist, Brando sometimes performed without pants. Co-star Edward Norton reported that Brando delighted in figuring out which chair DeNiro was going to sit in and then taping a farting device under it, for mid-scene surprises. After the film came out, L.A. Times reviewer Kenneth Turan wrote, "Brando's only partially taking acting seriously here, but even so he's awfully good at it."
Marlon Brando died on July 1, 2004 at Los Angeles's UCLA Medical Center. His extravagant personality, his numerous divorces, and the tragic life crises of several of his children exhausted him physically and financially. At his death, Brando was reportedly $20 million in debt and existing almost entirely on Social Security, his pension from the Screen Actors Guild, and small residuals.
In every sense of the word, Marlon Brando was a colossus. He was an original, if a very troubled actor and person. My fellow Brandeis University alum, film critic Peter Rainer, wrote, "Brando's performances in LAST TANGO IN PARIS and ON THE WATERFRONT are two of the four or five greatest ever given, but there should have been many more. It's a cultural tragedy."
ALAN WALDMAN'S 15 FAVORITE MARLON BRANDO FILMS:
1. A Streetcar Named Desire (1951)
2. On the Waterfront (1954)
3. The Godfather (1972)
4. A Dry, White Season (1989)
5. The Formula (1980)
6. Don Juan de Marco (1995)
7. Guys and Dolls (1955)
8. Mutiny on the Bounty (1962)
9. Viva Zapata (1952)
10. Last Tango in Paris (1972)
11. Teahouse of the August Moon (1956)
12. Sayonara (1957)
13. Apocalypse Now (1979)
14. The Missouri Breaks (1976)
15. The Freshman (1990)
© Alan Waldman (7/14/04)
Alan Waldman (pictured, right, with his uncle Hank Friedberg) is an under-employed Los Angeles freelance writer, who is so bright his mother calls him "sun."

On June 25 of this year, Alan's beloved uncle, Hank Friedberg, died at age 100. Asked the secret of his longevity, Hank always said "sex and sailing." "Uncle Hank was one of the funniest people I ever knew--a great storyteller--and he enjoyed virtually every moment of his long life," Alan says. "He never worked too hard, had lots of friends (including major literary figures who lived in and visited New Orleans), loved food, women, family, betting on sports and being on a sailboat.
True story: When he was 96, the state of Texas ludicrously renewed his drivers' license, so Uncle Hank went out to buy a new Honda Accord. The salesman asked if he wanted to buy the seven-year warranty too. "Seven year warranty?," Uncle Hank asked incredulously. "Do you know how old I am? I don't even buy green bananas!"
"Uncle Hank taught me and the rest of the people who knew him four important lessons," Alan continues, "Enjoy every moment while you have it, don't take life too seriously, tell the people you love that you love them--while you have them--and don't waste too much time crying about what disappoints you." After every decent meal I ever had with Uncle Hank, he'd smack his lips and say: "That was the greatest meal I ever had!" And he meant it, because he'd been given the gift of another nice meal with his loving and beloved family.
Whenever Hank left a gathering, he would say in a radio announcer's voice something that sounded like it was from an old radio show: "Now we say farewell, but it is not really farewell, for we shall return one day to lovely Lake Ponchetrain, teeming with tarpon." He was right. His ashes have been scattered over Lake Ponchetrain.