Ossie Davis appears below in one of his final roles,
as Mario Van Peebles' grandfather in BAADASSSSS!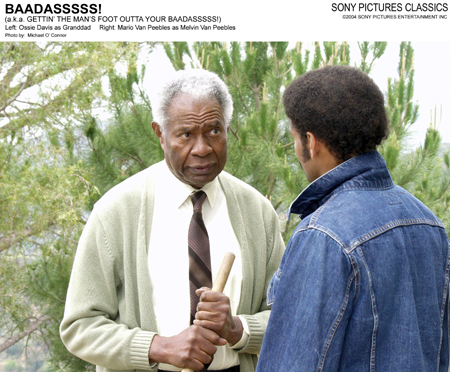 Throughout his distinguished 66-year professional career, the late Ossie Davis was a widely beloved, highly accomplished writer, actor and director of stage, TV and movies—as well as being a courageous champion of civil rights, human rights, justice and a return to sanity in American domestic and foreign policy. My third (and cutest) wife Sharon and I are two of the zillions of right-handed and right-thinking persons who consider Davis and his wife of 57 years—the wonderfully talented Ruby Dee—to be one of the five classic American stage and screen couples—alongside Hume Cronyn-Jessica Tandy, Humphrey Bogart-Lauren Bacall, Alfred Lunt-Lynn Fontanne, and Paul Newman-Joanne Woodward.
Davis appeared in 39 movies, 40 TV movies or miniseries and five TV series over 55 years. His big-screen works include THE CARDINAL, THE HILL, HOT STUFF (1985), GLADIATOR (1992), GRUMPY OLD MEN (1993), THE CLIENT (1994), DR. DOLITTLE (1998) and six Spike Lee films—from DO THE RIGHT THING (1989) through SHE HATE ME (2004).
Dee and Davis performed together in lots of memorable works, including the Broadway play ANNA LUCASTA (1946), the miniseries ROOTS: THE NEXT GENERATION (1978), the TV series OSSIE AND RUBY! (1980),and the excellent movies DO THE RIGHT THING and JUNGLE FEVER (1991).
Ossie Davis wrote the films GONE ARE THE DAYS (based on his hit play PURLIE VICTORIOUS), COTTON COMES TO HARLEM (1970) and COOL RED (1976); the great TV musical PURLIE (1981), the powerful TV movie FOR US THE LIVING: THE MEDGAR EVERS STORY and an episode of the 1963 TV series EAST SIDE, WEST SIDE. In the 1970s, he directed the hit mystery COTTON COMES TO HARLEM and four other solid films.
His warm, mellow voice made him one of the country's best narrators of TV documentaries, including the immensely popular PBS miniseries JAZZ, BASEBALL, THE WEST and THOMAS JEFFERSON.
Throughout their careers, whenever Ruby Dee and Ossie Davis were not on stage or on camera, they were deeply involved in "the struggle": helping to promote civil rights for African-Americans and other victims of injustice and discrimination. Many of their political choices put their livelihoods at risk. At a time when dark-skinned people suffered in silence, Dee and Davis rose up and sued in federal court for black voting rights. When the great Paul Robeson was persecuted in the anti-Communist witch hunts of the 1950s, Dee and Davis were steadfast in their support of him—even though they were blacklisted (and even though many leading black political, sports and entertainment figures denounced Robeson).
Ruby Dee and Ossie Davis served as master and mistress of ceremonies for the massive 1963 civil rights March on Washington. Ossie gave a moving eulogy at the 1965 funeral of his controversial friend Malcolm X, nd also spoke at the 1968 funeral of his slain comrade Martin Luther King Jr.
The 6'3" Davis brought a strong sense of authority, wisdom, and quiet dignity to all his roles, but on camera and off, he displayed a sly underlying sense of humor. Once, when a lady asked, "Are you Ossie Davis?" he replied with a smile, "I hope so, because I have his wallet." Another time, when he and frightened pal Harry Belafonte were about to be arrested by vicious racist police for demonstrating for civil rights in Selma, Alabama, Ossie calmly quipped, "Harry, please tell me that you don't snore."
I admired and respected Ossie Davis and Ruby Dee enormously—for their courage, their character and their enormous talent. One of the most exciting theatre evenings I ever spent was at the small Circle in the Square, in Manhattan, watching Ruby Dee's and James Earl Jones's heart-rending performances in Athol Fugard's deeply moving play BOESMAN AND LENA. One of the most joyous was seeing mega-talented Cleavon Little and Melba Moore tear up the stage in Ossie's wonderful Broadway production of PURLIE—one of my all-time favorite musicals.
Since 1965, when my life was first impacted by the sensational movie A THOUSAND CLOWNS, I have always loved the work of brilliantly original playwright/screenwriter Herb Gardner (see my Tribute to Gardner for FILMS FOR TWO,) and I am unable to decide which of the following experiences gave me greater delight: watching Ossie Davis and Walter Matthau perform onscreen in I'M NOT RAPPOPORT (1996) or seeing Judd Hirsch and the late Cleavon Little do it onstage in Los Angeles.
Ossie and Ruby were celebrated as "national treasures" when they received the National Medal of Arts, they have been enshrined in the NAACP Image Awards Hall of Fame and they were among the select recipients of the Kennedy Center Honors.
Davis won a WGA award for writing FOR US THE LIVING: THE MEDGAR EVERS STORY (1983) and also received the SAG Lifetime Achievement award. He was nominated for seven N.A.A.C.P. Image awards, winning for DO THE RIGHT THING, PROMISED LAND (1996) and CITY OF ANGELS (2000). He won various awards for his performances in GET ON THE BUS (1996), the TV series BONANZA and the children's special FINDING BUCK McHENRY. An Emmy nominee for TEACHER TEACHER (1969), KING (1978) and MISS EVERS' BOYS (1997), Davis was nominated for other awards for DEACONS FOR THE DEFENSE (2003), BUBBA HO-TEP (2002) and THE SCALPHUNTERS. He was Tony-nominated for JAMAICA (1958) and PURLIE (1970).
Thousands packed Harlem's Riverside Church last month for Ossie Davis's funeral, where Harry Belafonte eulogized, "The performing arts became Ossie's rebellion to tyranny. And as an actor, he interpreted our existence with the dignity rarely allowed to the generations of black artists who struggled before him. Ossie Davis, guided by his fervent dedication to justice, wasted no opportunity in defending the causes of the poor, the humiliated and the oppressed." Bill Clinton then declared that Ossie "would have made a good President of the United States."
Raiford Chatman Davis was born in tiny Cogdell, Georgia, on Dec. 18, 1917—at a time when the Ku Klux Klan was virtually a shadow government. Just after his birth, the county clerk misunderstood his mother's pronunciation of his initials "R.C."—and registered him as "Ossie." The name stuck.
Ossie was the oldest of five children of a self-taught railroad builder and herb doctor. (His brother, Professor William Davis, invented instant mashed potatoes.)
"The Ku Klux Klan's declaration that they would shoot down his father like a dog caused Ossie to later claim that incident as a most compelling reason for exploring writing as a life profession," Belafonte once explained.
Ossie left home in 1935, hitchhiking to Washington to enter Howard University, where he studied under Alain LeRoy Locke, the first black Rhodes scholar. Locke encouraged Davis to go into theatre and try his hand at playwriting.
While in Washington, Davis went to hear Marian Anderson sing at the Lincoln Memorial—after she had been barred from performing at Constitution Hall. "I understood fully, for the first time, the importance of black song, black music and black arts," he later recalled. "I was handed my spiritual assignment that night."
After graduating from Howard, Davis labored at many menial jobs. He moved to Harlem and came into contact with some of the era's most towering black protest figures, including W. E. B. DuBois, A. Philip Randolph, Richard Wright, James Weldon Johnson, Father Divine and Langston Hughes. Ossie began acting in 1939 with Harlem's Rose McClendon Players—which was then the center of black culture in America. He later admitted to having a "flirtation" with the Young Communist League, which ended with the onset of World War II.
During that combat, Davis spent four years in the Army, mainly as a surgical technician in an African-American unit of a military hospital in Liberia, where he tended wounded soldiers and local inhabitants.
"When World War II was over, there was a strong feeling in the country that racism had to be attacked," Davis later said, and "the artistic community led the way. Our work was a series of serious statements on what kind of world we were to have from here on."
Ossie made his Broadway debut in the 1946 play JEB, opposite attractive, Cleveland-born actress Ruby Dee. In December 1948, on a day off from rehearsals from the play, THE SMILE OF THE WORLD, Davis and Dee took a bus to New Jersey and got married. Their happy union lasted 56 years.
Ossie performed many major Broadway roles, in plays such as the popular comedy NO TIME FOR SERGEANTS and supremely gifted playwright Lorraine Hansberry's powerful, groundbreaking indictment of housing discrimination, A RAISIN IN THE SUN. (The stunning 1961 film version of RAISIN won Ruby Dee the National Board of Review Best Actress award and numerous honors for her co-stars Sidney Poitier and Claudia McNeil, director Daniel Petrie and screenwriter Hansberry, who died tragically four years later, at age 34).
A (parenthetical) memory I will cherish forever is when I was 20 and my parents, siblings and I saw the thrilling Broadway production of Hansberry's magnificent play THE SIGN IN SIDNEY BRUSTEIN'S WINDOW. While Hansberry was hospitalized in the last stages of her fight against terminal cancer, the show was scheduled to close, but for several weeks (like in the story of the Hanukkah candle that burned for seven unexpected more nights), the cast came onstage after the each final curtain and raised enough money to keep it going for another week—until Lorraine finally died.
Ossie Davis and Sidney Poitier both made their film debuts in the anti-racism drama NO WAY OUT (1950), alongside Ruby Dee, Richard Widmark and Linda Darnell. Ossie also appeared in THE JOE LEWIS STORY (1953)—but another decade passed before he reached the big screen again, in GONE ARE THE DAYS, an adaptation of his play PURLIE VICTORIOUS. In the interim, he worked in TV in movies such as THE EMPEROR JONES (1955) and SEVEN TIMES MONDAY (1962, opposite Ruby Dee), onstage and in the front lines of the explosive civil rights movement.
Davis's movie career resumed in the '60s, with roles in THE CARDINAL (1963), SHOCK TREATMENT (1964), THE HILL (1965), A MAN CALLED ADAM (1966), THE SCALPHUNTERS (1968) and SAM WHISKEY (1969).
In 1970, Davis became the first African American permitted to write and direct a major movie, COTTON COMES TO HARLEM, which, fortunately for Spike Lee and every other ethnic writer-director who followed, was a good film and a big hit. I thought this exciting, funny, off-beat cop story—based on an excellent Chester Himes mystery and full of colorful characters that we hadn't seen before (like Calvin Lockhart's smooth-talking but crooked preacher)—was terrific fun. COTTON's stars, the always-great Godfrey Cambridge and the suave-as-velvet Raymond St. Jacques, were the first two African-American buddy-cop leads I'd ever seen. Five years later, Ossie appeared as a preacher in its entertaining sequel, LET'S DO IT AGAIN, starring Sidney Poitier (who directed) and Bill Cosby.
For four years in the mid-1970s—while he directed four more movies and appeared on large and small screens—Ossie co-starred in THE OSSIE DAVIS AND RUBY DEE STORY HOUS, a black-themed radio series that ran on 65 stations. For the rest of his career, he appeared in both serious a lighthearted fare. In addition to his great performance in I'M NOT RAPPOPORT, I particularly enjoyed him in Spike Lee's DO THE RIGHT THING, JUNGLE FEVER and GET ON THE BUS. The voice-over of his actual eulogy for Malcom X was a stirring element of Lee's greatest film, MALCOM X. He was cute and funny in GRUMPY OLD MEN and was excellent alongside Jack Lemmon, George C. Scott, Armin Mueller-Stahl, Hume Cronyn and eight other top talents in William Friedkin's powerful 1997 TV revival of 12 ANGRY MEN.
From 1990-1994, Davis had a great run in the popular TV series EVENING SHADE opposite Burt Reynolds—who commented after Davis's death, "Ossie was the kind of man I aspire to be some day. He's sitting next to God now, and I know God envies that voice."
Davis and Dee celebrated their 50th wedding anniversary in 1998 with the publication of a dual autobiography, IN THIS LIFE TOGETHER. They continued their activism throughout Ossie's life, most recently protesting the war in Iraq and the Bush-supported coup in Haiti. Ossie Davis died in Miami on Feb.4, 2005, after he had just begun acting in the romantic comedy RETIREMENT with Peter Falk, Rip Torn and George Segal.
Reflecting back on his early writing days, Davis once commented, "We didn't have the disadvantages of television in those days. My imagination caught fire, and I have never been able to put the fires out. And that is essentially who I am: the dreamer who is still caught in the dream."
At Ossie's funeral, the great American poet Maya Angelou declared, "We can be more, every day—larger, kinder, truer, more honest, more courageous and more loving—because Ossie Davis existed and belonged to all of us."
ALAN WALDMAN'S NINE FAVORITE OSSIE DAVIS FILMS:
1. I'M NOT RAPPOPORT (1996)
2. PURLIE (TV, 1981)
3. MALCOM X (1992)
4. DO THE RIGHT THING (1989)
5. GET ON THE BUS (1996)
6. COTTON COMES TO HARLEM (1970)
7. GRUMPY OLD MEN (1993)
8. JUNGLE FEVER (1991)
9. 12 ANGRY MEN (TV, 1997)
© Alan Waldman (3/12/05)