TRIBUTE
TO
ROY SCHEIDER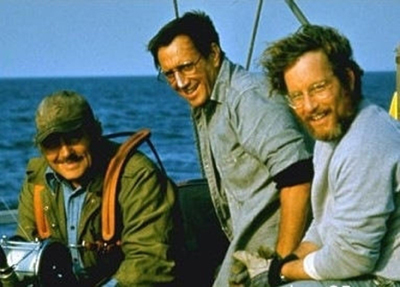 Robert Shaw, Roy Schieder and Richard Dreyfuss (L-R) in a scene from JAWS.
Photo supplied by WENN/NewsCom
Special Thoughts for
FILMS FOR TWO
by Sharon and Alan Waldman
Roy Scheider was a very talented actor with whom audiences could easily identify. He did 88 movies and TV projects over 46 years, earning two Oscar nominations (for THE FRENCH CONNECTION and ALL THAT JAZZ), a Saturn Award (for BLUE THUNDER), an Independent Spirit Award nom (THE MYTH OF FINGERPRINTS), Golden Globe and BAFTA noms for ALL THAT JAZZ and several honors for his Broadway and TV work. Scheider was one of Hollywood's top leading men in the second half of its golden age (1964-1976)--appearing in box office and/or critical hits including KLUTE (1971), THE FRENCH CONNECTION (1971), JAWS (1975), and MARATHON MAN. Later in his career, he did fine work and made impacts in SORCERER (1977), ALL THAT JAZZ (1979), BLUE THUNDER (1983), MISHIMA (1983), 2010 (1984), NAKED LUNCH (1991), THE RAINMAKER (1997), RKO 281 (1999) and TV's, THE THIRD WATCH (2002).
Scheider's JAWS co-star Richard Dreyfuss recently declared, "Roy was a wonderful guy. He was a skilled professional actor who didn't yell and scream at the fates, but who simply did his job well as he could."
To help us recommend our seven favorite Scheider movies to you, we just re-watched a dozen of them. It was startling how poorly a few of them held up today (despite Scheider's good performances), after being acclaimed by audiences, critics and ourselves when they originally came out. Except for its two classic chase sequences, we found THE FRENCH CONNECTION slow and flat. KLUTE, although shockingly hot stuff in 1971, is now tedious, uninvolving and so ludicrously dark in its camerawork that you rarely see the actors clearly THE SEVEN UPS (1973) is a big bore. And JAWS--once the scariest, most gripping film around-- seems little more than a dragged-out fish story.
If all that seems too cynical, we really loved the films listed below. (A note, however: Sharon judged them on the quality of Scheider's work in them--therefore, naturally, rating his tour de force performance in ALL THAT JAZZ) as tops--whereas Alan ranked them on what he judged to be their overall film quality, therefore selecting MARATHON MAN as the best.

FAVORITE SCHEIDER FILMS

SHARON'S

1. ALL THAT JAZZ (1979)
2. MARATHON MAN (1976)
3. 52 PICK-UP (1986)
4. SORCERER (1977)
5. RKO 281 (1999)
6. JAWS (1975)
7. 2010 (1984)

ALAN'S

1. MARATHON MAN
2. 52 PICK-UP
3. SORCERER
4. THE RUSSIA HOUSE (1990)
5. RKO 281
6. ALL THAT JAZZ
7. 2010
Roy Richard Scheider was born in Orange, NJ, on November 10, 1932, the son of German-American Protestant auto mechanic Roy Bernhard Scheider and Irish Catholic Anna Crosson. He was sometimes sickly and bed-ridden as a child, resulting, in adulthood, in his near-maniacal love of tanning outdoors.
Nonetheless, Roy became a keen sportsman from a young age, competing in baseball and boxing (with a nose broken during a Golden Gloves match creating his unique profile). He steadfastly remained in excellent physical shape throughout his long career.
After attending Columbia High School in Maplewood, NJ, Roy studied drama at both Rutgers University and Franklin and Marshall College, where he graduated with degree in history and intended to head for law school.
After three years in the United States Air Force, where he rose to the rank of first lieutenant, Scheider opted for the stage and appeared in several plays with the New York Shakespeare Festival, starting as Mercutio in a 1961 ROMEO AND JULIET. He won a 1968 Obie Award for his role in STEPHEN D (Hugh Leonard's adaptation of a segment of James Joyce's ULYSSES).
While steadily working on stage and TV, Roy began his screen career with the campy 1964 D-grade horror cheese-fest THE CURSE OF THE LIVING CORPSE. That led to non-starring roles in STAR! (1968), PAPER LION (1968), STILETTO (1969) and PUZZLE OF A DOWNFALL CHILD (1970).
Scheider hit it big in 1971, appearing in two very popular movies: KLUTE and THE FRENCH CONNECTION. In the former, he played hooker Jane Fonda's threatening pimp. He later commented about working with her: "I liked her passion and her professionalism. You know, Jane worked for years as a silly ingénue on the stage in New York, and, I mean, she was laughable at first. But she stayed with it, and slowly, carefully she learned her craft."
Scheider earned his first Oscar nomination as Best Supporting Actor in THE FRENCH CONNECTION, which swept up five Oscars (including Best Picture) and 15 other top honors, doing a boffo $52 million in domestic boxoffice. It led to two bad sequels : 1975's FRENCH CONNECTION 2 (with Gene Hackman reprising his dopey role as Popeye Doyle) and THE SEVEN-UPS (with Scheider back as Detective Sonny Grosso, in his first starring role).
Peter Benchley's shark novel JAWS was a big hit in the early 1970s, and in 1975 a 28-year-old second-time director, Stephen Spielberg, was chosen to helm the film version, with Scheider playing police chief Brody alongside Richard Dreyfuss (AMERICAN GRAFFITI, Oscar for THE GOODBYE GIRL) and scenery-devouring Robert Shaw (THE STING, Oscar nom for A MAN FOR ALL SEASONS). JAWS was the first big movie blockbuster, and for many years it held the record as the highest-grossing film of all time. (It was also the first flick to gross more than $100 million in North America.) Scheider's ad-libbed line, "You're gonna need a bigger boat," was in later years voted the 35th-best movie quote ever.

Dreyfuss recently recalled a time when Scheider disappeared from the set during a weather-forced shooting pause. "Roy phoned me and said, 'If they call, you don't know where I am.' He had gone off to tan. For him, being tan was being healthy."
Sharon: Although JAWS isn't the scare-fest it was in 1975, it's still fun to watch. Roy Scheider is the glue that holds the story together. He is so honest and believable in the role of the sheriff that you forget he's acting and worry for his welfare.
| | |
| --- | --- |
| | Scheider followed that great success with another one, the brilliant 1976 classic MARATHON MAN, about which Chicago Sun-Times movie critic Roger Ebert exclaimed, "As well-crafted escapist entertainment, as a diabolical thriller, the movie works with relentless skill." It justifiably was nominated for 13 major awards for brilliant work by director John Schlesinger (Oscar for MIDNIGHT COWBOY and noms for DARLING and SUNDAY, BLOODY SUNDAY); Sir Laurence Olivier (Oscar for HAMLET and 10 other noms for films including THE BOYS FROM BRAZIL, REBECCA, WUTHERING HEIGHTS and SLEUTH); Dustin Hoffman (nominated for seven Oscars, winning for KRAMER VS. KRAMER and RAIN MAN); screenwriter William Goldman (Oscars for ALL THE PRESIDENT'S MEN and BUTCH CASSIDY AND THE SUNDANCE KID), cinematographer Conrad Hall (10 Oscar noms, winning for AMERICAN BEAUTY, ROAD TO PERDITION and BUTCH CASSIDY) and actress Marthe Keller (a Golden Globe for this performance). |
Scheider was mesmerizing in the medium-size role of Hoffman's worldly CIA agent brother, whose relationship with Nazi concentration camp torturer Olivier is ambiguous
Popular Swiss actress Marthe Keller (BLACK SUNDAY, FUNERAL IN BERLIN), hired to do her her first American role here, spoke no English when she arrived in New York and initially memorized and delivered her lines phonetically. Dustin Hoffman, who is Jewish, did not want his character to kill the Nazi, as he had done in the book, so screenwriter Robert Towne (Oscar for CHINATOWN, noms for SHAMPOO, THE LAST DETAIL and GREYSTOKE) was brought in to pen a more interesting ending.
(Alan): This is a taut, brilliant, spine-tingling thriller that was even better at our recent viewing. It features really outstanding performances from Scheider, Hoffman, Keller, William Devane and the world's greatest actor: Sir Laurence Olivier (who earned a Golden Globe award and an Oscar nom for this performance). The film is marvelously scripted by the most highly praised screenwriter of the '70s, William Goldman. If you have never seen this movie, it is a must. If you have seen it, you would doubtlessly enjoy it all over again.
(Sharon): Roy is so wonderfully vibrant in the role of the CIA man who seems to be acting as a double agent that you are stunned at what happens to him. (I won't give it away.) The movie is tense and dramatic, with wonderful performances.
Roy followed that second triumph with another in his next outing: the 1977 white-knuckle actioner SORCERER. In this outstanding remake of the terrific 1953 Henri-Georges Clouzot classic WAGES OF FEAR, Scheider powerfully takes the Yves Montand role as the leader of a desperate quartet of outcasts who agree to drive containers of highly unstable nitroglycerine through 200 miles of horrendous Nicaraguan jungle and over treacherous mountain roads in two ancient, clapped-out lorries.

Dan Jardine of Cinemania called SORCERER "one helluva fine piece of filmmaking that is damned riveting from start to finish, with some remarkably tension-filled set pieces, none more terrifying than that captured by the image of two trucks and four men inching their way across a rickety suspension bridge during a hellacious storm."
(Alan): Director William Friedkin (awards for THE FRENCH CONNECTION and TO LIVE AND DIE IN L.A.), screenwriter Walon Green (seven Emmy noms for E.R., HILL STREET BLUES, LAW & ORDER and N.Y.P.D. BLUE--winning for the latter), Scheider and a fine international cast blew me away at my first viewing of this film and at our recent return visit--as did THE WAGES OF FEAR, which I sweated through in college. This is one of the most exciting pics ever--guaranteed to bring you out in a cold sweat on numerous occasions.
(Sharon): Roy plays a thief fleeing from mobsters. He hides out in a dusty Central American town, where he is rotting away along with the vegetation until the opportunity to make big money comes along. He's a disreputable character, but we still root for him and the other ne'er-do-wells to make it through the jungle before getting blown to bits.
Scheider was originally cast as the lead in THE DEER HUNTER (1978), but he quit the pic because he didn't believe that his character would travel all the way to Vietnam to find his friend. Universal executives were furious, but they agreed to let him out of his contract if he made JAWS 2 (1978). He later admitted that dropping out of this great film--which was nominated for nine Oscars (including Robert De Niro in Roy's former role), winning five awards (including Best Picture)--was the career decision he most regretted.
Roy earned his second Academy Award nomination for playing the womanizing, amphetamine-gobbling, chain-smoking workaholic choreographer/director (an autobiographical portrayal of Bob Fosse) in the mind-blowing 1979 film ALL THAT JAZZ. It was nominated for nine Oscars, winning four. This astonishing role--certainly Scheider's best --was originally offered to Richard Dreyfuss, who didn't like Fosse and therefore dropped out early. Fosse fought to have Scheider get the role. (They became and remained close friends until Fosse's death from a sudden heart attack in 1987).

This was another big hit for Scheider, praised by 96% of U.S. critics. In the New York Times, Vincent Canby wrote: "It is great fun. There are big, beautiful, steamy, typically Fosse production numbers; small, intimate dance routines; shots of open-heart surgery that may send you under your seat; soul-searching, gags, fantasies and flashbacks."
Scheider later commented, "Fosse, I think, came to a high point in his life, with an Oscar, a Tony and an Emmy, and asked himself: 'Do they think I'm really that good? They don't know I'm really a sham, a hoax, a phony, a lousy human being, not much of a friend to anybody, and a flop'."
(Alan): This is too self-indulgent, excessive and erratic a movie to be great, but Roy Scheider absolutely sets fire to the screen in bringing this complex man to life. The title number--danced by the great Ann Reinking (perhaps the greatest Broadway dancer ever) and 12-year-old Erzebet Foldi--is just adorable. The "Air Erotica" dance number is a highly inventive classic, and the choreography throughout by Fosse (certainly Broadway's greatest) makes one's hat spin on one's head.
(Sharon): Frankly, Roy's character treats everyone badly and is in love with his own demise. However, the incredible dance numbers and Roy's magnificent performance make this an electrifying movie.
Roy returned to his first love, the stage, in 1980, winning a Drama League award for Harold Pinter's BETRAYAL. He did several more excellent TV and film performances over the next three decades, but due to space constraints we shall only comment on four that made our Top Seven lists.
(Alan): I thought Scheider did a fine job opposite my favorite actress Helen Mirren (an Oscar for THE QUEEN, won 63 other awards and 44 more noms for 19 other terrific films and TV projects) in the compelling space drama 2010.
(Sharon): In 2010, tension and a anxiety build as American and Russian spaceships compete to solve the mystery of what happened to the crew and ship from 2001: A SPACE ODYSSEY. Led by Roy's character, they are forced to cooperate to get back to Earth safely. The suspense is well done and the ending is quite imaginative. Roy's performance, as always, is believable and involving.
(Alan): Scheider was also excellent in 52 PICK-UP (1986), a well-crafted, satisfying thriller, co-scripted by its novelist, ELMORE LEONARD (HOMBRE, GET SHORTY and both versions of 3:10 TO YUMA). On first and second viewings I was astounded by the creepy performance of John Glover (LOVE! VALOUR! COMPASSION!) as the horny villain with a memorable Baltimore accent. Ann-Margret (Oscar noms for CARNAL KNOWLEDGE and TOMMY), Clarence Williams III (AMERICAN GANGSTER, TV's THE MOD SQUAD) and Vanity (who earned a Best Supporting Actress nom for this role) did very nicely in this smart, tense cat-and-mouse game about a sleazy, murderous blackmail plot against a businessman who got filmed while cheating on his wife with a cute young thing, played by Kelly Preston (JERRY MAGUIRE).

(Sharon): This film works as a mystery with a few tricks up its sleeve. Roy and Ann-Margret's performances make you apprehensive for their safety, and the villains are truly disgusting.
(Alan): I also liked Roy a lot as a CIA boss in the smart political thriller THE RUSSIA HOUSE. And I thought he brought a lot to his medium-size role as the RKO Studio chief who pissed off media titan/political heavyweight/Nazi sympathizer William Randolph Hearst (well played by James Cromwell) by greenlighting and distributing the controversial Orson Welles (Liev Schreiber) film CITIZEN KANE, in the well-made HBO drama RKO 281.
(Sharon): RKO 281 is a pleasant surprise: a fairly accurate, detailed telling of the Hearst vs. Welles conflict over CITIZEN KANE. Roy plays a sympathetic studio head to Liev Schreiber's excellent Orson Welles.
Scheider was politically active, participating in rallies protesting U.S. military action in Iraq. In 2004 he was diagnosed with multiple myeloma, and a year later he underwent a bone-marrow transplant to treat it. He died on February 10, 2008 at the University of Arkansas Medical Sciences Hospital in Little Rock, probably of a staph infection.
He summed up his career perfectly with the advice, "The important thing is to do good work, no matter what medium you do it in."
© Alan Waldman and Sharon Waldman (March 1, 2008)
****************
| | |
| --- | --- |
| About Alan and Sharon Waldman | Semi-retired/semi-conscious writers, personal historians and pun addicts Sharon (who is semi-Semitic) and Alan Waldman (all Jew all the time) have known each other for 47 years and have joyfully spent 12 of the last 13 together. Alan has published more than 2000 articles on a vast range of topics in more than 70 magazines and websites in at least seven countries on three continents. Sharon won the "Sexiest 17-Year-Old Smartass" award while still only in high school (where she also won the "Juliet" award as the girl the boys in her school's drama department most wanted to do a love scene with), going on to cop the "Wiliest Wife in the West" honor from 1995 through 2004 and again in 2006-8. The Waldmans have been having so much fun over the past several decades that they forgot to have any children (and promptly returned the pair they accidentally took home from a shopping trip to Harvey's Hardware and Erotic Novelties). Neither has ever been arrested in a state rhyming with "Buy Da Ho." |