Tel Aviv University Professor
Linda Ben-Zvi
Visits Chicago


Linda Ben-Zvi signs a copy of her book
for AAUW member Barbara Zeitz


IWPA members Susan Brauer (left) &
Suzanne Hanney chat over refreshments

(All photos from 9/28/05 by Jan Lisa Huttner)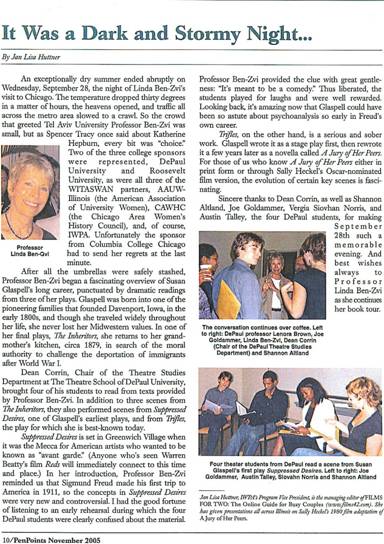 (Click here for PDF copy of PenPoints article posted above)
*****
| | |
| --- | --- |
| in collaboration with Columbia College Chicago, DePaul University, and Roosevelt University, and with additional support from AAUW-Illinois, CAWHC, & IWPA, invites you to meet Professor Linda Ben-Zvi on Weds 9/28/05. | |
When: Wednesday September 28, 2005 (7 PM – 9 PM)
Where: The Chicago Loop's new University Center
(corner of State & Congress across from
the Harold Washington Library Center)
Admission is free, and open to all students, faculty & staff,
as well as all interested members of the general public.
In her June 30th article about Professor Ben-Zvi's new book, NEW YORK TIMES critic Dinitia Smith wrote:
"Susan Glaspell was the second woman to win the Pulitzer Prize for drama. She was a founder of the Provincetown Players and is credited with discovering Eugene O'Neill. Her novels were best sellers. So why is she practically unknown in 2005?"
But Glaspell is far from "unknown" here in the Midwest where her work is a curricular staple on many campuses. Nor is her work "unknown" to the many supporters of WITASWAN who have participated in our statewide screenings of A JURY OF HER PEERS (the Academy Award-nominated film based on Glaspell's best know story).
Although Glaspell is typically referred to as "an Iowa writer," most Midwesterners think of Davenport, her hometown, as one of the "Quad Cities" which sit squarely on the Iowa/Illinois border. Therefore, not surprisingly, Chicago plays a considerable role in her biography, beginning in 1903 when she enrolled as a graduate student at the University of Chicago. Several of her early short stories are set in Chicago, as are several of her novels including THE GLORY OF THE CONQUERED, THE VISIONING, and NORMA ASHE. Between 1936 and1938, she was the head of the Midwest Playwrights' Bureau of the Federal Theater Project, responsible for initiating and supporting many plays staged here during this period. She also wrote several of her later books while living in Chicago near her brother, who resided here.
Journalist, novelist, playwright, arts administrator, and Pulitzer Prize-winner, Glaspell created intrepid female characters, and, according to Professor Ben-Zvi, she "launched an indigenous American drama that addressed pressing topics such as women's suffrage, birth control, female sexuality, marriage equality, socialism, and pacifism."
Linda Ben-Zvi is Professor of Theatre Studies at Tel Aviv University and Professor Emerita of English and Theatre at Colorado State University.
She received her B.A. in English and Philosophy from Boston University, her M.A. in English from New York University, and her Ph.D. in English from the University of Oklahoma. She has also received fellowships from the Library of Congress, the National Endowment for the Humanities; and the Newberry Library. In addition to SUSAN GLASPELL: HER LIFE AND TIMES, Professor Ben-Zvi is also the author of DRAWING ON BECKETT: PORTRAITS, PERFORMANCES, AND CULTURAL CONTEXTS; SUSAN GLASPELL: ESSAYS ON HER THEATER AND FICTION; THEATER IN ISRAEL; and WOMEN IN BECKETT: PERFORMANCE AND CRITICAL PERSPECTIVES.
PROGRAM SPONSORS:

- Institute for the Study of Women and Gender in the Arts and Media

- Journalism Department

- Theatre Department

- Humanities Center

- Theatre School

- College of Arts And Sciences
+
WITASWAN
Women in the Audience Supporting Women Artists Now

AAUW-Illinois
American Association
of University Women

CAWHC
Chicago Area
Women's History Council

IWPA
Illinois Woman's Press Association

For more information, please contact