A "Freilich" Romp
with
"Jewish Tom Hanks"

Like a blue and white Santa Claus arriving with treats just before the Jewish New Year, acclaimed comic Avi Hoffman is coming to Chicago to headline not one, but two August productions. On Saturday night, August 13th and Sunday morning, August 14th, he will play the title role in a new musical called TEVYE at the Theatre Building on Belmont. Then on Sunday night and Monday night, he will bring his one-man show TOO JEWISH? A MENSCH & HIS MUSICAL to the North Shore Center for Performing Arts in Skokie.

Best known for his award-winning Off-Broadway productions TOO JEWISH? and TOO JEWISH, TOO!, Avi was named "Performer of the Year" by New York Press Magazine in 1995, and he also received the prestigious Los Angeles Ovation award as "Best Actor in a Musical" in 2001. But even though Avi has done extensive tours through-out the United States and Canada, this is the first time he's brought TOO JEWISH? to Chicago.
TOO JEWISH? is a fast-paced revue that combines music and comedy into a profound exploration of Yiddish culture. It touches all the bases from tongue-in-cheek parodies of famous Broadway numbers like "Oy Glaucoma" to nostalgic doses of vaudeville. Avi is as adept at the emotion-laden classics ("Oyfn Pripetshik," and "Oyfn Veg," for instance) as he is at his own hilarious version of "Romania." Not to worry: translations are provided for all the Yiddish numbers so no one, Jew or gentile, will get lost.
The new musical TEVYE (not to be confused with the 1939 film directed by Maurice Schwartz) will receive its world premiere as part of "STAGES 2005," a festival of new musicals to be shown at the Theatre Building between August 12th and August 14th. Los Angeles-based collaborators Jim Eisenman and Tom Adams wrote the book, lyrics and music. TEVYE is their third joint theatrical production; they have also written numerous pop, country, and rhythm and blues songs, including "The Sea of Change," which won awards in the Billboard Magazine Songwriting Contest and the "Heal L.A." Songwriting Contest.
Set about 10 years after the family left Anatevka, TEVYE finds the beloved patriarch living as a widower in the Bronx with daughters Tzeitel and Bielke. Conflicts arise when he falls in love with an actress named Shayna and then finds out that his grandson Nicholas, the son of Chava and Fyedka, is moving to New York. Eisenman calls Avi a "Jewish Tom Hanks; someone with an inviting personality, someone you want to get to know better." When he and Adams saw Avi in TOO JEWISH?, they both knew they'd found their anchor.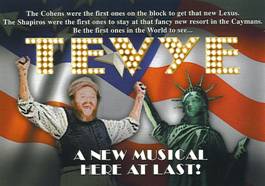 South Florida residents know Avi well. His home base is Coral Gables, and he performs regularly in numerous local venues. After leaving Chicago, he is scheduled to appear at the Hollywood Playhouse, performing TOO JEWISH? and TOO JEWISH?, Too! in rotation, from September 2nd through September 17th.
Luckily, even if you don't have the good fortune to see Avi live, you can purchase tapes of TOO JEWISH? and TOO JEWISH, TOO! from Ergo Media (www. jewishvideo.com).
BOX OFFICE INFORMATION

TEVYE

Saturday, August 13th @ 7:30 PM
Sunday, August 14th @ 9 AM
Tickets for TEVYE are $15 each.
Advance purchase is strongly encouraged.


TOO JEWISH?

Sunday, August 14th @ 4 PM
Monday, August 15th @ 7:30 PM
Tickets for TOO JEWISH? are $35 each.
Group ticket rates are also available.



CONTACT:
Theatre Building Chicago
1225 West Belmont Avenue; Chicago, IL
Box Office Telephone: 773.327.5252
CONTACT:
North Shore Center for the Performing Arts
9501 Skokie Blvd; Skokie,IL
Box Office Telephone: 847.673.6300
&
The Hollywood Playhouse
2640 Washington Street; Hollywood, FLA
Box Office Telephone: 954 022 0404

© Jan Lisa Huttner (8/1/05)
FOR RELATED ARTICLES ON FF2:
Click here to read Jan's WJD article on 40th anniversary performances of FIDDLER ON THE ROOF.
Click here to read Jan's WJD review of TEVYE,
adapted from the Sholem Aleichem stories by Maurice Schwartz.
FINAL FF2 NOTE:
This article is a slightly expanded version
of the reviews originally published
in the August 2005 edition of the
WORLD JEWISH DIGEST
(Volume 2 Number 11)
& is posted here with their permission.
For WJD subscription information:
Call 312.332.4172 extension 42
or
Fax 312.332.2119