IN THE EYE
OF THE BEHOLDER:

New Revivals of
FIDDLER ON THE ROOF
open in Chicago & New York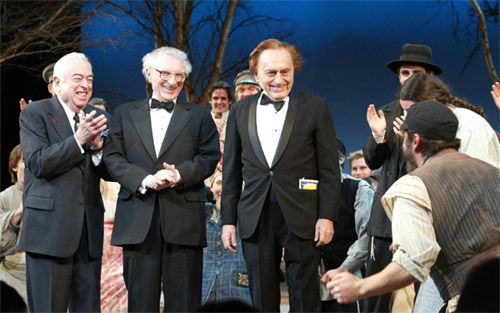 Left to Right: The three authors of FIDDLER ON THE ROOF –
Jerry Bock (music), Sheldon Harnick (lyrics), & Joseph Stein (libretto) –
received applause from the cast when the new Broadway revival opened on 2/26/04.
Alfred Molina, who stars as Tevye, is in the bottom right corner.
(Photo by Peter Kramer/Getty Images/NewsCom)
On July 27th, 1964, the audience entered Detroit's Fisher Theater eager to see the new musical. The lights went down, the curtain went up, and there he was, alone with the public for the first time: the fiddler on the roof. FIDDLER had a difficult birth. It was considered a long-shot by its backers, and the critic from VARIETY who wrote FIDDLER's very first review was scathing: "None of the songs is memorable," wrote "TEW" on July 28th.
After considerable tweaking in Detroit and Washington, D.C., FIDDLER arrived in New York on September 22nd, but the reaction was much the same. "It might be an altogether charming musical," sniffed Walter Kerr in the HERALD TRIBUNE, "if only the people of Anatevka did not pause every now and then to give their regards to Broadway..." Critics focused on star Zero Mostel, and many claimed that after he left the cast, the production would quickly fold. But Mostel was long gone eight years later, when FIDDLER eclipsed its predecessors to set a new record for continuous Broadway performances in 1972.
Now, after forty years in which high schools, colleges, little theaters, and professional companies around the world have mounted productions of every conceivable cost and quality, audiences have a new milestone to celebrate. And so new Anatevkas have sprung to life on Broadway and at the Drury Lane Theater in Oak Brook, and no doubt in numerous other places as well.
What to do? Go to Drury Lane? Fly to New York? Ignore the whole thing? There's an obvious question to be asked: Does FIDDLER ON THE ROOF, a warhorse from the early sixties, still resonate in our new millenium? Yes!
The characters in FIDDLER were created at the turn of the 20th century by Yiddish writer Solomon Rabinowitz (best known by his pen name "Sholem Aleichem"), but the actual title is a reference to MUSIC, a wall panel Marc Chagall created for the Moscow State Yiddish Theater in 1920. (After he left Russia in 1922, Chagall made a copy for himself called THE GREEN VIOLINIST.)
Sheldon Harnick (lyrics) and Jerry Bock (music) had just won the Pulitzer Prize as well as numerous Tony Awards for their musical FIORELLO! when they joined forces with Joseph Stein (libretto) on what became the prototype for FIDDLER. Then director/choreographer Jerome Robbins came on board. Then set designer Boris Aronson, who had started his career at the Moscow State Yiddish Theater when Chagall was its principal artist, asked to participate. Robbins, at the peak of his creative power and influence, was by all accounts a driven task master, but what this team created together has proved to be timeless.
The accomplishment is all the more remarkable in context. In 1964, "Jewish music" was reserved for weddings and bar mitzvahs, Rabinowitz's books were long out of print, and prominent art critics thought Chagall's work was the epitome of kitsch. But FIDDLER's 40th anniversary arrives in the midst of a Yiddishkayt revival. Klezmer bands are flourishing, university students are translating Sholem Aleichem stories for themselves, and last year's Chagall Retrospective at San Francisco's Museum of Modern Art was a blockbuster.
In his new Broadway production, British director David Leveaux makes very few changes to either the libretto or the lyrics, but he makes radical changes to the visual design. All references to Chagall have been eliminated (except for a few sly moments during Tevye's dream sequence). The stage now depicts a cool Chekhovian world which is aesthetically elegant but thematically off-message. Where Aronson had Tevye's family surrounded by neighbors in little houses that echo the borders of Chagall's famous 1911 canvas "I and the Village," Leveaux places the action in the middle of a thicket of birch trees representing "Mother Russia." Gone are both the cozy and the claustrophobic aspects of small town life, where "tradition" is maintained as much by gossip and innuendo as by religious conviction.



Alfred Molina as Teyve is embraced
by his five daughters in the new
Broadway revival of FIDDLER ON THE ROOF.
(Photo Credit: Carol Rosegg)



The opening scene from Ray Frewen's new production of
FIDDLER ON THE ROOF at the
Drury Lane Theater in Oak Brook, IL.
Note the little "Chagall houses" in the top left corner.
(Photo Credit: Greg Kolack)



Craig Spidle & Iris Lieberman star as Tevye & Golde in
the new Drury Lane revival of FIDDLER ON THE ROOF.
(Photo Credit: Greg Kolack)

Unfortunately, Leveaux' decision has practical consequences as well. The neutral color scheme of the new Broadway production carries over into the costumes, making it almost impossible to tell which daughter is which from a distance. Since Tevye's five daughters, especially Tzeitel, Hodel & Chava, are the drivers of the dramatic action, their emotional storylines are needlessly undermined.

The Chagall component of FIDDLER runs deep. Sholem Aleichem scholars routinely kvetch about the liberties Joseph Stein took with the original Tevye stories in his libretto. They point out that all the choices Tevye's daughters make in the original stories turn out badly. But Marc Chagall, a penniless boy with talent and chutzpah, really did convince a beautiful girl from a good family to leave her parents and marry him. When Tevye's second daughter Hodel agrees to marry Perchik the revolutionary, they burst into a song ("Now I Have Everything") in which they breathlessly finish each other's sentences. As their voices soar, they remind us of all the canvases in which Marc and Bella fly through the air together, weightless in love's ecstasy. In the best FIDDLER productions, Aronson's color-drenched sets and Harnick's earthy lyrics combine to evoke Chagall's world of vibrant fecundity. "It takes a wedding to make us say, 'Let's live another day,' Drink, L'Chaim, to Life."

Ray Frewen, the Artistic Director at the Drury Lane, understands all of this, and he places his trust in the time-tested strength of the basic material. His production is therefore disarmingly simple and deeply moving. In spite of Drury Lane's small stage, the ensemble pieces are remarkably effective. The scene at the tavern in the middle of Act One, when the Jews and the Russians dance together, is a show-stopper, as is the party scene after Tevye's eldest daughter Tzeitel marries her beloved tailor Motel Kamzoil.

Iris Lieberman as Golde, Frank Del Giudice as Lazar Wolf, Nicole Hren as Chava, Jonathan Raviv as Motel, and Daniel Proctor as the Fiddler all meet or exceed their Broadway counterparts. Courtney Rioux, as Tzeitel, is a wonderful comic actress, her voice appropriately acid when she's mocking Yente during the "Matchmaker, Matchmaker" number.

Finally, both directors have made one interesting update, they have both given Fyedka a prominent place at the tavern. In both productions, it's now Fyedka's voice breaking in with the Russian words "Za va sha, Zdarovia" while the Jews are singing "L'Chaim!" together. Fyedka didn't have these lines in either the 1964 original or the 1971 film version, but giving him these lines now emphasizes a crucial point. From first appearance to last, the Fyedka character in FIDDLER is a good guy. This Fyedka is the most significant change the FIDDLER team made to Sholem Aleichem. If Tevye disowns his third daughter Chava when she marries Fyedka, they ask us, is he acting in faith or with prejudice?

FIDDLER never was and never will be simply nostalgic. The dilemmas acted out on stage are too bittersweet. Even if we could go backwards, few of us would want to. For most of us, therefore, the longing for community will always wrestle with our modern need for individual autonomy. FIDDLER is as relevant to our lives today as it was in 1964, maybe even more so.

© Jan Lisa Huttner (7/1/04)

To see pictures from Broadway's original Chagall-based FIDDLER set,
follow this link to the FAQ: Who was Boris Aronson?


To see more pictures from the new Broadway set, follow this link to Jan's Chat with Sally Murphy (the Steppenwolf actress who plays Tzeitel in the new Broadway production).


Click here to see Marc Chagall's 1911 painting "I and the Village."


See Marc & Bella defy gravity in Chagall's 1915 painting "Birthday."


See Chagall's 1923 painting "The Green Violinist," the painting which gave a name to the musical FIDDLER ON THE ROOF.

Read Jan's award-winning article in the FORWARD