Boris Aronson was born in the Ukrainian city of Kiev in 1900. As the son of the Grand Rabbi of Kiev, he enjoyed educational and cultural opportunities denied to most of the Jews of his time. He showed artistic talent early in childhood and took to calling himself "The Outlaw" because he was always looking for ways to escape from his large, traditional family.
By the time of the Russian Revolution in 1917, he had found a mentor in Alexandra Exter, a Paris-trained artist who was one of the principal designers at the Moscow State Yiddish Theater (also known as the Kamerny Theatre). In 1922, he left Russia, moving first to Berlin and then on to New York, where he quickly established himself as a designer in the bustling Yiddish theater world. Of particular note are the sets he designed for multiple Yiddish Art Theater productions directed by Maurice Schwartz, including adaptations of STEMPENIU, THE FIDDLER in 1928 and ROAMING STARS in 1930 (both of which were based on stories by Sholem Aleichem).
In the 1930s Aronson worked at the Group Theater with legendary figures such as Elia Kazan, Harold Klurman, and Clifford Odets.

Then he moved up to Broadway, designing the original sets for many of the most famous dramas ever produced, including THE TIME OF YOUR LIFE (1939), CABIN IN THE SKY (1940), THE COUNTRY GIRL (1950), THE ROSE TATOO (1951), I AM A CAMERA (1951), THE CRUCIBLE (1953), A VIEW FROM THE BRIDGE (1955), BUS STOP (1955), and THE DIARY OF ANN FRANK (1955).

After FIDDLER ON THE ROOF, in 1964, he formed a highly collaborative relationship with FIDDLER's producer Harold Prince, eventually receiving four TONY awards for CABARET (1966), COMPANY (1970), FOLLIES (1971), and PACIFIC OVERTURES (1976). The last production Aronson worked on was a CBS performance of THE NUTCRACKER for Mikhail Baryshnikov in 1977. He died on November 16, 1980. Two days after his death, a new revival of FIDDLER opened in New York based on his original designs. When you look him up in the Internet Broadway Database (www.ibdb.com), this FIDDLER is the last credit you will find for him.




Boris Aronson & Lisa Jalwetz
began working together in 1943.
They got married in 1945.
(Photograph courtesy of Lisa Aronson)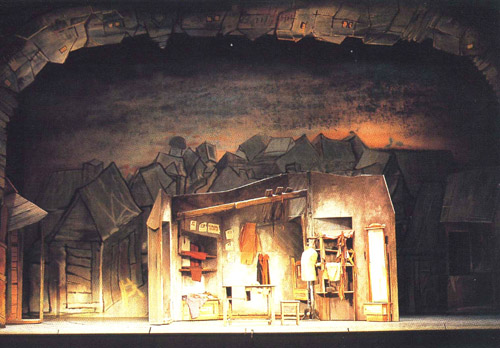 Motel's tailor shop at sunset, right after Chava's first conversation with Fyedka & just before Tzeitel's wedding.
(Photograph by Chris J. Arthur, courtesy of Lisa Aronson)
Aronson's work has been preserved for posterity in a magnificent 300-page, full-color book called THE THEATRE ART OF BORIS ARONSON, written by Frank Rich of THE NEW YORK TIMES in collaboration with Aronson's widow Lisa Aronson.
According to Robert Emmet Long's book BROADWAY, THE GOLDEN YEARS: JEROME ROBBINS AND THE GREAT CHOREOGRAPHER-DIRECTORS 1940 TO THE PRESENT, it was Robbins who "introduced the evocative paintings of Mark Chagall as a visual link to the experience of FIDDLER's characters," but Aronson was fully on board:
"Throughout his life, Chagall has been the one Jewish artist to paint the shtetl. Chagall's colorful fantasy – a man flying through the air, head in hand, a fiddler on the roof – his love for the homey little things in life [a shoe, a cat, a rooster] – is closest to the folk art of Aleichem…

It was the emotion of Chagall's paintings I tried to incorporate into FIDDLER… Chagall will forever paint FIDDLER ON THE ROOF. He takes Anatevka with him wherever he goes. I only got to do it once."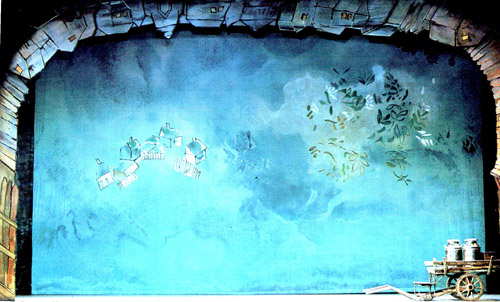 Boris Aronson's set design for FIDDLER echoed Marc Chagall's famous 1911 canvas "I and the Village."
Notice the upside-down houses which always framed the proscenium,
emphasizing the fact that Tevye's family lives embedded in the community of Anatevka.
(Photograph by Chris J. Arthur, courtesy of Lisa Aronson)



Aronson's Chagall-based "I and the Village" set design has been used in productions all around the world.
When Joseph Stein arrived in Japan for the Tokyo premiere, the producer asked:
"Do they understand this show in America? It is so Japanese."
(Photograph by Chris J. Arthur, courtesy of Lisa Aronson)
© Jan Lisa Huttner (7/12/04)
"No one has really puzzled out the secrets of nationalism. More than just Jews wear beards, silk frock coats and dressing gowns, and carry walking sticks. Yet only a sharp gaze feels the specificity of the traditional relationships of materials that express themselves sometimes in the dark, barely noticeable difference between black velvet and black silk or the variations of white on white. This is the essence of painting, for painting has its own frames, its own objects and interests, its own internal measures of achievement, its own ladder of increasing qualifications tied in with the entire artistic culture.
In the sphere of painting, among its inherent problems, Chagall occupies a special place. This is not a role he plays conditionally in the discovery of the Jewish form only, or in the national movement of Jewish art, but for his purely artistic value. Unfortunately, the importance of his work in the 'national' sense prevents many from noticing his specific traits, a mark of the highest worthiness that gives his a value for all humanity."
From Boris Aronson's 1923 monograph MARC CHAGALL.
Note that Aronson's monograph was published in German, Russian, & Yiddish, and no authorized English edition currently exists. The quote above was translated from the Russian by Dan Stearns of the University of Chicago at my request. JLH
FF2 ADDENDUM:
We extend our most sincere gratitude to Lisa Aronson
for permission to post photographs from her personal collection.
We would also like to thank Frank Rich (& his assistant Joel)
& Jay Harris (& his assistant Wanda) for connecting us with Mrs. Aronson.
For related articles on FF2, see:
Jan's review of two new FIDDLER productions in Chicago & New York (published in the July 2004 issue of the WORLD JEWISH DIGEST).


Jan's chat with Sally Murphy
(the Steppenwolf actress who plays Tzeitel in the new Broadway production)

| | |
| --- | --- |
| Also, read Jan's award-winning article in the FORWARD | |