42nd
Annual
CIFF:

October 5th
thru
October 19th,
2006
FILMS FOR TWO® is proud to present the following highlights from this year's CIFF schedule. The films listed below fall into our own three top categories, however there are many more films on the list & we urge you to review the complete schedule yourself & select according to your own interests.
Click here to access the CIFF website.
Once again, we have purchased "magic passports"
(aka Founder's Club memberships) & we've already selected over 20 films.
Exciting News:
This year, we will also provide
daily CIFF updates on our new FF2 Blog!
SPECIAL PRESENTATIONS:

NEW FILMS BY JEWISH DIRECTORS
FF2 NOTE: click here to read Jan's sneak peeks for the JUF NEWS.
NEW FILMS DIRECTED BY WOMEN:
Title
Director
Country
AVENUE MONTAIGNE
Daniele Thompson
France
COME EARLY MORNING
Joey Lauren Adams
USA
DAY NIGHT DAY NIGHT
Julia Loktev
USA
DIXIE CHICKS:
SHUT UP & SING
Barbara Kopple
& Cecilia Peck
USA
JUST SEX & NOTHING ELSE
Krisztina Goda
Hungary
THE LAST GAZE
Patricia Arriaga
Mexico
MADEINUSA
Claudia Llosa
Peru/Spain
THE MAGICIANS
Elisabet Cabeza
Spain
NINA'S HEAVENLY DELIGHTS
Pratibha Parmar
United Kingdom
ODE TO JOY
Anna Kazejak
Poland
SHOOT THE MESSINGER
Ngozi Onwrurah
United Kingdom
A SOAP
Pernille Christensen
Denmark/Sweden
SUMMERCAMP!
Sarah Price
USA
SUZANNE
Viviane Candas
France
THIN
Lauren Greenfield
USA
THE TRIALS OF DARRLY HUNT
Annie Stern
USA
SPECIAL GUESTS @ THE 2006 CIFF
Filmmakers highlighted in RED above are expected at this year's CIFF. Many of them will personally introduce their films &/or conduct Q&A sessions after the screening. We have often found Q&A sessions very enlightening in the past, so we suggest you attend as many as possible.
WITASWAN News:

Click here for pdf version of flyer below listing all the
women directors participating in this year's CIFF: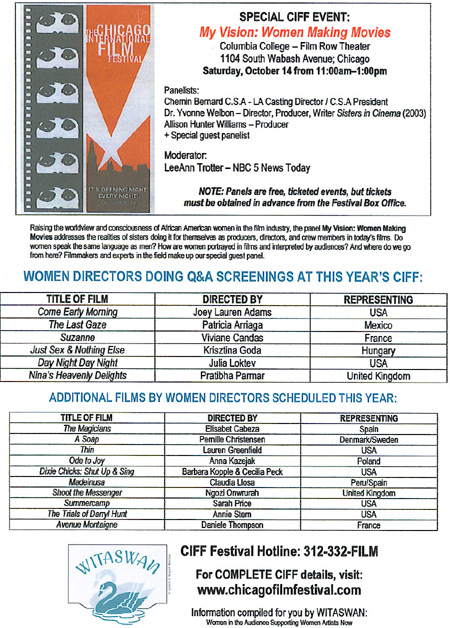 Follow this link for more information about WITASWAN.
FINAL NOTE
Since we are now "members of the press," we have access to review tapes & special screenings. Therefore, we will be able to rate some films for you before the CIFF officially opens. We promise to enter all new information as quickly as possible, so you will have our input when making your own picks.
Although tickets for most of the special presentations & other "high buzz films" sell out quickly, tickets for foreign films & documentaries can often be purchased right up to the moment when the actual screening begins. So don't give up! Keep checking this page with your own CIFF schedule in hand & we will do our best to guide you to some exceptional films. Go. Enjoy. Learn new things & see the world in fascinating new ways.