From FF2 Managing Editor Jan Lisa Huttner: Press kits for this year's Chicago International Film Festival were distributed very late and right before the start of the Jewish Holidays to boot, so I turned to Bill Stamets for help. (Bill is not only one of my most trusted colleagues in the Chicago Film Critics Association, we were also fellow graduate students at University of Chicago way back when.)

Bill's Guide
to the 2011 CIFF

By Bill Stamets
Special for Films for Two®
The 47th annual Chicago International Film Festival kicks off Thursday October 6th with a minor drama with local hooks, but recovers nicely with an agile array of international features. Running through October 20, this year's schedule lists 146 dramas and documentaries, and 52 shorts. All screenings are at the AMC River East 21 (322 East Illinois), a venue where subtitles are rare the rest of the year. The festival sets up its own ticket table in the lobby.
Cinema/Chicago programming director Mimi Plauché finds films from other festivals around the world. A handful of the 146 entries will return for longer local runs after this fest is over. Tickets are already sold out for a few films with heavy buzz among film buffs. Auteurs with cachet sending their new works to us include David Cronenberg, Jean-Pierre and Luc Dardenne, Werner Hezog, Lynne Ramsay, Bela Tarr and Wim Wenders. The festival traditionally introduces many "no-name" new directors too. To see who will appear for Q & A sessions after their screenings, check the Cinema/Chicago website at www.ChicagoFilmFestival.com under the film's "Show Times."
The Opening Night entry, THE LAST RITES OF JOE MAY, also opened the Chesapeake Film Festival in Maryland last month. Dennis Farina stars as an over-the-hill lower-echelon Chicago mob guy. Although it's several notches better than the fest's similarly titled and similarly themed THE RETURN OF JOE RICH, this Steppenwolf Films production packs clichés found in other Chicago Indies: Italian cuisine, made men, opera-lovers, the Fulton Street meat market, abusive cops and CTA buses traversing snowy nights.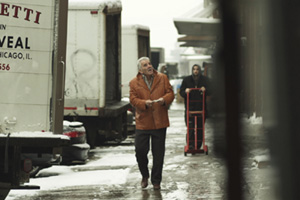 The rooftop pigeon coop recalls MEDIUM COOL, the 1969 political drama by Oscar-winning cinematographer Haskell Wexler. Wexler, a Chicago-area native, is scheduled to appear in person for an evening of clips and discussion with the CIFF's documentary programmer.
All the foreign, independent, documentary and art films in this fest can lead to occasional confusion when title wordings converge. More interesting are coincidences in subject matter. For documentaries about coaches, there is SALAAM DUNK about a women's basketball team at an Iraqi college, and UNDEFEATED about a high school football team in Tennessee. Two fictional plots recruit Marilyn Monroe. Imagery of an airliner hitting the World Trade Center can be found in the Indian drama CORRODE and the French film TOP FLOOR, LEFT WING. The Algerian characters in the latter film live in an apartment project on a street with the politically loaded name "Place du 19 Mars 1962." (The day a formal cease-fire between France and Algeria was proclaimed, finally ending the bloody Algerian War.)
International variants on American genres are another draw. RABIES is hyped as Israel's "first foray into the slasher genre." A LONELY PLACE TO DIE, a kidnapping thriller set in the Scottish Highlands with a Serbian war criminal in the last reel, tallies even more fatalities. Gentler fare with ghosts can be sampled in KAIDAN—HORROR CLASSICS from Japan. The American-made THE WHISPERER IN DARKNESS is a nostalgic black-and-white nod to Hollywood horror, circa the 1930s. Regrettably, one genre not represented in the festival is avant-garde work.

Click HERE for the films Bill recommends in Week One (in "must see" order).

Click HERE for the films Bill recommends in Week Two (in "must see" order).
© Bill Stamets (10/4/11) - Special for Films for Two ®


Photo Credit:
Chris Walker/MCT/NewsCom

Bill Stamets is a Chicago freelance writer, Super-8 filmmaker, and film instructor at the School of the Art Institute and Columbia College Chicago.

He prides himself on disappearing into the background, but FF2 found this photo of Bill with his camera from 1995 (click HERE for context).