Post Oscar Addendum
Hurray, Hurray: We did it!
Kathryn Bigelow is now the first woman in history
to receive a Best Director Oscar!!!
For the sake of the future, I am posting
my "Can We Talk?" call to action below.
Click HERE to download my full FWA review as a pdf.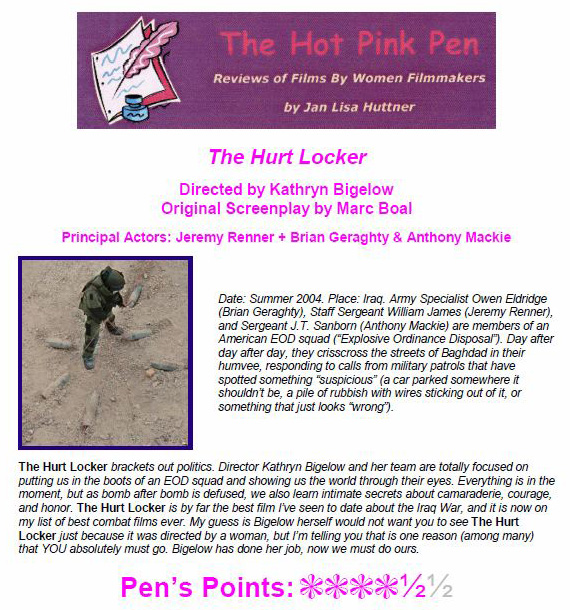 Can We Talk?
Three Reasons Why WOMEN Should See THE HURT LOCKER
THE HURT LOCKER has received incredibly positive reviews from a great many critics (including women as well as men). As of today (7/7/09), THE HURT LOCKER's "Rotten Tomato" score is 95% "Fresh" (http://www.rottentomatoes.com/m/hurt_locker). But since I'm writing this review for a website targeted to women, I'd like to use this opportunity to tell women everywhere why WE (each and every one of us) should see this film.
1.) I can already hear some of you saying you don't like violence and you consciously avoid films that you know will be violent. Believe me, I understand! I also abhor gratuitous violence! THE HURT LOCKER is about bomb disposal, so no question about it, THE HURT LOCKER is a violent film that contains several massive explosions as critical plot elements. So why am I emphatically telling you to please go anyway?
The simple fact is that violence is a part of life and although I abhor gratuitous violence, I also applaud filmmakers who take violence on as a serious narrative subject. THE HURT LOCKER is about the war in Iraq, and one of the distinguishing features of this specific conflict is insurgent use of IEDs. Even today, IEDs kill massive numbers of Iraqi men, women, and children, so every time EOD squad members destroy an IED, they help save the lives of countless Americans and Iraqis. In the moral equation of the Iraq War, EOD squad members are definitely good guys, and we should honor their service on our behalf accordingly.
2.) Relatively few women have direct military experience, but many of us vote for politicians who make decisions with military consequences, therefore I believe it is extremely important for women to seek experiential understanding of military realities. A film like THE HURT LOCKER offers us a chance to walk a mile in military boots with total personal safety. It may be the only chance many of us get. As wives, mothers, and friends, we owe it to the men in our lives; as voters, we owe it to ourselves.
While I'm on this subject, I should mention that another distinguishing feature of the War in Iraq is the relatively large presence of women in combat and support roles (including the appearance of women's names and photos in stateside death lists). Therefore, I am a bit surprised that Kathryn Bigelow didn't show any female combatants in The Hurt Locker, even though she has created powerful women characters in almost all of her prior films. There are no female characters in LAWRENCE OF ARABIA and it's still my all-time favorite film, so this is not a criticism of THE HURT LOCKER, just an observation.
3.) In 81 years of Oscar history, only three women have ever been nominated for a Best Director Oscar (Lena Wertmuller, Jane Campion, and Sofia Coppola) and no woman has ever received a Best Director Oscar. Now that Barack Obama is President and the Iraq War appears to be winding down, I believe Americans are ready for a strong film about Iraq. So far, the narrative films made about the Iraq War have been well-intentioned but fairly weak (e.g., IN THE VALLEY OF ELAH, STOP LOSS, etc.), but THE HURT LOCKER is a very powerful film.
I sincerely believe that only one thing stands between Kathryn Bigelow and a Best Director nomination: box office. Critical buzz is already very strong, so if THE HURT LOCKER generates respectable box office returns, then Kathryn Bigelow will receive an Oscar nomination. So, women: we hold this in our hands. If we turn out for The Hurt Locker, (if we use our "power of the purse"), we can help Kathryn Bigelow become the 4th woman in history nominated for a Best Director Oscar. And if this happens, if Kathryn Bigelow receives a nomination, I also believe there's a good chance she will then become the first woman in history to actually receive a Best Director Oscar.
Now, I suspect Kathryn Bigelow would find this addendum very annoying. She doesn't want to be known as "a woman filmmaker," she doesn't want to answer questions about how her gender affects her POV, and she wants people to see her film on its own merits (that is, she would NOT want you to see THE HURT LOCKER just because it's directed by a woman). But I'm putting myself on record anyway, because I sincerely believe there is more at stake here than the cost of a movie ticket, distress at on-screen violence, or any other reason you might have for NOT going. Kathryn Bigelow has put THE HURT LOCKER out there for all to see, and I urge each and every one of YOU to see it in a movie theatre as soon as you can! Kathryn Bigelow has done her job, now we must do ours.
© Jan Lisa Huttner (7/7/09)—Special for the Fund for Women Artists.