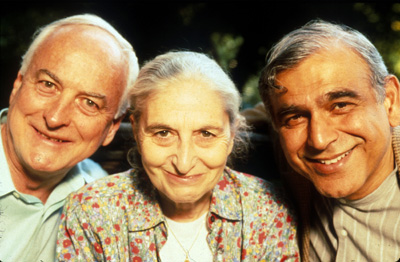 Creative triumvirate:
James Ivory (left) Ruth Prawer Jhabvala (center)
& Ismail Merchant (right) in New York in 1998.
Photo Credit: Lynn Goldsmith for ZUMA Press/NewsCom.

Tribute to Ismail Merchant
Special Thoughts for FILMS FOR TWO®
by Alan Waldman
Bombay-born Anglo-Indian-American producer Ismail Merchant treated the world to some of the most wonderful, critically acclaimed movies ever. My three favorites—THE REMAINS OF THE DAY, HOWARD'S END and A ROOM WITH A VIEW—earned 25 Academy Award nominations, including three Best Picture nods, and won six. If you haven't seen them, you should rectify that forthwith!
The extraordinarily talented triumvirate of producer Merchant, director James Ivory and screenwriter Ruth Prawer Jhabvala created several of the most moving, visually arresting and thoroughly enjoyable films I have ever seen. Triple-handedly they revived international interest in English and American literature with their achingly beautiful and deeply sensitive treatments of works by E.M. Forster, Henry James, H.E. Bates, Carson McCullers, Edward Albee and V.S. Naipaul.
Ismail Merchant, the business mind behind Merchant Ivory Productions, produced 48 films and directed five others. THE GUINNESS BOOK OF WORLD RECORDS lists his 44-year partnership between with Ivory as the longest in independent cinema. Their films were known for rich production values, profound insight into character, remarkable attention to period detail and extraordinary performances from great actors such as Anthony Hopkins, Paul Newman, Alan Bates, Om Puri, Vanessa Redgrave, Joanne Woodward, Maggie Smith, Judi Dench, Greta Scacchi, Julie Christie and Emma Thompson. They also launched the careers of Daniel Day-Lewis, Helena Bonham Carter, Leelee Sobieski and many other young talents.
Merchant was nominated for four Oscars (three Best Pictures for REMAINS, HOWARD'S and ROOM and Best Short Subject for his first work, 1961's CREATION OF A WOMAN). He won BAFTA Best Picture honors for his big three, plus HEAT AND DUST; and he was nominated for an Independent Spirit Award for A SOLDIER'S DAUGHTER NEVER CRIES. Merchant-Ivory films were nominated for 30 Oscars in all. Star Emma Thompson and scripter Ruth Prawer Jhabvala won for HOWARD'S END and Jhabvala also won for A ROOM WITH A VIEW. Anthony Hopkins, Joanne Woodward and Vanessa Redgrave were Oscar nominated for Merchant-Ivory roles, while Hugh Grant, James Wilby, Leelee Sobieski, Lilia Skala, Anthony Hopkins, Thompson and Redgrave won other awards for such appearances.
In addition to his many film honors, Ismail Merchant was honored by the mayors of New York and Paris, and he was made a "Commandeur de l'Ordre des Arts et des Lettres" in France.
Sir Anthony Hopkins (who starred in HOWARD'S END and THE REMAINS OF THE DAY) dubbed Merchant "the one truly great maverick producer, a true pioneer, a great man and a law to himself." Helena Bonham-Carter (star of A ROOM WITH A VIEW and co-star of HOWARD'S END) called Merchant: "A great personality and a true original. He tore through life and often proved that the word 'impossible' had no meaning." British producer Lord David Puttnam, (CHARIOTS OF FIRE) said Merchant was "an extraordinary, unique man who absolutely carved his own niche. He chose very serious pieces of work, and the ideas came from within him."
Actor-director-writer Rahul Bose (EVERYBODY SAYS I'M FINE) added, "Ismail Merchant was an absolute visionary who was decades ahead of his time. He and James Ivory dared to make the films that nobody else would touch—whether it was MAURICE or HOWARD'S END. To do 50-odd films with such courage and to still stay afloat is astonishing." And Guatemalan fan Juan Mateo explained, "Merchant's movies were all about character and storytelling, so they brought out the best performances of actors."
I have seen 26 of Ismail Merchant's 53 films—and I recently refreshed my memory of 16, so as to better describe them to you—enjoying them all again. My favorites were and remain these:



1) THE REMAINS OF THE DAY is masterful. It is an incomparably strong and subtle film, deeply moving and blessed by a magnificent lead performance by Anthony Hopkins, as the British butler who loses the woman he loves because he is unable reveal his feelings for her. Christopher Reeve, Emma Thompson, Peter Vaughn and James Fox are also excellent in this classic.

Visually, REMAINS is a stunner. Merchant, Ivory and Jhabvala always do wonderful work, but one reason I believe this is their best film is because it had the best script; Jhabvala wrote it beautifully, based on the novel by gifted Anglo-Japanese writer Kazuo Ishiguro—whose screenplay THE WHITE COUNTESS Merchant, Ivory, Ralph Fiennes and three Redgraves were working on when Merchant died. REMAINS was justifiably nominated for eight Oscars, including honors for Merchant, Ivory, Jhabvala, Hopkins and Thompson.





2) A ROOM WITH A VIEW features a great performance by young Daniel Day Lewis (as a prissy suitor) and excellent work by a blue-chip Brit cast including Maggie Smith, Judi Dench, Denholm Elliott, Julian Sands and Helena Bonham Carter. As in all Merchant-Ivory movies, the visuals here are magnificent.

Two decades later I best remember the gorgeous picnic scene in the Italian countryside. Behind it, the achingly beautiful aria from Puccini's LA RONDINE ("Qu'il Bel Sogno di Doretta") sung by Kiri Te Kanawa blew me away. Years later, after I discovered opera, I came to believe that it is the most beautiful piece of music ever written, and Dame Kiri is now my favorite soprano. I took Kiri's version of that song to Houston and played it for my dying father.

A ROOM WITH A VIEW's music, visuals, performances, period detail and writing help explain why it was nominated for eight Oscars, winning three for art direction, costume and Jhabvala's outstanding script.





3) HOWARD'S END is a beautiful film with a well-crafted, compelling story of love, betrayal, altruism, compromise and folly. It is enriched by fine acting from Emma Thompson, Anthony Hopkins, Vanessa Redgrave and an outstanding British cast. Told with great nuance, supported by wonderfully evocative music and masterfully directed by Ivory, it was nominated for nine Oscars—winning for art direction, screenplay and Emma Thompson's luminous performance.

4) MYSTIC MASSEUR is easily the best of the three Ismail-directed movies I've seen. It is a very funny film that spoofs East Indians in Trinidad, male chauvinism, popular gullibility, literary pretentiousness and more. MASSEUR is a terrific treatment of V. S. Naipaul's sly novel, in which he makes excellent use of a good cast that's largely unknown in North America: Asif Mandvi, the great Om Puri, Avesha Dharker, Jimi Mistry, the adorable Zohra Segal and multi-talented Sanjeev Bhaskar (who has gone on to write and star in the two hilarious BBC series THE KUMARS AT NO. 42 and GOODNESS GRACIOUS ME). Ismail creates very interesting characters and effectively captures the Trinidadian landscape.

Merchant once said, "V.S. Naipaul has written about the 150-year old Indian culture in Trinidad in several of his novels. THE MYSTIC MASSEUR is one of his most human and witty novels. The characters are very Indian. This insightful comedy is about a young man who has climbed to fame and then discovers that his writing and the relationship with his wife are really more important for him than anything else." The NEW YORK TIMES called it "a subtle, humorous, illuminating study of politics, power and social mobility."

5) MR. AND MRS BRIDGE is a smart, sly film in which Paul Newman perfectly captures the subtleties of an uptight, moralistic, mid-century Midwesterner. Joanne Woodward is equally fine as the wife who tentatively seeks liberation from his narrow-minded domination. The film has lots of terrific detail and deftly creates enjoyable surprises.

6) A SOLDIER'S DAUGHTER NEVER CRIES is a rich telling of the challenging lives of the children of novelist James Jones, first in Paris and then in the very-different New Hampshire. Barbara Hershey and Leelee Sobieski lead an excellent cast. The pic poignantly and richly captures the joys and pains experienced by kids who are different—as they try to get by in conformist environments.

7) ROSELAND beautifully tells three dramatic stories of ballroom dancers in New York City. Jhabvala's original screenplay is full of pathos, rich character, humor and insight, and it is powerfully brought to life by Christopher Walken, Geraldine Chaplin, Golden Globe nominee Lilia Skala, Teresa Wright, Lou Jacobi, Helen Gallagher, Joan Copeland and David Thomas.

Ismail Noormohamed Abdul Rehman was born in Bombay, India on Christmas day 1936. Sometime later he earned an MBA at New York University. Merchant met director James Ivory (his future life and business partner) en route to the 1961 Cannes Film Festival. They decided to form Merchant Ivory Productions, in order to make English-language theatrical features in India for the international market. Their first film was 1963's THE HOUSEHOLDER, scripted by Jhabvala and starring the fine Indian actor Shashi Kapoor (who would star in six of their movies over the next 30 years). It was the first Indian movie to be distributed worldwide by a major U.S. distributor (Columbia Pictures).

Merchant, a brilliant businessman with the ability to charm fine actors into working cheap, came up with a clever way to finance the first Merchant Ivory pics, all of which were set in India. American studios were not able to legally repatriate the money in their rupee accounts, because the Indian government had frozen them. So Merchant persuaded several studios to invest those frozen funds in producing his movies in the land of the Taj Mahal, including SHAKESPEARE WALLAH (1965), THE GURU (1969) and BOMBAY TALKIE (1970).

When not producing, Merchant himself directed five films and two television features. His sly Urdu-language comedy, IN CUSTODY—filmed in Delhi and Bhopal, India—won Best Picture, Best Actor, Best Costume and Best Production Design national Awards from the Government of India.

A renowned chef, Merchant also written several books on cuisine and a few more on producing some of his films.

Merchant died in London of a ruptured ulcer on May 25, 2005, surrounded by family and close friends. At the time of his death, he was working on: THE WHITE COUNTESS—a period drama set in China; THE GODDESS—a musical about the Hindu goddess Shakti, starring Tina Turner; THE CITY OF YOUR FINAL DESTINATION, a political drama set in Uruguay; and an untitled film that he was directing, about the friendship between India's first Nobel Laureate, Rabindranath Tagore, and French intellectual, writer and Nobel Laureate Romain Rolland.

Although there are some Merchant-Ivory and Merchant-directed films that I liked less than others (COTTON MARY, QUARTET), because their lead characters were so unlikable, I always looked forward to anything they did and put it at the top of my "to see" list. I was usually well rewarded.

I recently enjoyed several charming interviews with Merchant, Ivory and Jhabvala on the DVDs of some of their best movies, and I loved the recent episode of THE KUMAR'S AT NO. 42 where Ismail Merchant and Helena Bonham Carter traded witticisms with the hilarious fictional Kumar talk-show-host family. Remarkably, most Merchant-Ivory films have made money—a rare occurrence that is equally due to Merchant's vision and business acumen, Jhabvala's writing brilliance and Ivory's massive directorial ability.

Ismail Merchant was obviously a rare, courageous, well-loved, clever and talented producer-director. I dearly hope that whoever replaces him at Merchant-Ivory Productions will have half his ability to bring high production values and great talent to the screen—at an affordable price.

A Few Quotes from Ismail Merchant:

"In all our films there is a clash of cultures and the influence of one civilization over the other or the confrontation of the two cultures. People move all the time from one place to the other, and the culture of one place rubs on to people—and something new emerges."

"A film should capture something wonderful with some great characters, whether it's set in the past, present or future."

"Merchant Ivory has been successful because Jim, Ruth and I respect each other's talents. We don't have such big egos to make us fight with each other. I feel very proud that we have managed to stay together for 44 years, through nearly 50 films."

"When we want to do something at Merchant Ivory, we just go ahead and do it! We don't wait to see if other people like what we want to do or not. We are just there making the kind of film we do best—taking a good story and characters and bringing them to life."

© Alan Waldman (6/30/05)




Alan Waldman (centered in photo between latest wife Scheherezade and parole officer Wanda the Good-but-Strict Witch) was recently allowed to reach the age of 60 by the patient forbearance his friends, family and law-enforcement authorities, despite his massive collections of tasteless jokes, over-bright clothing and irritating mouth noises.