TRIBUTE TO
PAUL SCOFIELD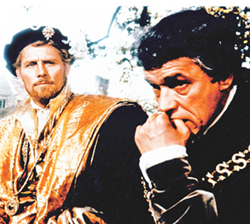 Robert Shaw as Henry VIII and Paul Scofield
as Sir Thomas More in A MAN FOR ALL SEASONS
Photo supplied by WENN/Newscom

Special Thoughts from
FILMS FOR TWO
by Sharon and Alan Waldman
Great British thespian Paul Scofield--despite performing in only 20 films and 13 TV projects over his 44-year career--was considered one of the greatest actors of the 20th Century. He was very selective of movie roles and made his greatest impact on stage, triumphant in many of the leading male roles.
Two of America's finest playwrights extolled his talents. Arthur Miller (whose 1996 THE CRUCIBLE he starred in) considers Scofield the finest English-speaking actor. Edward Albee (in whose 1973 A DELICATE BALANCE Scofield starred), declared: "The opportunity to work with Paul Scofield, who, to my mind, cannot say a line incorrectly, was marvelous. He is one of the great actors."
Scofield won an Oscar, a BAFTA, a Golden Globe and six other major honors for A MAN FOR ALL SEASONS (1966). He was Oscar-nominated for QUIZ SHOW (1994) and won 10 other major honors for works including THE CRUCIBLE, QUIZ SHOW, KING LEAR, TV's MALE OF THE SPECIES and THAT LADY (which earned him the Most Promising Newcomer BAFTA). He was the sixth actor to win Oscar, Tony and Emmy awards in the same year (1969). In a 2004 opinion poll of members of the Royal Shakespeare Company, Paul's 1962 King Lear at Stratford was voted the greatest Shakespearean performance of all time (edging out Judi Dench's Lady Macbeth).

FAVORITE PAUL SCOFIELD FILMS

SHARON'S

1. A MAN FOR ALL SEASONS (1966)
2. QUIZ SHOW (1994)
3. THE CRUCIBLE (1996)
4. HENRY V (1989)
5. THE TRAIN (1964)

ALAN'S

1. QUIZ SHOW
2. HENRY V
3. THE TRAIN
4. A MAN FOR ALL SEASONS
5. THE CRUCIBLE

(Sharon): A MAN FOR ALL SEASONS, a lushly photographed version of the hit Broadway play (which ran from 1961-1963 and took Tony Awards for best play, actor [Paul Scofield] and director), still astonishes us with the beauty of its sets and costumes and delights us with its well-drawn characters and intelligent dialogue. Paul Scofield's bravura portrayal of Sir Thomas More, a man who obeyed his conscience over his king, is grand, yet detailed. He creates a living, breathing man, devoted to his family and his faith. We are devastated along with his family (touching performances by Wendy Hiller as his wife and Susannah York as his daughter) at his destruction.

(Alan): A MAN FOR ALL SEASONS was powerful the first time around, and it still packs a lot of drama and good acting, but now it seems somewhat trite, stagy, stiff and pretentious. And it deals with a "who-the-hell-cares" issue: whether Sir Thomas More should recognize Henry VIII's divorce of his first wife, which the rest of the country had already accepted. Shaw chews up the scenery with panache (see his Tribute here) in his only scene, but Paul Scofield is truly magnificent as Sir Thomas More. If I were ranking the films on the basis of Scofield's performances (as Sharon tends to do), this would be my number one too, but I rate on what I consider the quality and watchability of the film, so this is only my number four.




| | |
| --- | --- |
| | (Alan): QUIZ SHOW is a terrific movie. Scofield is superb as Mark Van Doren, patrician poet/professor and father of quiz-show cheater Charles Van Doren. This dramatic examination of how NBC and a group of sponsors rigged a popular game show was nominated for four Oscars: Best Picture, Best Director (Robert Redford), Best Supporting Actor (Scofield) and Best Screenplay (Paul Attanasio, who wrote DONNIE BRASCO and who produces one of the best TV dramas: HOUSE). Attanasio was nominated for several honors for QUIZ SHOW, winning the BAFTA and the London Film Critics Award. Redford directs brilliantly, and there is outstanding work by actors Ralph Fiennes (BAFTA and six other major awards for SCHINDLER'S LIST), John Turturro (10 awards for works including BARTON FINK), Rob Morrow (NUMB3RS) and David Paymer (Oscar nom for MR SATURDAY NIGHT). I liked this movie a lot 14 years ago, and it holds up very well today. |
(Sharon): QUIZ SHOW is a smart, enjoyable movie about early television's choice to defraud the public in the name of entertainment. Too bad it is still relevant today. Paul Scofield's role as an honorable academic who is also a loyal, loving father is a counterpoint to the brash showbiz elements in the world of television. Scofield's gentle, detailed performance (along with that of Ralph Fiennes as his son) gives us a welcome contrast to the brash, grasping, self-promoting actions of the other characters.

| | |
| --- | --- |
| (Alan): THE CRUCIBLE earned Oscar nominations for writer Arthur Miller and actress Joan Allen; it won another four honors and it garnered four more noms. Paul Scofield won a BAFTA for it and was nominated for a Golden Globe and a Satellite Award. Gifted Brit director Nicholas Hytner (THE HISTORY BOYS [which I consider the best film of 2006], BAFTA for THE MADNESS OF KING GEORGE) did a nice job helming Arthur Miller's insightful attack on McCarthyism (via a dramatization of the 17th Century Salem Witch Trials). Although I found Winona Ryder annoying as always, Scofield was solid as Judge Danforth, bringing complexity to the role, and there were fine performances by Allen, Daniel Day Lewis and Peter Vaughn (DEATH AT A FUNERAL). Miller's play has long been a classic of the American stage, and he protected its integrity by writing his own screenplay. | |
(Sharon): THE CRUCIBLE has always been one of my favorite plays because of its indictment of the hysteria in Salem, Massachusetts in 1692 that caused honest citizens to be murdered, the McCarthyism of the 1950s that ruined people's lives and careers, and any group of people persecuting anyone who is different from themselves. The film, like the play, is very upsetting to watch, and that's the way Arthur Miller intended it. Paul Scofield plays Judge Danforth with the appropriate dominance and narrow-mindedness, yet with such subtle humanity that we see a change in him at the end, when he realizes that his star witness is not to be trusted. I've seen the play many times, and his is the best portrayal of Danforth.
| | |
| --- | --- |
| | (Alan): Kenneth Branagh's HENRY V is one of the best films of a Shakespeare play ever done, I believe, and Scofield is excellent as the King of France. The cast is a panoply of fine English actors, including Derek Jacobi (BAFTA for I, CLAUDIUS), Brian Blessed (THE BLACK ADDER), Sir Ian Holm (Oscar nom for CHARIOTS OF FIRE), Richard Briers (MUCH ADO ABOUT NOTHING), Robert Stephens (ROMEO AND JULIET), Emma Thompson (Oscar for HOWARD'S END) and Branagh himself, simply dazzling in the title role. HENRY V is visually stunning (earning a cinematography BAFTA nom for Kenneth MacMillan) and beautifully directed by Branagh (who won seven awards and two Oscar noms for his acting and direction herein). It took an Oscar for its costumes and was BAFTA nominated for its sound, costumes and production design. In this and his other Shakespeare movies (HAMLET, MUCH ADO ABOUT NOTHING, AS YOU LIKE IT, LOVE'S LABOUR'S LOST), Branagh has shown his singular gift for making everything accessible to the audience, while focusing on what is timeless about the work. |
(Sharon): As a great lover of the Bard of Avon, I agree with Alan that Branagh's HENRY V is one of the best versions of Shakespeare's plays on film It works both as a drama and a war film-the bloody battle sequences seem all too real and Scofield's portrayal of the King of France is touching, as he tries to save his country and fails.
(Alan): In THE TRAIN, Scofield again shows great depth and subtlety in the role of German Colonel von Waldheim, who tries to get a trainload of Impressionist masterpieces back to the Fatherland before the Allies take Paris. This could have been another one-dimensional Nazi monster, but Scofield (ably aided by director John Frankenheimer) makes him real and fascinating. Star Burt Lancaster, my former favorite actress Jeanne Moreau, and a good French cast keep this smart, exciting thriller going. It was Oscar nominated for its strong screenplay (by Franklin Coen and Frank Davis) and BAFTA nominated as Best Film.

(Sharon): In this strong and suspenseful film, we root for the French to save their country's masterpieces from being shipped to Germany, and we fear their destruction at any moment. However, Scofield's portrayal of the Nazi art lover can't help but move us to feel sorry for him when he loses and the French win. (Vive la France!)
David Paul Scofield was born in Hurstpierpoint, West Sussex, England on January 21, 1922, the son of a schoolmaster. As a schoolboy in Brighton, Paul developed an early love of acting and even played Juliet in a production of Romeo and Juliet. He trained as an actor in Croydon and London before entertaining British troops during WWII.
He performed with the Birmingham Repertory Theatre and (from 1946) at Stratford-on-Avon, playing Hamlet, Henry V and other major Shakespearean roles. Critics compared his rich, sonorous voice with the smooth-running engine of a Rolls Royce, and he was compared favorably with England's top Shakespearean actor, Laurence Olivier.
He finally made his London commercial theatre bow in 1949, in a Terence Rattigan play that bombed.
Over a 14-year stretch, he elected to only make three movies: THAT LADY, CARVE HER NAME WITH PRIDE and THE TRAIN. But his fourth outing, A MAN FOR ALL SEASONS, made his worldwide reputation as a great actor. It also won 33 global awards, including three Oscars.
In 1956, Scofield gratefully accepted the appointment as a Commander of the Order of the British Empire, but thereafter he refused the offer of knighthood on three occasions, commenting "If you want a title, what's wrong with 'Mr.'?"
Scofield found the second role of a lifetime in the stage production of Amadeus, where he played Mozart's tortured, envious rival composer Antonio Salieri (F Murray Abraham won an Oscar for the role in the 1984 film).
Scofield, who was suffering from leukemia, died on March 19, 2008 near his home in Southern England. He was 86.
For good reason, he was one of the most respected, admired and lavishly praised actors of the second half of the 20th Century. He brought a rare strength, dignity and creativity to the diverse roles he took on and was always highly watchable, even in the tedious 1970 head-scratcher BARTLEBY.
© Alan Waldman and Sharon Waldman (April 18, 2008)
****************
About Alan and Sharon Waldman

Sharon Waldman and
confused cat Winkie

At the age of eight, wearing a fake beard, Alan played the villain in Temple Emanu El's production of The Purim Play. Critics of the period declared that his Haman was the definitive Haman.

At the age of 10 , Sharon Waldman produced, directed and starred in her own stage version of Peter Pan for her elementary school. The next year, she produced a stage version of The Wizard of Oz for the school. After this strong start, she then faced adolescence and was trampled by her hormones.

At the age of 12, Alan Waldman, while working in an optical laboratory, fell into the lens-grinding machine and made a spectacle of himself.

At the age of 50, Alan and Sharon--with at least five marriages behind them--were captured in wedlock by an ex-alkie Buddy Holly imitator at the Little Church of Cheapo Weddings in Las Vegas. They are currently very happy together in a woodsy rental house amid flowering cherry, plum and pear trees, just north of Corvallis, Oregon.