Robert Shaw as England's King Henry VII
in A MAN FOR ALL SEASONS.
Photo supplied by WENN/Newscom




TRIBUTE
TO
ROBERT SHAW

Special Thoughts for
FILMS FOR TWO
by Sharon and Alan Waldman

When FF2's managing editor Jan Lisa Huttner wrote her recent review of the Israeli film BEAUFORT, she referred to Robert Shaw's memorable performance as Quint in the film JAWS. As this is the 30th anniversary of that great actor/playwright/novelist's death (at the tragically young age of 51), she has asked us to write a tribute to Shaw and discuss our favorites among his films. To do so, we have just re-watched several of his best-loved movies and selected the ones each of us likes best.
FAVORITE ROBERT SHAW FILMS

SHARON'S

1. A MAN FOR ALL SEASONS (1966)
2. THE STING (1973)
3. BATTLE OF THE BULGE (1965)
4. JAWS (1975)
5. BLACK SUNDAY (1977)

ALAN'S

1. THE STING
2. BLACK SUNDAY
3. THE TAKING OF PELHAM 123 (1974)
4. BATTLE OF THE BULGE
5. A MAN FOR ALL SEASONS
(Sharon): A MAN FOR ALL SEASONS, a lushly photographed version of the hit Broadway play (which ran from 1961-1963 and took Tony Awards for best play, actor [Paul Scofield] and director), still astonishes us with the beauty of its sets and costumes and delights us with its well-drawn characters and intelligent dialogue. One of my favorite all-time movie scenes-and my favorite Robert Shaw performance-is King Henry VIII's arrival at Sir Thomas More's home, leaping from his boat into the mud of the river and roaring with laughter about it, then sitting down under a tree to have a word with More before lunch. The friendly banter turns sour when More won't support his divorce and remarriage, and the king abruptly heads for the boat again, his entourage scurrying after him. This is the turning point of the film, when More loses the king's favor and is punished for it. The consequences are sad indeed.
(Alan): A MAN FOR ALL SEASONS was powerful the first time around, but now it seems somewhat trite, stagy, stiff and pretentious. And it is a lot of drama about a "who-the-hell-cares" issue: whether Sir Thomas More should recognize Henry VIII's divorce of his first wife, which the rest of the country had already accepted. Shaw chews up the scenery with panache in his only scene, and the late Paul Scofield (see his Tribute here) is magnificent as Sir Thomas More.
(Sharon): THE STING is as delightful now as when it was made: the script contains one surprise after another, the characters are amusing and Robert Redford and Paul Newman are at their most charming. In this light fare, Robert Shaw manages to create a truly malignant villain who deserves what he gets.

(Alan): I loved THE STING in 1973 and enjoyed it just as much (although I knew what was coming) 35 years later. Shaw was a terrific villain, Robert Redford and Paul Newman were delightful as the con-men who fool him twice, and there were solid supporting performances from fine character actors Charles Durning, Ray Walston, Eileen Brennan and Harold Gould. THE STING was nominated for 10 Academy Awards, winning seven, including best picture, screenplay (David S. Ward), director (George Roy Hill) and score (Marvin Hamlisch, although the Academy criminally did not award one to legendary ragtime composer Scott Joplin, whose music give the movie much of its flavor). The film won another eight major awards (including DGA, PGA and People's Choice Favorite Motion Picture) and three more nominations. This thing is beautifully crafted and a pleasure from beginning to end. The tension between Shaw and the team of Newman and Redford is electric.

(Sharon): Robert Shaw's performance as the German officer in BATTLE OF THE BULGE is actually the largest role in the movie, and he makes the skillful colonel worthy of our admiration. Unfortunately, many American service men and women were slaughtered in this battle, and we are grateful to see the Americans triumph once again.

(Alan): BATTLE OF THE BULGE is a very well-made, richly detailed historical drama of the Winter 1944 battles that nearly turned World War II in Germany's favor. Shaw is outstanding as the clever German Panzer colonel Martin Hessler, who successfully matches wits with the Allies until a climactic race to a crucial fuel dump. The strong cast includes Henry Fonda, Robert Ryan, Dana Andrews, George Montgomery, Charles Bronson and Telly Savalas (who was nominated for a Best Supporting Actor Golden Globe). Although some dramatic liberties were taken with history in the script (to condense a complicated series of events into two hours), what we see is largely accurate and highly compelling.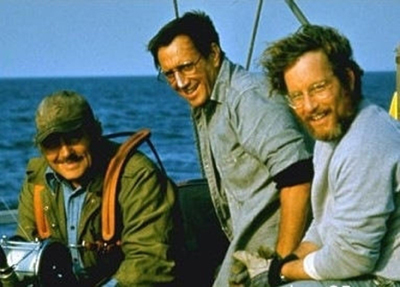 Robert Shaw, Roy Scheider and Richard Dreyfuss (L-R) in a scene from JAWS.
Photo supplied by WENN/NewsCom
(Sharon): As I said in our recent tribute to Roy Scheider, although JAWS isn't the scare-fest it was in 1975, it's still fun to watch. Roy Scheider is the glue that holds the story together. He is so honest and believable in the role of the sheriff that you forget he's acting and worry for his welfare. On the other hand, Robert Shaw's boat captain squints and mugs like the cartoon character Popeye and is just as believable.
(Alan): Although I found JAWS very exciting and lots of fun 33 years ago, it doesn't hold up for me now and is really just a hyped up fish story, I believe. Although Shaw's performance as the hard-eyed boat captain Quint is enormously entertaining, it is actually a one-dimensional ham-fest; he seems to eat as much scenery as the shark does. Nonetheless, Shaw's performance as Captain Quint in JAWS is ranked #28 on Premiere Magazine's 100 Greatest Movie Characters of All Time list. A little known fact: Shaw improvised most of his brilliant monologue about sharks swarming the sailors blown off the U.S.S. Indianapolis in World War 2.
(Sharon): Although action/terrorist movies are not my favorite fare, BLACK SUNDAY is well done, and it's a pleasure to see Robert Shaw in one of his rare lead roles, as an Israeli anti-terrorist agent. Although sympathetic, his character is still ruthless and violent, but he has to be so when contending against diabolical Marthe Keller and fanatical Bruce Dern (who adds to his panoply of crazed cinematic characters here). At the age of 50, Shaw amazes with his physical strength and vitality as he dashes through the crowds in the football stadium and performs many of his own stunts.

(Alan): In BLACK SUNDAY it is fun to see Shaw not as the villain or the crazy man but as a hero who ultimately thwarts the deranged desperados determined to destroy 80,000 Americans at once by bombing the Super Bowl from the Goodyear blimp. Marthe Keller and Bruce Dern are solid as the villains. Despite having three different screenwriters (usually a sure sign of a bad script), this screenplay is tight and exciting. It was nominated for the Mystery Writers of America's Best Picture Edgar Award. For football fans like myself, it is great fun to watch quick cuts between astonishing aerial stunts on the blimp and shots of a Dallas Cowboys-Pittsburg Steelers championship game at Miami's Orange Bowl. We see lots of shots of Shaw on the field and all over the stands during the actual game, so that stuff must have been filmed very quickly.

(Alan): Shaw is an effectively cold-hearted villain in THE TAKING OF PELHAM ONE TWO THREE, where he heads a four-man team who hijack a New York City subway train for a ransom of $1 million. Walter Matthau, Hector Elizondo, Jerry Stiller, Doris Roberts, Tom Pedi and Martin Balsam (BAFTA nominee as Best Supporting Actor) do fine work here in a taut thriller that justifiably earned screenwriter Peter Stone (who also penned the fine films CHARADE and 1776) a Writers Guild Best Adapted Drama nomination.

(Sharon): In THE TAKING OF PELAM ONE TWO THREE, Shaw is again effective playing an evil psychopath and cold-blooded killer. The only difference here is, he gets to perform a spectacular suicide by subway rail!
In addition to the roles mentioned above, Robert Shaw is well known and admired for his fine work as the brother of sadistic Alan Bates in Harold Pinter's THE CARETAKER (1963), dangerous enemy agent Red Grant in the second James Bond film FROM RUSSIA WITH LOVE (1963), the tormented victim in Pinter's THE BIRTHDAY PARTY (1968), a steely RAF squadron leader in THE BATTLE OF BRITAIN (1969), explorer Pizzaro in THE ROYAL HUNT OF THE SUN (1969), Lord Randolph Churchill in YOUNG WINSTON (1972, for which he earned a BAFTA Best Actor nom), the Sheriff of Nottingham in ROBIN AND MARIAN (1976) and a lonely aristocratic woman's chauffer in THE HIRELING (1973, adapted from Shaw's popular novel).
During his 28-year film career, Shaw appeared in 50 movies and TV works, playing a broad range of characters. He received Oscar and Golden Globe nominations and two acting awards for A MAN FOR ALL SEASONS (1966) and was BAFTA-nominated for YOUNG WINSTON. Shaw was also nominated for Broadway's 1969 Best Play Tony Award as author of the gripping drama THE MAN IN THE GLASS BOOTH (which was later filmed, with Maximilian Schell playing a character based on Nazi mass murderer Adolf Eichmann). Shaw also penned the play CATO STREET.

Shaw's novels include THE SUN DOCTOR (which won the 1962 Hawthornden prize), THE HIDING PLACE, THE FLAG, A CARD FROM MOROCCO and THE MAN IN THE GLASS BOOTH. He wrote or co-wrote the screenplays for FIGURES IN A LANDSCAPE, SITUATION HOPELESS…BUT NOT SERIOUS (starring Alec Guiness) and THE MAN IN THE GLASS BOOTH, as well as episodes of TV series KRAFT TELEVISION THEATRE, HIGHWAY PATROL, PLAYHOUSE 90, EUROPEAN EYE and THE HIDING PLACE.
Over a 24-year span, Robert Shaw had nine children (and a stepson) by three women. Three months before his death, he told a reporter, "Being 51 years old and having 10 children—the youngest is 13 months—creates the economic necessity that forces me into all those big-budget movies in which I often don't have a single realistic line."
He has also said, "Writing is where the real center of my integrity lies. I never write for money. I only act for money, but not invariably, of course. I would never write certain sentences that I say in films, or even that I write in films, because I often fix up my lines."
On another occasion, Shaw observed, "Acting is instant enjoyment and childlike. As an actor I can take an audience in a theatre and throw them in any direction. I can't do that as a writer. Writing is painful, it's lonely, you suffer and there's no immediate feedback."
Another Shaw statement on acting versus writing: "What I try to achieve in acting-flamboyance-would be self-indulgence if I tried it as a writer."
Robert Archibald Shaw was born in Westhoughton, Lancashire, England on August 9, 1927, eldest son of Doctor Thomas Archibald Shaw and Doreen Nora Avery. Thomas was an alcoholic and manic depressive who committed suicide by imbibing a lethal dose of opium when Robert was only 12.
At school in Truro, Robert was a talented rugby, squash and track athlete who turned down university scholarship offers to go into acting. He was inspired by one his teachers, Cyril Wilkes, who got him to read most of the classics and frequently took him and a few other boys to London to see plays. The first stage production Robert saw there was Sir John Gielgud's legendary 1944 HAMLET. After a brief teaching stint in Yorkshire, Robert attended the Royal Academy of Dramatic Arts from 1946 to 1948.
At Stratford-on-Avon, Shaw was directed by Gielgud, who said to him, "I do admire you and think you've got a lot of ability, and I'd like to help you, but you make me so nervous."
Shaw's early stage career took him throughout Europe, Australia and South Africa. In 1950, Sir Alec Guiness discovered Shaw when he was performing MUCH ADO ABOUT NOTHING at Stratford, brought him to London to perform HAMLET with him and then got him his first role: an uncredited small part in Guiness's 1951 classic crime comedy THE LAVENDER HILL MOB.
Shaw married actress Jennifer Bourke in 1952 and had four daughters with her. To support the young family during his struggling-actor period, he earned $10,000 pounds for eight months' work playing the lead in 37 episodes of the TV pirate/privateer series THE BUCCANEERS.
He had a child with actress Mary Ure, then the wife of acclaimed British playwright John Osborne (LOOK BACK IN ANGER, Oscar and BAFTA for TOM JONES). They married in 1973, had three more children and performed the lead roles in the 1964 drama THE LUCK OF GINGER COFFEY. Robert and Mary were very happy together for a dozen years, until her accidental death in 1975—which turned him into a depressed alcoholic for a while. In 1976, however, he married his secretary of 15 years, Virginia Jansen, and had one child with her, also adopting her son.
Shaw once admitted, "I drink too much," but added, "Tell me one great actor who doesn't drink."
He played the lead in the 1978 expensive flop FORCE TEN FROM NAVARONE, later commenting, "I have it in mind to stop making these big-budget extravaganzas, to change my pattern of life. When I was younger, I wanted to prove that I could be an international movie star. Now that I've done it, I see the valuelessness of it."
While playing a Russian official in AVALANCHE EXPRESS, Robert Shaw died of a sudden heart attack in Ireland on August 28, 1978. He was driving with his wife and son when he felt chest pains. He told Virginia he would get out and walk them off, but after a few steps he collapsed. He was pronounced dead 15 minutes later.
Robert Shaw overcame a troubled childhood to become an exceptionally gifted, powerful dramatic actor who accurately did diverse accents, brought numerous unforgettable characters to life and wrote intelligent works that had impact on readers and audiences.
© Alan Waldman and Sharon Waldman (April 1, 2008)
****************
About Alan and Sharon Waldman

Writers, lovers, punsters and cat-teasers Sharon and Alan Waldman have been married for the last 13 years, living and working in Los Angeles and now in Corvallis, Oregon. They both teach at the local community college: she on Writing Memoirs, Creating Family-history Cookbooks and Staying Sexy After 60 and he on Writing Salable Magazine Articles, Amusing Very Small Children, Creatively Collecting Internet Porn and Avoiding Being Beaten, Robbed and Bored to Death by Republicans. Alan's ex-wives include a very busy bankruptcy judge and a millionaire retired magazine art director. Sharon's castoffs are a poet, a womanizing guitarist and an un-indicted insurance fraudster. The Waldmans love smart British and American TV dramas, the handful of intelligent movies (mostly foreign) made for adults each year, Winkie their mouse-chasing (but not -eating) cat, gardening, theatre, each other and making funny noises in public.