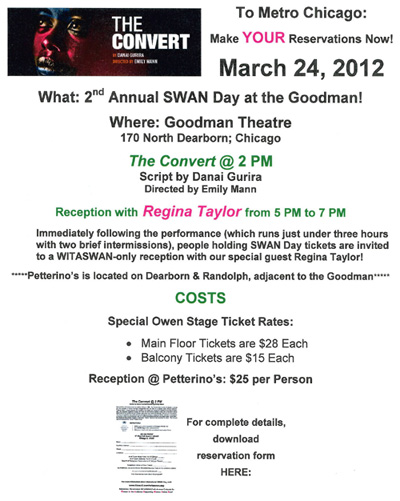 *****IMPORTANT INFO FOR GOODMAN SUBSCRIBERS*****

If you are already holding subscription tickets & you want to participate on 3/24/12,
please contact the Subscriber Hotline ASAP & ask to exchange your tickets:

312.443.3810

Who is Danai Gurira?

An award-winning actress and playwright, Danai Gurira received her M.F.A. from New York University. For her work on IN THE CONTINUUM, which she co-created and performed in, Danai won a 2006 Obie Award, the 2006 Outer Critics John Gassner Award, and the 2004 Global Tolerance' Award (Friends of the United Nations), in addition to being honored by the Theatre Hall of Fame.

She is best known locally for her role in the beloved Indie THE VISITOR. She has also appeared on television in supporting roles on NBC's LAW & ORDER and HBO's TREME.

Danai Gurira was born in the United States to Zimbabwean parents and raised in Zimbabwe.


Who is Regina Taylor?

With an impressive body of work that encompasses film, television, and theater, Regina Taylor is one of America's most versatile storytellers—both on stage and behind-the-scenes—and her career continues to evolve with exciting and challenging new projects.

As an actress, Taylor has received many accolades for performances in two TV series (I'LL FLY AWAY and THE UNIT) including a Golden Globe Award, two Emmy Award nominations, and two NAACP Image Awards. Her performance as Anita Hill in the television movie STRANGE JUSTICE also garnered her Peabody and Gracie Awards.
Locally, however, Taylor is best known as a playwright who has produced many excellent productions with the Goodman, including THE DREAMS OF SARAH BREEDLOVE, DROWNING CROW, MAGNOLIA, and THE TRININTY RIVER PLAYS, as well as the critically acclaimed CROWNS (which will be produced at the Goodman again this summer).

Taylor is a member and Artistic Associate of Goodman Theatre. She received the Hope Abelson Award from Northwestern University, and an honorary doctorate from DePaul University. Raised in Dallas, Texas, she now lives much of the year here, with us, in Chicago!
More Links
Click HERE to read background info on THE CONVERT on the Goodman website.
Click HERE to read article about THE CONVERT in The New York Times:
Click HERE to listen to feature on THE CONVERT on NPR:
Click HERE to learn more about Regina Taylor:
Photo Credits
Photo of Regina Taylor taken at the 23rd Annual Chicago Film Critics Association Awards Ceremony, where she presented the 2012 Oscar Michaeux Award to James Earl Jones. Photo Credit: Cindy Barrymore (1/7/12) ABACAUSA.COM/NewsCom
Photo of Danai Gurira (left) with Hiam Abbass in THE VISITOR. Photo Credit: John Clifford (2007)