WHEN DID WE KNOW?
FINAL THOUGHTS ON OSCAR 2003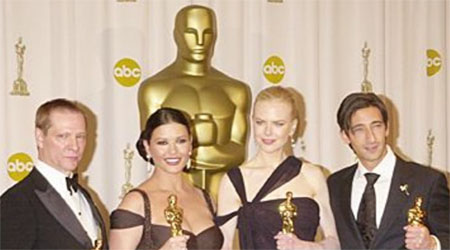 Pictured from Left:
Chris Cooper, Catherine Zeta-Jones, Nicole Kidman, & Adrien Brody

One of the things that made this year's Oscar race so interesting was the number of "breakout" stars nominated in each of the four acting categories. Some of these names were new to mainstream viewers, but to those of us who love movies & see more than our share of Indies, they were long time favorites. So here are our answers to that famous Watergate question: "What did we know & when did we know it?"
ADRIEN BRODY:
We saw Adrien Brody in a number of independent films, but he captured our attention for the first time as the eldest son in LIBERTY HEIGHTS in 1999. We knew he was in winner in 2000 when he co-starred as the union organizer in BREAD & ROSES. Born in 1973, he became the youngest recipient of the Best Actor award in Oscar history this year for his starring role in THE PIANIST.
CHRIS COOPER:
In 1986, Chris Cooper starred in the Sayles/Renzi film MATEWAN. It was his very first film & he was unforgettable. In 1996, they cast him as the lead in LONE STAR, for which he received a Spirit Award nomination. If you thought Cooper was sexy with Streep in ADAPTATION, wait till you see him dance with Elizabeth Pena in LONE STAR. They share one of the most intimate adult love scenes ever filmed. (No kids, it's NOT just a question of skin!)
NICOLE KIDMAN:
Nicole Kidman surprised mainstream viewers this year as the decidedly unglamorous Virginia Woolf in THE HOURS, but we first knew for sure that she was a "serious" actress in Jane Campion's 1996 film PORTRAIT OF A LADY. Although we haven't always understood her choice of roles, we certainly admire her courage.
QUEEN LATIFAH:
Of course we already knew the name, but we were totally blown away by the Queen in her 1998 film LIVING OUT LOUD. How did this "rap artist" come out of nowhere to completely conquer Billy Strayhorn's jazz classic "Lush Life"? When we heard that the Queen had landed the role of Mamma Morton in CHICAGO, we knew that the film was on its way to greatness. What's on our Wish List? To see Queen Latifah starring in THE BESSIE SMITH STORY!!!
JOHN C. REILLY:
One peek at his listing in the Internet Movie Database & it's clear that Reilly has made lots & lots of movies, & we saw him lots & lots of times before we really noticed him. That happened in 1997, when we saw BOOGIE NIGHTS. But stealing "Mr. Cellophane" (his big CHICAGO number) away from Joel Grey? Who knew?!?!?
CATHERINE ZETA-JONES:
Who can forget ZJ's fiery presence in the MASK OF ZORRO commercials released in 1998? But then she languished in supporting roles in HIGH FIDELITY, TRAFFIC & lesser films until this year, when CHICAGO finally gave this song 'n dance babe the chance to really strut her stuff!
RENEE ZELLWEGER:
She had us at hello in 1996' JERRY MAGUIRE, but no performance surprised us more in 2002 than Zellweger's turn as Roxie Hart in CHICAGO. It wasn't just the singing & dancing, & the courage required to test out these completely new skills, it was the core of steel behind the sweetheart smile. Roxie Hart is a woman who appears cute & vulnerable on the outside, but on the inside she's a cunning vixen with a completely unsentimental appreciation of her own assets. No character could be more different from the giddy NURSE BETTY or the wistful Brit in BRIDGET JONES'S DIARY. Renee: You Go, Girl!!!