How I Found the Missing Link:
It's often the case that once something is "found," it's hard to remember a time when it was "lost." Now that Sholem Aleichem's novella STEMPENYU is back in print again, I'm here to tell you that I had a very hard time finding it back when I first started to look. But why was I looking for it in the first place?
The answer is quite simple: My research on FIDDLER had led me to a wonderful book called THE THEATRE ART OF BORIS ARONSON by Frank Rich with Lisa Aronson. Here's how dumb I was back then: I was sitting at a table in the "Billy Rose Theatre Collection" at the New York Public Library, staring at the book & shaking because it contained information I'd been searching years to find.
Finally I went up to the desk clerk, & tremulously asked him: "Can you tell me how to find out if someone is still alive?" He said: "Who are you looking for?" I said: "Um, Frank Rich?" He looked at me as if I were the stupidest person in the world: "Frank Rich is the theatre critic for the New York Times!" "Oh," said I with a grimace. "I'm from Chicago."
The Rich/Aronson chapter on FIDDLER was enormously helpful, but then I noticed this tiny item in the chronology section (page 294):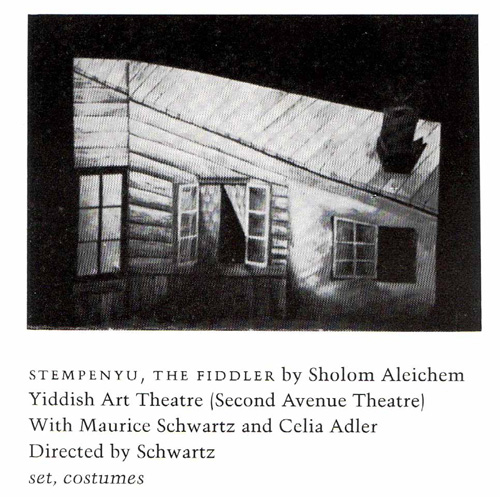 And my search for STEMPENYU began!
I contacted Joel Berkowitz & asked him to post an inquiry for me on the YIDDISH THEATRE FORUM, but got no reply: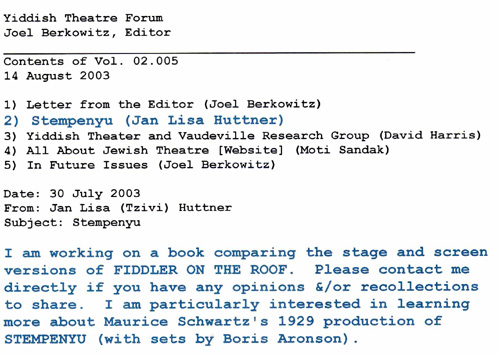 So what was STEMPENYU: a play? a story? I had no idea!
Then one day I received a book in the mail from my Aunt Bernis. Bernis Hecht has been active member of Brandeis University National Women's Committee for decades, & she frequents used book sales in search of buried treasure. The note with the book said she'd found this Yiddish book, she saw it was by Sholem Aleichem, & she thought I might like it. Well, I knew just enough Yiddish to sound out the Table of Contents: STEMPENYU!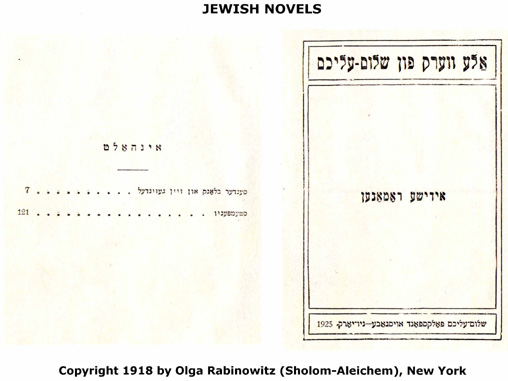 A message from above: Keep looking, Jan! So I took the book from Bernis to my Yiddish teacher, Nathaniel Stampfer, & together we searched Spertus Library until we found an English version of STEMPENYU in a collection of stories translated by Joachim Neugroschel (now out-of-print). And as soon as I read the prologue, I knew in my heart that I'd found the "missing link."
There's still no proof positive for this chain of influence from Sholem Aleichem's STEMPENYU to Chagall's GREEN MUSICIAN, but I believe it with all my heart, & I think you will too once you've read this lovely story.
© Jan Lisa Huttner (12/20/08)