A VERY ROCKY MOUNTAIN HIGH:
Impressions of the 2004 Telluride Film Festival
SPECIAL FOR FILMS FOR TWO®
by Kimberly Merenkov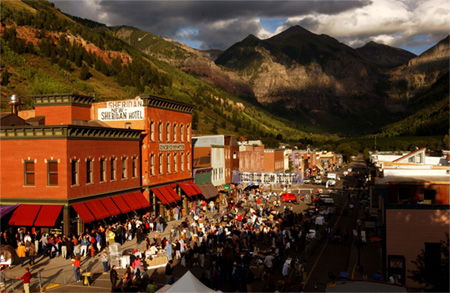 Crowds gather for opening day of the Telluride Film Festival.
(Photo by David McNew/Getty Images/NewsCom)

For those who know me well, I am the quintessential urban woman, always in awe of the man-made mountains of steel and glass against the twilight mixture of natural and artificial lights as night relentlessly creeps up on the city. My own poetic voice is wrought from struggling to make sense of these abundant skyward images as if they were a secret road map to human longing. Thus, when my friends George and Greg asked me to join them and their other cool friends for the Telluride Film Festival in the small mountain community of Telluride, Colorado, during this past Labor Day weekend, my first thought was how was I going to survive all that "nature" stuff. After all, I was never one to sing "Climb Every Mountain," like in a Julie Andrews' movie, when I saw the real thing…Yet, some beautiful, peaceful scenery in this lately scary, conflict-ridden world, as well as the "dream come true" opportunity to experience films from all over the world with real, down to earth film lovers, felt like the perfect escape. It didn't hurt to learn that this film festival, like Cannes, often has its own share of film celebrities but with everyone in jeans, albeit some in very expensive ones. It turned out that I was not disappointed…
Telluride itself is a beautiful small mountain community, just southwest of Denver in the lower Rocky mountain region, known as the San Juan Mountains. It has a local population of just less than 2000 and an altitude of 8750 to make you breathe heavy as every walking step feels like a passionate effort to suck as much oxygen out of the thin Colorado air as possible. The Telluride Airport, North America's highest commercial airport at 9078 feet, caused a different kind of fast breathing—a small runway seemingly ending at the edge of a mountain is quite an adrenaline rush. Believe me! It didn't help to see a small 17 seat local plane in Denver, waiting to whisk us off to Telluride. I could not shake off the image of that ancient looking plane at the end of the film, Casablanca, which with just one look would have made me take my chances with Bogey. Well, this plane was smaller than that one, had no secured cockpit door, and had to be "balanced the old fashioned way" so every passenger had to tell how much he or she weighed. As any self- respecting woman knows, it is a big NO-NO to ask any woman about weight or age. But looking directly into the cockpit as the pilot was maneuvering the airplane around some mountains, I had more than a few anxious moments about a certain 10 pounds that I had just denied at check-in. I made a bargain with God that if the plane landed safely, I would never lie about my weight on a small plane again…Or better yet, I would lose those 10 pounds before I ever set foot on one again! Or I can just eat all the chocolate I desire and take the land route from Denver to Telluride next time…
Despite the somewhat challenging travel, Telluride is made for couples. Couples are especially needed with all the weather changes. It is very important to cuddle up with one's significant other since a typical day would change from almost burning hot to rainy to cold and even snow, all before noon. Okay, maybe you would not be cuddling up during the hot, sunny moments but a partner is handy for numerous weather discussions and to help you take layers of clothing on and off all day long. Snow in early September is supposed to be unusual but again, snow came early this year, which caused a run on gloves at the clothing stores. For those singletons visiting, which included me, there is always the "kindness of strangers" to help with these climatic challenges. Besides, despite the unpredictability of the weather, all was forgiven when the most beautiful rainbow that I have ever seen arched low across the main street.
Telluride Film Festival is a serious film festival with an abundance of foreign and American films and documentaries to keep one going from early morning until very late at night. A good number of the films end up later in theaters across the country or at least in some art house type venues but some showings may not be available elsewhere. Each festival tends to have a theme that is not advertised in advance. The actual list of movies, as well as the special honorees and speakers, are a well kept secret until after one arrives there. This year the guest coordinator for the festival was Buck Henry, well known for his screenplays and sometimes supporting character roles (The Graduate, Catch-22, Heaven Can Wait, To Die For, and What's Up Doc?). Guest speakers included Peter Bogdanovich with his personal stories about Cary Grant and Orson Welles, the famous casting director and producer, Fred Roos, Joan Allen, Annette Bening, Laura Linney (a special honoree), George Lucas, Harrison Ford (still sexy after all these years), Rip Torn, Gael Garcia Bernal (Y Tu Mama Tambien), screenwriter Jean-Claude Carriere (Belle Du Jour, Diary of a Chambermaid), Greek director Theo Angelopoulos (Ulysses' Gaze, Landscape in the Mist), and my favorite film critic, Roger Ebert.
For me, Telluride film watching was an intense immersion into a multitude of cultures and ideas. How utterly human and moving to communicate through film about our connectedness and capacity to feel and search for meaning in our lives, even when that search can be critical, divisive, and even heartbreaking at times. I am therefore pleased to discover that the 2004 CHICAGO INTERNATIONAL FILM FESTIVAL will be viewing some of the well received films from the Telluride Festival. (HIGHLIGHTED IN BOLD CAPS & LINKED TO THE FF2 DATABASE BELOW)
Based on my Colorado experience, I recommend the following films:
1) FINDING NEVERLAND—Director Marc Forster (Monster Ball) with Johnny Depp, Kate Winslet, Julie Christie, and Dustin Hoffman. Moving story of James Barrie's relationship with a widow and her children who serve as the inspiration for his play, Peter Pan. The search for true connection and how such fosters the creative process turns on end the notion that artists must be loners.
2) YES—Director Sally Potter with Joan Allen. One of the most intellectually stimulating and timely films with most of the dialogue done in rhyming couplets. A successful scientist (Allen) has an intense affair with a Lebanese Muslim. There is an amusing ode to the transience of cleanliness and the relentlessness of dirt in our lives, as well as a serious reflection about stereotypes, the Muslim world versus the West, and the power struggles between the sexes.
3) BEING JULIA—Director Istvan Szabo with Annette Bening and Jeremy Irons. This is Somerset Maugham's version of an All About Eve theme. Middle aged actress dealing with aging as a younger version comes ready to dethrone her. The ending is very satisfying…
4) KINSEY—Director Bill Condon with Liam Neeson, Laura Linney, and Peter Sarsgaard. Daring and rather refreshing approach to highlighting the personal and professional life of Dr. Alfred Kinsey (famous sexologist), especially his relationship with his wife (Linney). There are explicit photos about certain "highly sensitive" anatomical parts and frank language about sexual practices. Look for some surprise cameo roles in this one.
5) HOUSE OF FLYING DAGGERS—Director Zhang Yimou with Zhang Ziyi (Crouching Tiger). Beautifully photographed, fantastical story about how love conquers all, whereas both individual and collective rage ultimately are meaningless. You will never see a bamboo forest photographed as beautifully as in this film. Great martial art sequences as well.
6) BAD EDUCATION—Director Almodovar with Gael Garcia Bernal. A twisted femme fatale story that takes on a pedophile priest, the complexity of sexual desire, the function of role playing, and the purpose of art as truth or subterfuge. The scene of a young boy singing "Moon River" in Spanish is unbelievably complex as the melody and words stir up romantic longing while at the same time sexual menace hangs so deeply in the air.
7) PS—Director Dylan Kidd with Laura Linney and Topher Grace. Although my friends felt this movie was far fetched and unrealistic in parts, I really did enjoy the physical chemistry between the older woman (Linney) and young art student (Grace). An affair between an older woman and a young 20 -something year old awakens old feelings about a long lost boyfriend for the woman and finally allows her to move on emotionally.
8) MERCHANT OF VENICE—Director Michael Radford with Al Pacino, Jeremy Irons, and Joseph Fiennes. If you can get past some of the stereotyping, which offends many, there is a moving speech about the importance of mercy that is applicable to the state of our world today. Shakespeare never goes out of style with his understanding of human nature.
Other well -received films included two that will also be at the Chicago Film Festival, MOOLAADE and NOBODY KNOWS. There was a love—hate reaction to PALINDROMES (director Todd Solondz). Some hated it but others thought its ideas lingered and took form after much reflection. Alas, these were films that I did not have a chance to see.
Much will be fondly remembered about this Colorado film adventure—friends, both old and new, and the opportunity to experience great, thought provoking cinema, some of which moved me close to tears or laughter and often both.
I also have a new found fondness for a certain John Denver song about mountains…Go figure.
Happy film watching and have fun at the Chicago Film Festival!
© Kimberly Merenkov (10/04/04)
The 2005 Telluride Film Festival
is scheduled from 9/2/05 to 9/5/05.
Follow link below & make you reservations now:
http://www.telluridefilmfestival.org
Chick here for more about the 2004 Chicago International Film Festival.
FF2 ADDENDUM:
Kimberly Merenkov, M.D., is a Chicago psychiatrist who specializes in anxiety disorders. In addition to her private practice, she is also an Assistant Clinical Professor of Psychiatry and Behavioral Sciences at Northwestern University Medical School, as well as the former Editor of the Illinois Psychiatric Society newsletter, Mind Matters. She is a Distinguished Fellow of the American Psychiatric Association, which is one of the highest honors awarded psychiatrists for clinical and scholarly excellence, as well as community service.

Kim has had a life long interest in creative writing and film. She has published articles and editorials in her professional field, sometimes incorporating an analysis of films to communicate effectively with her professional colleagues about the art of relating to patients and peers. She is currently working further on several creative writing projects, as well as struggling to learn French (so that she can justify all the French movies that she keeps seeing).

Kim, Jan, and Rich are all members of the Chicago Film Discussion Group, an informal monthly gathering of local film buffs. We are delighted to post her 2004 Telluride report & hope to join her on a future outing!