WHAT'S WRONG
WITH THIS PICTURE?
Jan Rants about this year's Oscar nominations!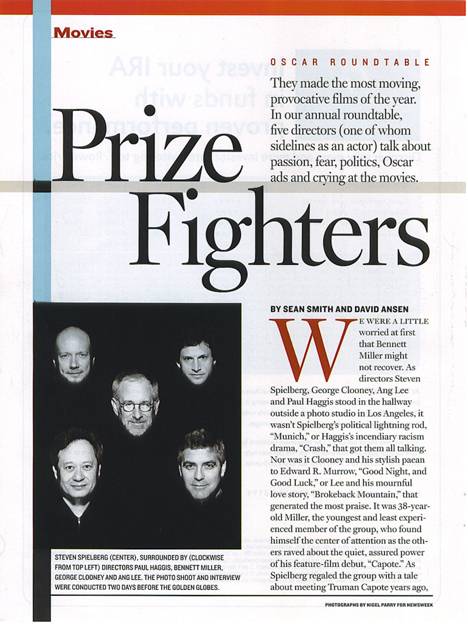 "They made the most moving, provocative films of the year…"

Oh yeah? Says who?!?!?
In the Fall of 1968, I was young & cute & just starting my Senior year in high school. Like many of my peers, I was a peacenik and a '60s person thru & thru. I was an active member of New Jersey High School Students' Mobilization Against the War, & I did a lot of marching. I thought I was in common cause with all the guys marching around me until I started to notice two very disturbing things: first, they typically referred to me as a "chick" & they frequently told me that I could best serve "our cause" by putting out; & second, these supposed "peaceniks" were wearing Fatah buttons with Arafat's picture on them. The more I marched, the more I came to question what I actually had in common with these guys, & by 1972, when MS. magazine published its first issue, I was a "charter subscriber" & a committed feminist.
Many years have passed, & I'm hopefully somewhat older & wiser now. Nevertheless, I feel totally betrayed by this year's Oscar nominations. The moment the nominations were announced, I knew for sure that the same guys who had once marched against the Vietnam War were now in firm control of the "liberal establishment," & this year's nominations made it abundantly clear to me that they have no more interest in "my issues" now than they did 40 years ago.
I have been a NEWSWEEK subscriber my entire adult life, but I do not agree with the basic premise of their article above. The five films they have identified (BROKEBACK MOUNTAIN, CAPOTE, CRASH, GOOD NIGHT, AND GOOD LUCK, & MUNICH), the same five films that are now the official contenders for this year's "Best Picture" Oscar, were definitely not "the most moving, provocative films of the year" for me. Listed below are twelve of my favorite films from 2005. I found each one of these films both more moving & more provocative than any of the films nominated by AMPAS on January 31st:
THE BEAUTIFUL COUNTRY
BROTHERS
THE CONSTANT GARDNER
HEAD-ON
A HISTORY OF VIOLENCE
HUSTLE & FLOW
KING KONG
LADIES IN LAVENDER
MYSTERIOUS SKIN
PALINDROMES
PAPER CLIPS
THE PRIZE WINNER OF DEFIANCE, OHIO
With the exception of MYSTERIOUS SKIN (which is about male pedophilia), every one of these twelve films has at least one extremely powerful female performance, in stark contrast to this year's Oscar nominees. Am I the only person in America bothered by the fact that women are relegated to supporting roles in every one of this year's Oscar contenders for Best Picture of the Year?
In CRASH, for example, racism is abhorrent, but sexism is perfectly fine. We're supposed to think the Sandra Bullock character is just "a bitch," why should it matter? Can anyone tell me what Patricia Clarkson's job is in GOOD NIGHT, AND GOOD LUCK? Would you ever know from CAPOTE that the character played by Catherine Keener, Harper Lee, wrote one of the most beloved books in the history of American literature? And what about the scene from BROKEBACK MOUNTAIN that's shown over & over again in previews, the one in which Michelle Williams starts screaming about Heath Leger's "fishing trips" while she's washing the Thanksgiving dinner dishes? I watched it twice & I still couldn't figure out what triggered that outburst. Finally there's MUNICH; the less said about the "climax" of MUNICH, the better!
Could the lack of interest in female characters have any relation to the fact that, with the exception of BROKEBACK MOUNTAIN, every one of these films was not only directed by a man, but also written by a male screenwriter or a male screenwriting team? In fact, Diana Ossana, the woman who co-wrote BROKEBACK MOUNTAIN with Larry McMurty, is the only woman to be nominated for a screenwriting award this year, in either category (original or adapted).
I'm constantly amazed by the fact that most people are completely oblivious to all of this until I begin to rant at them. Then, the more facts they know, the more likely they are to say: "Wow, I had no idea. That's really not fair, is it?" No, it is NOT fair. Wonderful films written &/or directed by women were distributed in 2005, & some of them should have made Oscar's list.
Many senators who voted for Samuel Alito & John Roberts to fill vacancies on the Supreme Court this year said for the record: "I am voting for my hopes rather than my fears." I live in hope too, but I predict that a decade from now, fair-minded people will look at January 31, 2006 & shake their heads in sorrow. If I ruled the world, I would have taken members of the Senate to the movies. I would have made them watch THE PRIZE WINNER OF DEFIANCE, OHIO before they were allowed to vote on Sandra Day O'Connor's replacement; I would have made them watch THE CONSTANT GARDNER before they were allowed to vote on any health care legislation; I would have made them watch KING KONG before they were allowed to vote on any environmental legislation; & I would have made them watch BROTHERS before they were allowed to mouth off on the war in Iraq. These films all deal with the issues of great importance to me, & I will continue to fight as hard as I possibly can for the filmmakers who care about "my issues," prizes be damned.
Here is a new Billboard that all AMPAS members will see on their way to this year's Academy Awards: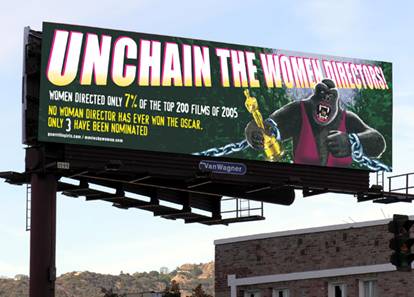 Copyright 2006: The Guerrilla Girls & Movies By Women
I hope they're looking!
© Jan Lisa Huttner (2/1/06)
FF2 Addenda