TRIBUTE
TO
HEATH LEDGER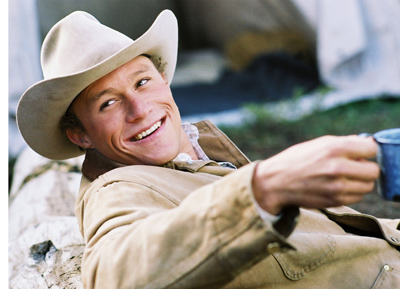 Heath Ledger in BROKEBACK MOUNTAIN
Photo credit: WENN/NewsCom
Special Thoughts for
FILMS FOR TWO
by Sharon and Alan Waldman
In his brief film and TV career—23 projects in 15 years—Heath Ledger played a range of memorably unique characters in teen romances, comedies, dramas, horror flicks, fantasy films, historical epics, action adventures, crime pics and avant-garde experimental movies. So as to accurately recommend our favorites to you, we just watched a dozen of his 15 films. Some we loved (see lists below) and a few we hated (THE ORDER, THE BROTHERS GRIMM, LORDS OF DOGTOWN), but we believe he was fascinating in all of them, bringing charm, passion, menace, courage and/or singing chops to each, as was required by the script.
"Working with Heath was one of the purest joys of my life," declared Ang Lee, the Oscar-winning director of the 2005 Academy Award-winning best picture, BROKEBACK MOUNTAIN, which earned Ledger a Best Actor Oscar nomination. "He brought to the role of Ennis more than any of us could have imagined—a thirst for life, for love and for truth, and a vulnerability that made everyone who knew him love him. His performance was a miracle of acting, reminiscent of the young Marlon Brando."
Fellow brilliant Australian thespian (and five-time Oscar nom) Cate Blanchett said, "I deeply respected Heath's work and always admired his continuing development as an artist." And two-time Oscar-nominated actor and writer Dennis Hopper affirmed, "He was a great talent."
Ledger won 13 major awards and 28 other nominations for nine of his movies—including a Golden Globe, a BAFTA, two Independent Spirit Awards, a pair of Screen Actors Guild statuettes and a passel of Aussie honors.
Heathcliffe Andrew Ledger was born on April 4, 1979 in Perth, Australia, to racing car driver/mining engineer Kim Ledger and French teacher Sally Ramshaw. Growing up with his mother, a sister and two step-sisters, "I learned respect for women, and patience," he once recalled. "When you grow up with all those women around you, you learn to wait your turn."
A painfully shy boy, "Heathy," at age 10, starred as Peter Pan in a play at his all-boys grammar school. At 13, he performed in the Aussie TV series CLOWNING AROUND.
Playing on the Kalamunda Field Hockey team, which his father headed, Heath was touted as one of the area's up-and-coming young athletes and was selected for the state Under-17 team.
At 16, with only 69 cents in his pocket, Heath dropped out of school and went cross-country to Sydney, looking for acting work. At 17, he was cast as a gay cyclist in the short-lived TV series SWEAT, about a group of Olympic hopefuls. The series' creator/writer John Rapsey said that young Ledger handled the role with great aplomb. "He was concentrated, very quiet, and you could see that he was really observant of other people."
In 1997, 18-year-old Heath played in all 13 episodes of the Fox fantasy drama ROAR, opposite fellow unknowns Vera Farmiga (five awards and three other noms for THE DEPARTED and DOWN TO THE BONE) and Lisa Zane (BIKER MICE FROM MARS).
He got his first movie role in the 1997 teen angst drama BLACKROCK, about a boy who struggles after learning his best pal is a rapist. Heath then played Oberon in a play within the movie PAWS, starring then-hot Aussie guitar prodigy Nathan Cavalieri. Next was a brief guest role, as a love-struck surfer, in Australia's popular soap opera HOME AND AWAY, one of Down Under's most popular TV series ever.

FAVORITE LEDGER FILMS

SHARON'S

1. CASANOVA (2005)
2. BROKEBACK MOUNTAIN (2005)
3. NED KELLY (2003)
4. TWO HANDS (1999)
5. MONSTER'S BALL (2001)

ALAN'S

1. MONSTER'S BALL
2. CASANOVA
3. TWO HANDS
4. NED KELLY
5. 10 THINGS I HATE ABOUT YOU (1999)
After unsuccessfully seeking acting work in Los Angeles, 19-year-old Heath was picked by Australian director Gregor Jordan for the lead in the terrific, in-your-face crime thriller/comedy TWO HANDS, which won 15 Australian, Swedish and Portuguese awards, plus 12 other nominations—including three top Aussie acting noms for Ledger, two statuettes for Jordan and two more for top Oz star Bryan Brown (BREAKER MORANT, F/X, THE THORN BIRDS, REVENGE OF THE MIDDLE-AGED WOMAN).

Kevin Courrier, of the Toronto Globe and Mail, wrote, "It's easy to see why TWO HANDS was such a smash hit in Australia. The black-comedy gangster movie is so hot to trot that it uses every kind of genre cliché to sell its own brand of chic nihilism, all the while spiking the story with a romanticism that guarantees box-office success."
We saw TWO HANDS in Sydney, back in 1999, and we were blown away by it—particularly by the work of outstanding unknown teen actor Heath Ledger, for whom we both predicted eventual stardom. Re-viewing it recently was just as much fun as our first viewing of it.
(Alan): TWO HANDS is and was a funny, exciting, off-beat Australian gangster flick with Heath very engaging as a Sydney teen who runs an errand for a local mobster (well played by Bryan Brown) and has the thug's $10,000 stolen from him—forcing him to lie low. To pay it back he participates in a hysterically screwed-up bank robbery. Even at its most grim, this film has surprising bursts of humor and character incongruity. It is a treat.
(Sharon): A strange yet entertaining movie, TWO HANDS manages to be hilarious although violent Bryan Brown's menacing mobster and Heath Ledger's hapless wannabe criminal balance perfectly. Heath played him with such focus and naturalism that we left the movie asking, "Who IS this kid?"
Heath's success in TWO HANDS landed him the teen-hunk lead in the clever high school romantic comedy 10 THINGS I HATE ABOUT YOU, which won two awards and 10 other nominations, including MTV Awards noms to Heath for Best Musical Performance (for hilariously singing "Can't Take My Eyes Off of You" to Julia Stiles) and to Ledger and Stiles for Sexiest Love Scene.

(Alan): Although on the surface this is just another teen romance/hijinx comedy, Ledger and fellow unknown David Krumholtz (now the terrific star of CBS's enjoyable crime drama NUMB3RS) steal the pic with their yeasty performances. The script by Karen McCullah Lutz and Kristin Smith (LEGALLY BLONDE, ELLA ENCHANTED, SHE'S THE MAN) is extremely clever and surprising. I found this loose update of THE TAMING OF THE SHREW lots of fun, in a genre I usually think is stupid and derivative…and therefore avoid.
(Sharon): Made for a teen audience, this film is cleverer than it had to be, thanks to the screenwriters' familiarity with Shakespeare. The stars are charming and believable in their teen angst, especially Ledger, Stiles and Krumholtz.
Anti-Semitic actor Mel Gibson (whose films we now proudly boycott) auditioned 500 young actors for the role of his son in the overblown historical drama THE PATRIOT. Heath got the gig and was excellent in the role, winning the Blockbuster Entertainment Favorite Male Newcomer Award for it.
Ledger was now on the map, and celebrated by dating gorgeous star and sex symbol Heather Graham (BOOGIE NIGHTS, BOWFINGER, BOBBY) for seven months. He was chosen as one of People Magazine's 50 Most Beautiful People" of 2001.
For playing the lead in the 2001 historical romantic adventure comedy A KNIGHT'S TALE, Heath earned $3 million—30 times what he received two years earlier for 10 THINGS I HATE ABOUT YOU. He and co-star Shannyn Sossamon were nominated for the MTV Best Kiss and Best Musical Sequence honors, as well as the Teen Choice Best Chemistry Award. Heath later cracked to a journalist, "It's a little uncomfortable doing love scenes in armor, but, you know, when the heat's on, the heat's on."

After being typecast in clean-cut charmer roles in lightweight movies, Heath decided to try and land meatier, darker parts in smarter, more interesting films. He had a short but powerful role in MONSTER'S BALL, which garnered 10 major awards and 18 other noms, including one for the Best Screenplay Academy Award.

(Alan): MONSTER'S BALL is an outstanding film which I thoroughly enjoyed in 2001 and again this week. Halle Berry really earned her Best Actress Oscar here. Billy Bob Thornton was terrific in the lead, Heath was solid as the son of racists who has a conscience, Peter Boyle was creepy as the bigoted father and both Mos Def and Shaun Combs did excellent work. The writing is outstanding here—smart, subtle, insightful and surprising. I was particularly pleased with the ending, which went against expectations.

(Sharon): I waited years to see this movie, fearing a violent, depressing story. I shouldn't have waited. MONSTER'S BALL, is intense and at times harrowing, but it is ultimately uplifting. Both Berry and Thornton bare their souls, and, in a smaller role, so does Ledger. A must-see
In 2001, Ledger won the ShoWest Award for the Male Star of Tomorrow, based on his performance in THE PATRIOT and the worldwide release of A KNIGHT'S TALE. A year later he was paid $2 million for the overblown British historical epic THE FOUR FEATHERS, which cost $80 million and only grossed $18 million in the U.S. It was panned by 59% North American critics. Heath was heroic in it, but it was a long, drawn-out mess.
We both liked Heath a lot in another heroic historical flop, Gregor Jordan's NED KELLY (2003). It was a hit in Australia, however, where it was nominated for 16 top national Awards, including two for Heath. For the next two years, he reportedly dated his talented Australian co-star, Naomi Watts (MULHOLLAND DRIVE, LE DIVORCE, EASTERN PROMISES and Oscar nom for 21 GRAMS).

(Alan): Australians love the true story of outlaw-revolutionary Kelly and have made a half-dozen films about it (one starring Mick Jagger!). It is a very dramatic, emotionally involving tale, with interesting characters. This production is solid and watchable Once again, Ledger is strong.

(Sharon): Ned Kelly's almost mythical life and death are dramatized convincingly in this film. See the extras on the DVD to explain Kelly's life and legend. Ledger's focused intensity creates the agonizingly conflicted life of the outlaw who became a folk hero.
The 2005 Venice Film Festival screened three Ledger movies from that year: BROKEBACK MOUNTAIN, THE BROTHERS GRIMM and CASANOVA; in that same annum our busy boy also made the teen skateboarding flick LORDS OF DOGTOWN.
Heath earned eight major awards and 15 other noms (including as Oscar, for which he was, at 26, the youngest actor ever nominated) for playing the laconic gay cowboy in BROKEBACK MOUNTAIN. Stephen Holden wrote in The New York Times, "It is a great performance, as good as the best of Marlon Brando and Sean Penn."
Ledger later commented, "I have kind of semi-frantic, nervous energy, so my challenge was to capture the stillness of him."
Heath began dating his co-star Michelle Williams (who was nominated for an Oscar and 10 other awards for BROKEBACK—winning two—and who earned two other noms for THE STATION AGENT). Their daughter, Matilda was two years old when Heath died.
(Sharon): Ledger and co-star Jake Gyllenhall make convincing cowboys whose loneliness leads to love in BROKEBACK MOUNTAIN. Their longing for each other across the years and miles yields a beautifully sad love story.
(Alan): Although everyone else on the planet loved it, I found this movie slow, depressing and very limited, although it featured pretty scenery. Heath was fine as the repressed, monosyllabic Ennis.
Ledger was adorable in the historical romantic comedy CASANOVA, about which my (Alan's) friend and co-favorite editor ever, Ray Bennet, exclaimed in The Hollywood Reporter, "At last, a stylish and sexy comedy for grown-ups."

(Alan): This charming, funny, very colorful period comedy, set in 18th Century Venice, has delightful sets (although some may be computer-generated). It is deliciously directed by the great Lasse Hallstrom, helmer of such wonderful, multiple award-winning movies as CHOCOLAT, THE SHIPPING NEWS, THE CIDER HOUSE RULES, MY LIFE AS A DOG and ONCE AROUND. Heath is excellent, and the fine cast includes Lena Olin (Oscar nom for ENEMIES, A LOVE STORY), Sienna Miller (LAYER CAKE), Jeremy Irons (Oscar for REVERSAL OF FORTUNE) and a very amusing little guy named Omid Djalili (NOTTING HILL). This one is fun from beginning to end. It does not deal very much with Casanova's conquests, but centers on his falling in love with an early feminist named Francesca.
(Sharon): This movie is a delight! I avoided it the first time around, thinking it just another costumes-and-sex picture—but it is much better than that. The script, by Jeffrey Hatcher (STAGE BEAUTY), Michael Cristofer (THE WITCHES OF EASTWICK) and first-timer Kimberly Simi is witty, serpentine, and surprisingly insightful. Ledger's performance is, as always, intensely focused—this time on being sexy, charming, engaging and responsive.
Ledger earned three more Australian acting award nominations for his 2006 drug addiction drama CANDY and won a 2008 Independent Spirit Award for playing one of six sides of Bob Dylan in I'M NOT THERE.
Before his death on January 22, 2008, from an accidental overdose of OxyContin, Valium, Xanax, Restoril and Unisom, Ledger had played the Joker in the upcoming Batman flick THE DARK KNIGHT and was working on Terry Gilliam's THE IMAGINARIUM OF DOCTOR PARNASSUS, which remains unfinished.
In November 2007, Heath told New York Times writer Sarah Lyall that his recently-completed roles in THE DARK KNIGHT and I'M NOT THERE had impaired his ability to sleep: "Last week I probably slept an average of two hours a night; I couldn't stop thinking. My body was exhausted, and my mind was still going." He told Lyall that he had taken two Ambien pills after only one had not put him to sleep, and that those left him in "a stupor," only to wake an hour later with his mind still racing.
The loss of such a great young talent is tragic. Fortunately, Heath Ledger will live on via several very enjoyable movies.
© Alan Waldman and Sharon Waldman (February 15, 2008)
****************
| | |
| --- | --- |
| About Alan and Sharon Waldman | The Waldmans fell in love when they were 15 and attended high schools at the opposite ends of Houston, Texas. They used to meet at speech and debate tournaments around town and kiss behind the building. After marrying various other citizens, they re-met in 1993 and moved in together on the day of the great L.A. earthquake (1/17/94). Currently married and semi-retired amid fruit trees, deer, rabbits and gophers just outside Corvallis, Oregon (in a community so small that the manager of the next-door Texaco station is a bear), they enjoy theatre, travel, teasing their weird cat Winky, puns, sexual innuendo and each other. A writer and personal historian, Sharon has interviewed Ron Howard, Jack Lemmon and Shirley MacLaine, while Alan has interviewed Matt Damon, the late Secretary of Commerce Ron Brown, Superbowl-winning coach Tony Dungy and his own Aunt Beadie "Eat Some More" Lewis. |