NATASHA RICHARDSON
A Tribute by
Alan & Sharon Waldman
SPECIAL FOR
FILMS FOR TWO©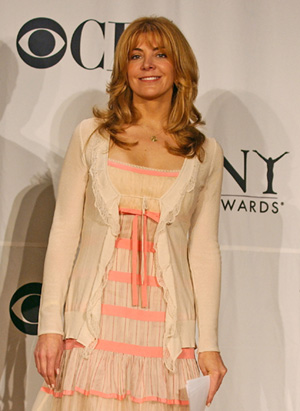 May 16, 2006 (NYC):
Natasha Richardson announces the 60th Annual Tony Awards Nominations.
Photo Credit: Nicolas Khayat/ABACAUSA/NewsCom
Highly talented and versatile British actress Natasha Richardson's 25-year career was suddenly curtailed by a freak skiing accident in Montreal, which led to her death in New York on March 18, 2009. During her life, she performed in 23 movies and 10 TV movies, series and miniseries, playing a wide range of characters and utilizing an impressive range of accents.
Alan interviewed her in 1997 on the set of THE PARENT TRAP and found her to be charming, very communicative, intelligent and completely down-to-earth. Her tragic death was a terrible shock to us and to the many millions who enjoyed her fine work on stage, screen and TV.
Natasha had acting talent in her genes. Her great grandfather, Roy Redgrave, was an English stage and silent film actor who appeared in 10 movies between 1911 and 1920. His son, Sir Michael Redgrave, performed in 72 screen works from 1936 to 1975, winning a 1948 Oscar nom for MOURNING BECOMES ELECTRA and major French and Finnish awards for THE BROWNING VERSION. Natasha's grandmother (Sir Michael's wife), Rachel Kempson, appeared in 57 movies and TV projects from 1938 to 1997, the most popular of which were OUT OF AFRICA, TOM JONES, GRAND PRIX and GEORGY GIRL.
The latter film's star, Natasha's aunt Lynn Redgrave has been nominated for 22 major world awards, including Oscars for GEORGY GIRL and GODS AND MONSTERS, winning six for those two excellent films. The most popular of Lynn's 94 movies and TV works (1963-2009) were SHINE and KINSEY. Her daughter Jemma Redgrave has performed in 37 large- and small-screen works (1988-2009), the most popular of which were HOWARD'S END and THE ACID HOUSE; she also starred in all 25 episodes of the British TV series BRAMWELL.
The most famous Redgrave of all, of course, is Natasha's mother Vanessa, who won an Oscar for JULIA and has taken 25 other big awards, plus 33 more noms. Vanessa Regrave, one of the top British actresses of our era, was also Oscar-nominated for HOWARD'S END, THE BOSTONIANS, ISADORA, MORGAN and MARY, QUEEN OF SCOTS. Among the most popular of her 111 films and TV movies (1956-2010) were MISSION: IMPOSSIBLE, BLOWUP and ATONEMENT.
When Natasha was two years old, her father, director Tony Richardson, won Best Director and Best Picture Oscars for TOM JONES. Over his 39-year career (1955-1994) his films A TASTE OF HONEY and LOOK BACK IN ANGER were nominated for five BAFTAs, winning two. His works also include Alan's third-favorite movie of all time: 1962's THE LONELINESS OF THE LONG DISTANCE RUNNER. Natasha remembers sitting on her father's knee at age three, as he chanted to her: "movies, movies, movies."
Finally, her younger sister Joely has appeared in 41 works, including 90 episodes of the current popular TV series NIP/TUCK, which won her two Golden Globe noms. Joely's most popular works are THE PATRIOT, EVENT HORIZON and 101 DALMATIANS.
When I interviewed Natasha in 1997, she told me that she wanted her two young sons (now age 12 and 13) to avoid show business and enjoy normal childhoods.
Natasha has earned many top stage honors for her performances un plays, including THE SEAGULL (with her mother), ANNA CHRISTIE and the 1998 Broadway revival of CABARET (Best Actress Tony, Outer Critics Circle, Drama League and Drama Desk awards). In films, she earned the London Evening Standard's 1990 Best Actress award for her work in THE COMPANY OF STRANGERS and THE HANDMAID'S TALE. She also won major acting awards for her work in WIDOW'S PEAK and ASYLUM.
She once commented, "Acting was my dream, and it's kind of unthinkable to do anything else."
To help us advise you on the most enjoyable of Richardson's 33 films and TV works, we recently watched 17 of them. These are the ones we liked best.
OUR FAVORITE NATASHA RICHARDSON MOVIES
SHARON'S

ALAN'S

1. HAVEN (2001 TV)
2. THE WHITE COUNTESS (2005)
3. WIDOW'S PEAK (1994)
4. NELL (1994)
5. EVENING (2007)
6. THE PARENT TRAP (1998)
7. PATTY HEARST (1988)
1. THE WHITE COUNTESS
2. WIDOW'S PEAK
3. BLOW DRY (2001)
4. HAVEN
5. EVENING
6. THE PARENT TRAP
7. NELL
| | |
| --- | --- |
| | (Alan): THE WHITE COUNTESS is an outstanding film, beautifully helmed by one of the world's great directors, James Ivory, and very well scripted by Kazuo Ishiguro (whose novel was the basis of Ivory's 1993 masterpiece REMAINS OF THE DAY, which earned eight Oscar noms, including Best Picture, Best Director, Best Screenplay [Ruth Prawer Jabvala], and best actors Emma Thompson and Anthony Hopkins). Set and shot in Shanghai, China, COUNTESS stars Ralph Fiennes as a blind American former diplomat who dreams of creating a special bar, with Richardson (an exiled Russian Countess-turned taxi dancer) as its centerpiece. She is truly wonderful in this role, well supported by her mother Vanessa Redgrave (playing her aunt) and her aunt Lynn Redgrave. The film is visually stunning and consistently dramatic and engaging. |
(Sharon): THE WHITE COUNTESS is a strange film about a strange time in history: the 1930s after the Russian revolution had forced aristocrats into exile. The Countess and her family are living in poverty in Shanghai until they can move to Hong Kong. Natasha/the Countess is bravely but unhappily working in a bar to support the family and her daughter. The family is scornful of her, and they plot to steal the daughter from her. In the midst of chaos, Fiennes' blind diplomat, secretly in love with Natasha's vulnerable yet strong Countess, battles to help her retrieve her daughter in a stirring finale.

| | |
| --- | --- |
| (Alan): WIDOW'S PEAK is a very clever, funny, charming comedy-mystery where Natasha shines brightly, supported by a fun cast including Dame Joan Plowright, Mia Farrow, Jim Broadbent, Adrian Dunbar and a raft of delightful Irish character actors. In it, Natasha is a newcomer to a small Irish community where widows run everything. She soon earns the enmity of Farrow, who harbors a dark secret, and the two begin scheming to make each other miserable. The Irish locations are great, as are the 1926 costumes, sets, cars and more. The film is brilliantly and puckishly written by Hugh Leonard (who wrote the wonderful play and film DA and who died recently in Ireland) and nicely directed by John Irvin (TURTLE DIARY, THE DOGS OF WAR). At the 1994 Karlovy Vary Film Festival (in Czechoslovakia), this film won Natasha Richardson a Best Actress award, as well as nabbing a Crystal Globe nomination for Irvin. | |
(Sharon): This film is cream and sugar for your tea. It is so clever, such delightful fun that the less said the better. Natasha shows her light comic touch as a vampish, sexy widow, as manipulative in her charming way as Plowright is in her insensitive one. Enjoy the surprises!

| | |
| --- | --- |
| | (Alan): Natasha does a very convincing Yorkshire accent in the very entertaining film BLOW DRY, wonderfully written by Simon Beaufoy (who won this year's Oscar for SLUMDOG MILLIONAIRE) and nicely directed by Ireland's Paddy Breathnach (who won six major awards in four countries for his 1997 crime comedy I WENT DOWN). This is the humorous tale of a cut-throat hairdressing competition, pitting a team of Natasha, Alan Rickman, Rachel Griffiths and Josh Hartnett against the dirty, cheating (but highly amusing) team of Bill Nighy, Hugh Bonneville and Rachel Leigh Cook. All the leads are good, as is the hilarious Warren Clarke as the Lord Mayor-turned-Elvis impersonator. The hair creations are mind-boggling, and the lively script keeps jumping, although there are some good serious and dramatic moments studded amongst the laughs. I saw this a few years ago and liked it a lot, and it held up very nicely. |
(Sharon): Natasha plays an entirely different kind of character here: a woman who has let down two people she loves and has been shut out by them for 15 years. Now, at a crucial point in her life, she asks them for help. How she convinces them, how they react, and how it affects her relationship with her girlfriend are the crux of the story, which plays out against the hairdressing contest and its crazy, conniving characters. Moving, funny and entertaining.

| | |
| --- | --- |
| (Alan): HAVEN is an uplifting true story in which Richardson plays a Brooklyn Jewish woman who brings 982 Jewish refugees from Europe to the U.S. and then learns that the anti-Semitic U.S. State Department plans to keep them locked up in an Upstate New York military base until the end of World War II and then return them to the European countries that drove them away. Anne Bancroft and Martin Landau are very good as her parents, and there are also excellent performances from Colm Feore, Henry Czerny and Tamara Gorski as refugees. The film is well made, but it is very "on the nose"; many characters are either two-dimensional anti-Semitic monsters or two-dimensional good-hearted townsfolk. Richardson, the heart of the film, really shines. This three-hour historical drama was originally a CBS miniseries. It was nominated for three Emmys (including one for Bancroft) and seven Canadian Gemini awards (winning for its cinematography), and it also won the highly esteemed Humanitas Prize. | |
(Sharon): This film attempts to tell a true but little-known story of how one person can make a difference in spite of bureaucracy and callous indifference. In her most fully-developed performance, Natasha gives life to the character of Ruth Gruber, as Ruth develops from an idealistic, naïve young woman into a mature, savvy activist for human rights. Facing brutal lack of interest from the army and covert double-dealing from the U.S. government, Natasha/Ruth manages to save almost a thousand Jewish refugees from certain death in Nazi-dominated Europe. Beautiful performances by Natasha and by Anne Bancroft.

| | |
| --- | --- |
| | (Alan): Richardson is very good in EVENING, a very well-made melodrama which features a stunning cast, including Vanessa Redgrave (as Natasha's dying mother), Meryl Streep (playing the older version of her daughter, Mamie Gummer), Glenn Close, Toni Collette, Claire Danes, Hugh Dancy and Patrick Wilson. Great Hungarian cinematographer Lajos Koltai (seven major awards and seven other noms for films including MALENA, BEING JULIA, SUNSHINE and THE LEGEND OF 1900) does his first English-language directing job here, and he is on top of his game. This is a visually beautiful film, and all these fine actors work wonderfully together—particularly Streep and Redgrave. Redgrave's Ann Lord, on her deathbed, recalls pivotal moments in her life, such as when she (as Danes) sang at the 1950s wedding of her best friend (Gummer) and romanced the man (Wilson) whom that friend and her doomed brother (Dancy) both loved. Collette and Richardson effectively create Redgrave's daughters. |
(Sharon): Natasha plays the quietly suffering daughter as opposed to Toni Collette's flamboyantly anguished daughter of their dying mother. This is a somewhat thankless role, except for Natasha's moving speech to her mother, saying goodbye.

| | |
| --- | --- |
| (Alan): In 1997, The Hollywood Reporter assigned me to spend a delightful day on the set of the charming family comedy, THE PARENT TRAP. There I interviewed sweet, calm 11-year-old Lindsay Lohan (who played twin sisters with different accents), director Nancy Meyers, Lohan's on-set teacher and stars Natasha Richardson and my fellow Houstonian Dennis Quaid (who told me that in high school he used to party at my house with my sister and other friends, when my parents were out of town). This is a very enjoyable film—warm, clever and nicely directed and co-scripted by Meyers (Oscar nominated for writing PRIVATE BENJAMIN), but in its attempts to delight the pre-teen crowd, it contains far too much puerile slapstick for my sophisticated adult taste. Lohan really is wonderful in the two lead roles, and Quaid and Richardson are adorable as the divorced parents, whom their separated-at-birth twin daughters strive to re-unite. Lohan was nominated for four major honors, winning the Young Artist Award for Best Leading Young Actress in a Feature Film. THE PARENT TRAP was a box office hit, grossing more than $66 million in the U.S. | |
(Sharon): Another complete change of look and character for Natasha: in this one she plays a sophisticated, stylish London clothing designer. (Lohan is great, but can't beat Hayley Mills in the original.)

(Alan): NELL was a good drama with a tour-de-force lead role that won Jodie Foster an Oscar nomination and three other major awards. The film deals with a woman raised in isolation with her mother, a stroke victim, so Nell learned to speak in distorted English that sounds like another language. I found some of the first part of the film tedious and annoying, as caring physician Liam Neeson and psychologist Natasha Richardson spent too much time struggling to decipher what Nell was saying. Once Nell has contact with the outside world, however, the film gets much more interesting, with several dramatic turns and a few very touching moments. The film earned a Best Picture Golden Globe nomination.

(Sharon): A strangely beautiful film enacting contrasting views about what should be done with a "wild child" raised deep in the forest after her mother dies. Liam and Natasha's characters argue about what is best for Nell, until Nell herself, in her childlike wisdom, brings them together. It is impossible to view this film without becoming conscious of the fact that Natasha and Liam were falling in love during the making of it.

(Sharon): The film PATTY HEARST tells the tragic true story of the kidnapping and brutalizing of heiress Patty Hearst by a group of sixties radicals bent on overthrowing the U.S. government and redistributing its wealth. Natasha's realistic portrayal of the previously sheltered young woman makes the events more chillingly realistic. She is kept blindfolded in a closet for weeks, as her abductors lie to her and rape her. She tries desperately to hang onto her identity at first but gradually loses her grip on the reality she has known and begins to accept the one they have built for her—and themselves, because they are deluding themselves, too. When the radicals die in a barrage of gunfire, Patty realizes that the police who killed them didn't care whether or not she was with them. Despite the fact that she survived, her life will never be the same.
(Alan): I thought Richardson was excellent in this true political drama, but I thought the film (and the historical events on which it was based) were creepy and downbeat. Sweet-natured hippies like me and most of my friends were unfairly tarred with negativity due to violent, psychotic crap from twisted crackpots like the Manson Family and this Symbionese Liberation Army. Feh!
Odd note: It has been reported that Richardson got so immersed in her role as the blindfolded heiress confined in a closet that she wore the blindfold between scenes.
Note from Sharon: Two of her films that I do NOT recommend are: THE COMFORT OF STRANGERS, which is gratuitously violent, hateful, and disgusting, and THE HANDMAID'S TALE, with its repeated rapes and degradation of women. (Yes, I know it's science fiction, but it's still repulsive.)
Dame Judi Dench, who has so far been nominated for six Oscars (winning for SHAKESPEARE IN LOVE) and 87 other major honors (winning 31) and who starred with 24-year-old Richardson in a TV production of Ibsen's GHOSTS, declared that Natasha was "a really great actress" who had "an incredibly luminous quality that you seldom see…and a great sense of humor."
Movie mogul Harvey Weinstein (winner of the 1998 Best Picture Oscar for SHAKESPEARE IN LOVE), who worked on BLOW DRY with Richardson, commented, "For all her talent and beauty, she was egoless."
Filmmaker Ken Russell (Oscar nominated for WOMEN IN LOVE) said that Natasha "was one of the few modern actresses who was as smart as she was pretty, and as gentle as she was fierce."
And actress Jodie Foster, who earned one of her four Oscar noms working with Richardson on NELL, said, "Natasha was brilliant, beautiful, funny, talented beyond measure and as emotionally raw as she was razor-sharp."
After just watching half of her movies, both of us are keenly aware of how gifted she was and how deeply she will be missed.
© Alan Waldman and Sharon Waldman (April 16, 2009)
About Alan and Sharon Waldman

Writers, editors and smart-alecs Alan and Sharon Waldman have been married for 33 years (15 of them to each other). Alan has won various awards (including "Oldest Oregon Jew to Have Never Owned Real Estate") and has published more than 2000 articles, in publications from Azerbaijan to New York, from Amsterdam to New Zealand. He has never been sued for more than $7 million, and that was by a man with a severely limited sense of humor.

Sharon was an actress who performed Shakespeare in prisons and in the streets of Minneapolis, a school teacher, and assistant to the executive in charge of the Law & Order shows. She is now a community college teacher and a personal historian who interviews older people and creates books of their life stories. She has had success teaching adults, children and pets, but her goal of teaching her husband civilized behavior has not yet been achieved.