Best of the 2008
Israel Film Festival

Special for
FILMS FOR TWO®

By Alan Waldman
I recently watched 10 screeners of films showing at the New York and Miami portions of the 23rd Israel Film Festival, and I liked five of them very much. The festival is running in NYC from October 29 through November 13 at the Clearview Cinema (62nd and Broadway) and, on opening night, at the Ziegfield Theatre. It continues in Miami from December 9-18. The lineup includes 11 feature films, 12 documentaries, two TV dramas and six student shorts.
The first two films on my list below are truly outstanding, and I recommend them to you very enthusiastically. The next three are very good and well worth your time and money. But I just hated the pointless circumcision documentary THE QUEST FOR THE MISSING PIECE, and I had mixed-to-negative feelings about OUT OF THE BLUE, DANCING ALFONSO, CHILDREN OF THE SUN and THE DEBT — and therefore do not recommend them to you. (Because the screener that IFF's New York P.R. firm sent me of FATHER'S FOOTSTEPS was in French with Hebrew subtitles, I couldn't watch it.)
If you can, try to see the Fabulous Five below.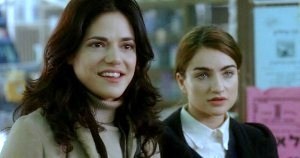 1) THE SECRETS is a very beautiful, touching, dramatic and surprising film about two women in a Safed seminary who seek to help a former convicted murderess seeking a way to repent her sins and making her peace with God. This gem has a very strong cast, a wonderful script from first-timer Hadar Galron, a fascinating location and strong direction from Avi Nesher (awards for writing and directing TIMEBOMB and ZA'AM V'TEHILAH and a nomination for DOPPELGANGER).
It stars two remarkable young Israeli actresses, Ania Bukstein (2004 Israeli Film Academy best supporting actress nom for SHOSHELET SCHWARTZ) and Michal Shtamler, along with the great French screen star Fanny Ardant (Truffaut's THE WOMAN NEXT DOOR and six major awards for films including 8 WOMEN and RIDICULE).
This very intelligent script is complex enough to keep you on your toes, and several times it turns in interesting but unexpected directions. It is very emotionally satisfying and benefits from exceptional character development.
THE SECRETS was nominated for eight 2007 Israeli Film Academy awards: Best Actress (Ania Bukstein); Best Supporting Actor (Adir Miller, very enjoyable as the shy pharmacist/klezmer clarinetist); Best Supporting Actress (Michal Shtamler); and best music, art direction, costumes, editing and sound.
THE SECRETS dramatizes the complexities of a religious lifestyle set against the desires and needs of contemporary young women. Naomi delays marriage to her ultra-orthodox rabbi father's prodigy to study at a Jewish women's seminary in the ancient Kabalistic city of Safed. Things change dramatically when she befriends Michelle, a free-spirited, headstrong fellow student. Their unlikely alliance is challenged by a terminally ill older woman, shunned by the community for her past crime of passion. Together, they attempt to purge her sins through a series of secret rituals.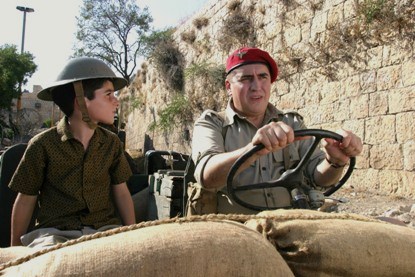 2) THE LITTLE TRAITOR A fine, nicely crafted, exciting and yet very sweet drama about an Israeli 11-year-old who befriends a British soldier (Alfred Molina in another wonderful performance) during the 1947 occupation. It is based on Panther in the Basement, by world-renowned Israeli novelist Amos Oz.

The boy (Ido Port) is accused of passing secrets to the soldier by the neighborhood council (headed by legendary American actor/singer Theodore Bikel). This is a touching, surprising, highly enjoyable movie, and the cast, script and direction are very strong. The ending is extremely touching. I wept and you may too.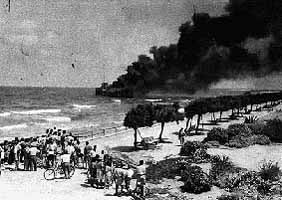 3) ALTALENA is a very gripping, fast-moving, dramatized version of the 1948 tragedy of the ship "Altalena" in which 960 new immigrants, most of them Holocausts survivors, were caught in the middle of a Jew-versus-Jew military conflict that few could believe possible. The film deals with the uncompromising struggle between two very stubborn leaders—Israel Prime Minister David Ben Gurion and underground Irgun forces chief Menachem Begin—over the distribution of weapons, the disbanding of the paramilitary organizations and the character of opposition in a democratic state. Had it not been for this foolish rivalry, the tragic end of the episode could probably have been avoided. Sixteen people on the ship and three IDF soldiers were unnecessarily killed.
The primary characters (portraying actual historical figures) are nicely created by the actors. And those many of us who were unfamiliar with this tragic historical event should find it fascinating, as I did. Because this is a true story, it grabs you early and holds you all the way through.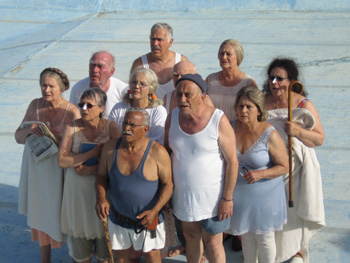 4) THE GALILEE ESKIMOS is a sweet, moving, sometimes humorous film with nice character development and an adorable elderly cast. It was well written, produced and directed by Jonathan Paz (THE VALLEY TRAIN, ZAYA).
An old Kibbutz isolated in the Hills of Galilee is immersed in deep debt and has been threatened with lawsuits from bankers and creditors, to the point of bankruptcy. On the evening prior to the arrival of the bailiffs, the men, women and children of the settlement abandon their homes, taking with them all their possessions. The sun rises over an abandoned and nearly desolate kibbutz, where 12 senior citizens/kibbutz founders awake in its old-people's home to discover they have been deserted and left to fend for themselves.
The group initially sinks into deep depression, but soon the daffy dozen begin to organize an effective communal unit, start to rebuild the kibbutz and plan to defend it against those whom the greedy new owner has sent to destroy it and turn it into a luxury resort and casino.
The film is filled with interesting incidents, and all dozen elderly performers (and their Chinese cleaner) are terrific, creating very distinctive and enjoyable characters. Although the set-up sounds somewhat trite, this movie is full of compelling surprises.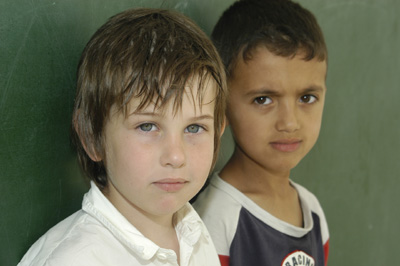 5) BRIDGE OVER THE WADI is an excellent, highly revealing doc about a unique school for Arab and Jewish students that in 2004 sought to teach them each other's language and an understanding of each other's culture. Friendships and tolerance develop, despite the prejudices of parents and teachers. This is a charming, very touching and sometimes infuriating look at adults and children in a challenging educational experiment.
The film follows the school's first year and portrays, through the personal stories of several of it 50 young students, how complicated and fragile is the attempt to create an environment of co-existence against the backdrop of distrust surrounding the school.
BRIDGE OVER THE WADI was screened as part of the 2007 Silverdocs Film Festival, a competition founded by the American Film Institute and The Discovery Channel.
It was directed by brothers Tomer and Barak Heymann. Tomer has won eight major international awards in five countries for the films PAPER DOLLS, AVIV and TOMER VE-HASRUTIM—which he wrote, directed and/or produced. Barak wrote and directed the IFF 2008 doc DANCING ALFONSO, about an elderly man who enjoys flamenco. I liked it most of the way through, but I was startled and annoyed by its abrupt ending.
Over the past 23 years, the Israel Film Festival has shown more than 800 feature films, documentaries, television dramas and short films to roughly 900,000 film enthusiasts. What makes this annual event so unique is that is plays in Los Angeles, New York and Miami—a rarity on the film festival circuit. Since debuting in 1981 with just half a dozen movies, the festival has become one of the nation's leading foreign film festivals and the largest showcase for Israeli movies in the United States, as well as being a launching pad for several notable U.S. premieres. The festival was founded by and has been directed by former Israeli rock drummer Meir "Poogy" Fenigstein.


© Alan Waldman (October 24, 2008)
To read Jan's thoughts on THE SECRETS, DANCING ALFONSO and other recent Israeli films please click here.
| | |
| --- | --- |
| | Award-winning journalist (and former Hollywood Reporter editor and later California Unemployment commission poster child) ALAN WALDMAN has covered the last three Israel Film Festivals for Films 42, and he has also written tributes to Sydney Pollack, Arthur Miller, Peter O'Toole, Shelley Winters, Herb Gardner, Marlon Brando, Anne Bancroft, Gregory Peck, Alan Bates and 17 other prominent show people, as well as penning four fine film reviews. |