TRIBUTE TO
SYDNEY POLLACK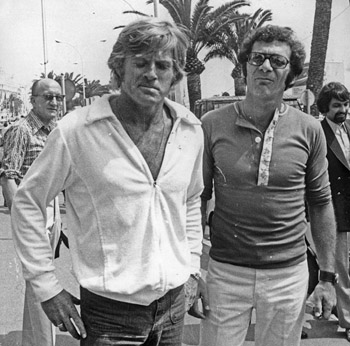 Actor ROBERT REDFORD and SYDNEY POLLACK
at The Film Festival in Cannes to present the film,
'Jeremiah Johnson'.

Special Thoughts for
FILMS FOR TWO
Sharon and Alan Waldman
Talented director/producer/actor Sydney Pollack is responsible for many very successful movies that won him a pair of Oscars, 18 other major awards and 26 more nominations. He directed the seven fine films boxed below (our favorites) as well as THE FIRM (1993), THE SWIMMER (1968), THE YAKUZA (1974) , THIS PROPERTY IS CONDEMNED (1966), BOBBY DEERFIELD (1977), HAVANA (1990), CASTLE KEEP (1969), THE ELECTRIC HORSEMAN (1979), seven other movies and 11 TV projects.
The 42 features Pollack produced include 2007's MICHAEL CLAYTON, 2003's COLD MOUNTAIN, 2001's IRIS, 2000's UP AT THE VILLA, THE QUIET AMERICAN (2002), THE TALENTED MR. RIPLEY (1999), SLIDING DOORS (1998), KING RALPH (1991), FLESH AND BONE (1993), SENSE AND SENSIBILITY (1995), DEAD AGAIN (1991), WHITE PALACE (1990), THE FABULOUS BAKER BOYS, BRIGHT LIGHTS BIG CITY, HONEYSUCKLE ROSE (1980) and the 1995 Harrison Ford remake of SABRINA.
An "actors' director," Pollack worked very well with big stars such as Robert Redford, Al Pacino, Dustin Hoffman, Meryl Streep, Harrison Ford, Jessica Lange, Bill Murray, Sean Penn, Nicole Kidman, Tom Cruise, Barbra Streisand, Jane Fonda, Burt Lancaster, Natalie Wood and Robert Mitchum. The proof? Pollack's work produced 12 Oscar-winning performances. And it is interesting to note that Redford enjoyed working with Pollack so much that he appeared in seven of Sydney's movies (33% of the director's total output).
Sydney Pollack began his career unimpressively as a thespian, mostly on TV, but an off-stage discussion with Dustin Hoffman during the 1982 shooting of TOOTSIE resulted in Sydney hilariously taking the role of a spoiled, temperamental actor's exasperated agent. After that he began doing more and better acting work, in such notable films as 1999's EYES WIDE SHUT, MICHAEL CLAYTON, THE INTERPRETER, AVENUE MONTAIGNE (2006), CHANGING LANES (2002), THE PLAYER (1992), A CIVIL ACTION (1998) and Woody Allen's HUSBANDS AND WIVES (1992).
A few years ago Pollack admitted, "I have more success as an actor now, when I don't give a damn about it."
Pollack's many honors include the Best Picture and Best Director Academy Awards for OUT OF AFRICA and Oscar noms for Best Picture for MICHAEL CLAYTON, Best Director and Picture for TOOTSIE and Best Director for THEY SHOOT HORSES, DON'T THEY? In total, Pollack's films have earned 48 Academy Award nominations, winning 11 of the shiny statuettes.
Tom Cruise (who starred in Pollack's popular thriller THE FIRM) called Sydney "a Renaissance man," and George Clooney (who won an Oscar nom, two major awards and 11 other nominations for his performance in the prescient Pollack-produced picture MICHAEL CLAYTON) declared, "Sydney was a class act who made the world a little better, movies a little better and even dinner a little better."
Film scholar Jeanine Basinger explained, "Sydney Pollack made some of the most influential and best-remembered films of the past three decades. He kept in step with the times. He had a very sharp political sensibility and a keen sense of what the issues of his world were, and he advanced and changed as the times did."
Cinematographer Owen Roizman (TOOTSIE, THE FRENCH CONNECTION) stated, "Sydney's films have a lyrical quality like great music, and the timing is impeccable."
To help us select and recommend to you our six favorite Pollack-helmed motion pictures, we recently watched 10 of them (in addition to considering seven we recall from their first release). Here are our faves.
FAVORITE FILMS DIRECTED BY
SYDNEY POLLACK

SHARON'S
1. OUT OF AFRICA (1985)
2. TOOTSIE (1982)
3. THREE DAYS OF THE CONDOR (1975)
4. ABSENCE OF MALICE (1981)
5. THE INTERPRETER (2005)
6. THE WAY WE WERE (1973)

ALAN'S
1. OUT OF AFRICA
2. TOOTSIE
3. THE INTERPRETER
4. THREE DAYS OF THE CONDOR
5. THEY SHOOT HORSES, DON'T THEY? (1969)
6. ABSENCE OF MALICE



(Alan): OUT OF AFRICA, which I consider Pollack's masterpiece, deserved its seven Oscars and probably should have picked up another pair for stars Meryl Streep and Robert Redford. It features beautiful cinematography, a moving and richly detailed story and compelling characters, both European and African. It has a strong Kurt Luedke screenplay, which is based on the Kenya experiences of Danish author Karen Blixen (writing as Isak Dinesen) in the early 20th century, as well as on the Blixen biography by Judith Thurman. Nominated for 11 Oscars—and winner of five other major awards—the film is just as strong and moving today as it was in 1985.

(Sharon): OUT OF AFRICA echoes the great depth and humanity of Dinesen/Blixen's writing in depicting her life story. We see her as a courageous woman who chooses to make the most out of arduous and heartbreaking situations. The love story between by Meryl Streep and Robert Redford, played out against the dangerous but gorgeous continent of Africa, is one of the most romantic in cinema history.

| | |
| --- | --- |
| (Alan): TOOTSIE is an excellent comedy featuring a great Dustin Hoffman performance as an unemployable actor who dresses as a woman to land a soap opera role. It has a very funny script by Larry Gelbart (BLAME IT ON RIO, TV's M*A*S*H*) and Murray Schisgal (LUV, THE TIGER MAKES OUT), plus strong performances by Charles Durning, Jessica Lange, Bill Murray, Teri Garr and Pollack himself. This movie could easily have been merely a one-joke comedy, but Pollack and his writers found lots of amusing ways to broaden it and keep the merriment going. It deals effectively with feminist issues; it provides a fresh, witty examination of sex roles; and it has held up quite well over the intervening 26 years. TOOTSIE received 11 Oscar noms, including Best Picture and Best Director nods for Sydney (and a win for Lange). It took home three other major awards and five more nominations. | |
(Sharon): TOOTSIE is still hilarious, with wonderful performances by Hoffman, Garr, Lange, Pollack and Dabney Coleman. The issues that the film deals with are still relevant today: How far away from your real self should you go to accomplish a goal? When you reach that goal as someone other than yourself, what do you do? And when men treat women dismissively and disrespectfully, should women (a) take it, (b) protest loudly or (c) punch them out?



(Alan): THREE DAYS OF THE CONDOR is a smart, compelling mystery-thriller which was astonishingly prescient, since it dealt with a conspiracy by a small, ultra-conservative cadre within our government to invade the Middle East and steal oil—something that actually happened early in the George W. Bush Administration. Robert Redford is outstanding in the film, and there are strong supporting performances from Cliff Robertson and Max Von Sydow. In 1975, this was a stunning film, but it is still pretty good today. It earned Pollack the esteemed David di Donatello Best Direction Award at the Venice Film Festival.

(Sharon): I was on the edge of my seat when I first saw THREE DAYS OF THE CONDOR. The thought of Robert Redford getting killed was too much to bear! The film's exciting twists and turns were startling and unexpected, making for a thrilling roller-coaster ride. Of course, at that time the events seemed like fiction. Too bad they weren't!

(Alan): THE INTERPRETER is a pretty good thriller, starring engaging Nicole Kidman and somnolent Sean Penn. Kidman's UN interpreter overhears a discussion of an upcoming assassination plot against the dictator of her native African country, and she persuades a dubious Penn to investigate. It is well-paced, complex, nicely shot (as the first movie ever done inside the United Nations building in New York City) and full of menace.

(Sharon): THE INTERPRETER is an absorbing political mystery, beautifully shot at the U.N. Its one flaw is the lack of development of a relationship between Kidman's and Penn's characters. Both are damaged people, but Kidman makes interesting choices to show it, while Penn doesn't. His character is so depressed from his wife's recent death that he doesn't get involved with Kidman. We want to see stories in which the characters learn something, change and grow. In this script, neither of them does.




(Alan): Paul Newman is very good in ABSENCE OF MALICE, a well-made drama that exposes the weaknesses of some journalists who print attack stories without doing sufficient fact-checking. Newman plays a mobster's son who is falsely accused of murder by over-eager newspaper writer Sally Field and her editor Josef Sommer—based on questionable information from sleazy Fed investigator Bob Balaban. Drama comes when Newman cleverly gets revenge on those who caused him harm. This film got Oscar noms for Newman, supporting actress Melinda Dillon and screenwriter Kurt Luedke. It got Pollack nominated for three awards at the Berlin Film Festival, and he won two.

(Sharon): ABSENCE OF MALICE, although well-structured and performed, has a flaw. Sally Field's character, whom we want to root for, feels entitled to publish material that can damage people's lives and then doesn't take responsibility for it when she does great harm. She is such a reprehensible character that we don't want Newman to get involved with her! (Quite a switch from the flaw in THE INTERPRETER.) The rest of the film works well.

(Alan): I thought THE WAY WE WERE it was dull, trite and melodramatic and that Barbra Streisand's performance—which is the key to everything—was weak, while her character was two-dimensional, pathetic and annoying. Nonetheless, it garnered six Oscar noms, winning two for Marvin Hamlisch for score and song.

(Sharon): I'm afraid that THE WAY WE WERE was too much love story for Alan. I agree that Streisand's character should have grown and changed more, but I can't fault her performance, which was perfectly believable. The story is about two people who seem wrong for each other, who fall in love during dramatic circumstances (World War II), try to make a go of it and ultimately discover that they are indeed too different. It's about how sweet and sad memories can be.




(Alan): THEY SHOOT HORSES, DON'T THEY? is a strong but very dark film that was powerful in 1969 and which still works pretty well today. It is unremittingly grim, and the ending is not quite believable, but it features sharp performances from Michael Sarazin, Jane Fonda, Red Buttons, Susannah York and Oscar-winner Gig Young. It deals with a grueling 50-day dance marathon held during Depression year 1932, and it earned nine Oscar noms, including a directing one for Sydney.

(Sharon): THEY SHOOT HORSES, DON'T THEY? is well done. The setting, a 1932 Los Angeles boardwalk ballroom, is grimly fascinating; the cinematography is dramatic; and the performances are painfully real, especially Gig Young's sleazy announcer. Pollock creates a whole sad, believable world of desperation. But the film is cynical and pessimistic and grueling to watch. There isn't a single character you care about. Granted, in 1969, many people were questioning the value of everything, but a script depicting unrelenting scorn and contempt makes for a dreary movie.
Sydney Pollack was born on July 1, 1934, in Lafayette, Indiana, to Russian-Jewish immigrants. His mother, Rebecca Miller, was a homemaker and alcoholic who died at 36, when Sydney was 16. His father, David Pollack, was a professional boxer who became a pharmacist. They divorced when Sydney was young.
Despite earlier plans to attend college and then medical school, Sydney moved to New York City at age 17, after he graduated from high school. He drove a lumber truck until he saved up enough money to attend acting school. From 1952-1954, he studied acting with Sanford Meisner at the Neighborhood Playhouse School. After two years in the army, Sydney returned to the Playhouse, where he worked for Meisner as an acting teacher. In 1958, Pollack married his former student Claire Griswold. They had three children, one of whom died in a 1993 airplane crash.
In 1960, Pollack's friend John Frankenheimer asked him to come to Los Angeles to work as a dialogue coach for the child actors on Frankenheimer's first big picture THE YOUNG SAVAGES. On that pic, Sydney became friends with star Burt Lancaster, who encouraged him to try directing.
Pollack, who began his acting career on stage, made his name as a television director in the early 1960s (on series including Ben Casey, The Fugitive, The Alfred Hitchcock Hour and The Defenders). His big-screen acting debut was in the Korean War drama WAR HUNT (1962), where he met and formed a lifelong friendship with fellow thesp Robert Redford. Their first collaboration was on THIS PROPERTY IS CONDEMNED, which co-starred a radiant Natalie Wood. Pollack's film directing debut was on the 1965 suicide drama THE SLENDER THREAD, starring Sidney Poitier and Anne Bancroft.
In 2000, The Directors Guild honored Pollack with its John Huston Award as a "defender of artists' rights." Sydney Pollack died from cancer on May 26, 2008, at his home in Pacific Palisades CA. He was a major talent who directed, produced and/or performed in many outstanding, thoughtful movies.
FIVE SYDNEY POLLACK QUOTES:
"Although it has a story, you usually make a film about an idea. The idea in TOOTSIE is that a man becomes a better man for having been a woman. How do you dramatize that idea? First you have to show that he's kind of a bad man. So we see him hitting on three different women with the same lying dialogue. Then he begins to see the woman's point of view when his best friend, Jessica Lange, gets mistreated by Dabney Coleman in the same way he used to treat women. Knowing what the idea that you're dramatizing is helps you structure it with some sort of aesthetic shape that illustrates the idea. Life doesn't always do that."
"Film is the 20th century's real art form. Look at the influence it has, look at the economics it commands, look at the preoccupation with it in all cultures of the world, look at its power to spread ideas, look at it as a political tool and look at it as entertainment. It would be hard to find something (other than the Internet) that's changed and affected the world as strongly. Film is the one art form that combines all the others, including writing, painting, photography, dance and architecture."
"I have never made a movie in Hollywood, because I don't want to get up in my own bed, go to the movie set and then come home at night to my real life. I can't handle that dichotomy. I prefer to go where the only thing I'm there for is the movie, leaving my regular life behind."
"It's hard to make a film that's releasable, that's not embarrassing."
"My favorite part of directing is editing, because you're alone. You don't have to manage a 200-person crew. I always have a result in my head, but I have to go through people in so many different disciplines that it creates a high-anxiety effect, because you never know what you're going to get. In directing, you're mining a lot of clay. Then in editing you sit at a keyboard, with all this great clay…and you sculpt."
© Alan Waldman and Sharon Waldman (July 6, 2008)
****************
About Alan and Sharon Waldman
Sharon Waldman has interviewed and written about Shirley MacLaine, Jack Lemmon, Ron Howard (for The Hollywood Reporter) and Los Angeles gang members. Alan Waldman has interviewed and written about Jane Seymour (in a cover story for TV Guide), George Carlin, Tom Landry, Ted Turner, Matt Damon, James Coburn, Paul Rodriguez, Jan Huttner, Richard Miller, Steve Martin, Steven Bochco, Steve Allen, Steve Harvey, Steve Zaillian and female impersonator Steve "Shirley" Stevens. Together, for Films 42, Sharon and Alan have written Tributes to Heath Ledger, Paul Scofield, Robert Shaw and Roy Scheider.

The Waldmans live in joyous leafy splendor near Corvallis, Oregon, amid cherry trees, rabbits, rhododendrons, deer, blackberry bushes and process servers.