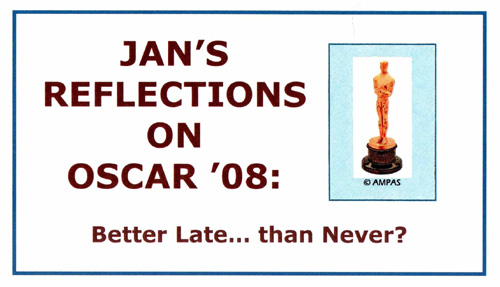 Click on the link below
to go directly to:
Click here for a complete list of '08 Oscar candidates & winners.
Click here for a complete list of '08 Spirit Award candidates & winners.
Click here for an '08 update of Jan's award-winning Oscar Impact Chart.


Dear FF2 Readers:
My mother died suddenly and quite unexpectedly on November 27, 2007, so you'll forgive me if my mind was occupied with weighty matters during the February '08 Oscar race. Now, as I prepare to write about Oscar '09, it occurs to me that I need to drop back and say some things about Oscar '08 before moving on.
Those of you who have looked at our 2007 Twozies, already know that most of the films that Rich and I selected as Best Films of '07 did not appear on Oscar's list for '08. Specifically both of us agreed that the best film of last year was Julie Taymor's wonderful film ACROSS THE UNIVERSE. Therefore, I was extremely upset that ACROSS THE UNIVERSE was not nominated for Best Picture and that Julie Taymor was not nominated in the Best Director category. Sadly, it's not the first time she's been overlooked, but hopefully it's the last….
Anyway, take a look at our 2007 Twozies if you want to see which movies we thought were the best films of last year. For the rest of these reflections, I'm only going to talk about the actual '08 candidates. I'll tell you what I think about these films, and insofar as I'm comfortable doing so, I will also give you Rich's opinion as well (although obviously he would have some specific things to add if he were speaking for himself).
First of all, in the category of Best Picture of the Year, the candidates were ATONEMENT, JUNO, MICHAEL CLAYTON, NO COUNTRY FOR OLD MEN, and THERE WILL BE BLOOD. We both thought that ATONEMENT & JUNO were bad movies and that MICHAEL CLAYTON was a good potboiler, but no more.

We both consider THERE WILL BE BLOOD a "squeaker." While I appreciated some of its technical qualities, particularly the production design, I thought, on the whole, that it was a truly horrible film. After seeing it the first time, I read OIL! (the book by Upton Sinclair that it's supposedly based on), and all I can say is that I sincerely believe Upton Sinclair would be rolling in his grave if he knew about this "adaptation," but that would take a whole article in itself and I don't have time to do that right now. (FYI, Rich has not read OIL!, so he can't comment on the success or lack thereof qua "adaptation." He just knows he liked the film more than I did, but still not all that much.)
So of the five films that were actually nominated last year, Rich and I agree that NO COUNTRY was the best, as well as a very fine film simpliciter. So when it won the Oscar for Best Picture, given what its competition was, we were both quite pleased.
A lot of people told me they don't get NO COUNTRY and don't really understand what it's about. Many women also told me they were put off by the incredible amount of very ugly violence in NO COUNTRY.
I see this film as an update of the GODFATHER series. I see the Tommy Lee Jones character in NO COUNTRY as the lead character—someone seriously grappling with the issue of violence in the drug culture. I think the main question being asked in NO COUNTRY is this: given that there's always been crime and violence, has the level of violence become in some ways qualitatively different in a drug culture—when small little packages of cocaine, heroin, et cetera, have such huge, huge monetary street value?
So I see the Tommy Lee Jones' character suffering the same way that the Marlon Brando character, Don Corleone, suffers in GODFATHER I. When we live in a world in which drugs are so difficult to control, have we unleashed a level of violence in some way unparalleled in human history? I think NO COUNTRY attempts to grapple with this question, and that's what makes it such a great film.
So again, with respect to "Best Picture," we do not agree that NO COUNTRY was the best film of '07, but we both think that it was a very, very good film, easily the best of the five choices AMPAS offered.
In the Best Director category, there's typically a very close fit every year between the candidates for Best Picture and for Best Director. Last year, the only mismatch was ATONEMENT versus THE DIVING BELL & THE BUTTERFLY. Julian Schnabel was nominated for Best Director for DIVING BELL, knocking Joe Wright, the director of ATONEMENT, off the list. Otherwise, all the nominations matched, and in the end, Joel and Ethan Coen, co-directors of NO COUNTRY, received Oscars for "Best Director." The other candidates were the director of JUNO (Jason Reitman), the director of MICHAEL CLAYTON (Tony Gilroy), and the director of THERE WILL BE BLOOD (Paul Thomas Anderson).
BEST SCREENPLAY: ORIGINAL

Diablo Cody receives Oscar for
Best Original Screenplay for JUNO
Photo Credit: UPI Photo/Jim Ruymen/NewsCom


Moving onto the screenwriting categories, I was thrilled that three of the five candidates in the category of Best Original Screenplay were women. Furthermore, two of the candidates wrote films that I really, really loved—LARS AND THE REAL GIRL (screenplay by Nancy Oliver, who had been one of the Emmy-winning screenwriters of the TV series SIX FEET UNDER) and THE SAVAGES (written & directed by Tamara Jenkins). Unfortunately, the winner was Diablo Cody for JUNO…

We both hated JUNO. Richard didn't like it at all, and I actively loathed and despised it. I can't help thinking that when she originally wrote her screenplay, Diablo Cody had something much more "edgy" in mind, but somehow, through the Hollywood process, her film became a total fraud. Look up "Diablo Cody" (not her real name) on Wikipedia, and I think you'll agree that she's probably "a good Midwestern Catholic girl" who's done some honest wrestling with her feelings about her religion and the tradition in which she was raised.

So far, so good. But by the time of its release, JUNO had become a very "Pro Life" film masquerading as one that pretends to deal openly with the issue of "choice." That's total BS. This film's "Juno" never has a real "choice." The scene at the abortion clinic absolutely enraged me. The young girl who's supposed to be the receptionist—I defy you to find such a person ever serving in such a capacity. Outrageous!!!

I also direct your attention to Juno's family background. Juno's stepmother "Brenda" is played by actress Allison Janney, someone clearly in her 40s, but her step-sister "Liberty Bell" is a toddler. So it's easy to infer that Brenda had to go through considerable effort, maybe even fertility treatments, to give birth to Liberty Bell. Growing up in this home, where a baby was so sought after, would have made an impression on Juno; therefore, the idea of having an abortion would be very different for her than for a girl from a more "typical" nuclear family. I would be fine if the filmmakers had dealt honestly with any of this, but they didn't, so I'm pissed.
Finally (and here Rich completely agrees with me), the dialogue was completely fake. There was never a moment that I believed anything any of these people said. So watching Diablo Cody receive an Academy Award (and also an Independent Spirit Award) for the JUNO screenplay really made me sick at heart.
And now, with the advantage of hindsight, was I surprised when Sarah Palin announced a few months later that her teenage daughter Bristol was pregnant, and all the conservative commentators lined up en masse behind Sarah and Bristol??? I think the connection is clear, but so it goes….
For the record, the other two candidates were Tony Gilroy for MICHAEL CLAYTON (which I've already described as a very good Hollywood potboiler), and Brad Bird for RATATOUILLE. Rich and I both loved RATATOUILLE. It's on our Twozies List for '07. We thought it was a fabulous movie, and so we were both very pleased to see it recognized.
BEST SCREENPLAY: ADAPTED
Moving on to the Best Adapted Screenplay category, the winner was NO COUNTRY. I read the book. The Coen Brothers did an excellent job turning something that was very "novelistic" into something extremely "cinematic." Bravo!
The other candidates in this category were ATONEMENT, AWAY FROM HER, THE DIVING BELL AND THE BUTTERFLY, and THERE WILL BE BLOOD. I read OIL! and ATONEMENT. I think the ATONEMENT adaptation was bad. I think the THERE WILL BE BLOOD adaptation was an absolute travesty. I didn't read THE DIVING BELL AND THE BUTTERFLY, so I can 't say anything about it in this context.
That leaves AWAY FROM HER, Sarah Polley's adaption of Alice Munro's poignant story about "Fiona," a woman with Alzheimer's disease (played by Julie Christie). After I saw the film, I read the story and then I watched the film again. What jumped out at me immediately was the fact that Sarah Polley had created a number of very well-drawn female characters in supporting roles. I couldn't help thinking that if a man had turned this same story into a screenplay, then the film would've been much more about Fiona's husband "Grant" (played so splendidly by Gordon Pinsent). My guess is a male screenwriter would have devoted significant screen time to Grant's numerous marital betrayals.
Polley alludes to all that, of course, because the plot requires it, but she's more interested in Grant's current reality than the women in his past. So she creates three terrific supporting roles for the characters he meets after Fiona is admitted to a long-term care facility: the administrator (Wendy Crewson), the head nurse (Kristen Thomson), and the wife of one of the other patients (Olympia Dukakis).
BEST ACTOR/BEST ACTRESS
This brings us to the Best Actor and Best Actress categories. Julie Christie was nominated for a Best Actress award for AWAY FROM HER, even though her role was actually just as much of a supporting part as the three others I've just mentioned. Grant is definitely the main character; all the action is told from his POV. So it was a real shame that Gordon Pinsent was NOT nominated in the Best Actor category. Me? I would've been very, very happy to see both Julie Christie and Olympia Dukakis nominated in the Supporting Actress category.

Year after year, Best Actor is probably the single most competitive Oscar category, with abundant choices and heartbreaking omissions. The candidates in '08 were Viggo Mortensen in EASTERN PROMISES, Tommy Lee Jones in IN THE VALLEY OF ELAH, George Clooney in MICHAEL CLAYTON, Johnny Depp in SWEENY TODD, and Daniel Day-Lewis in THERE WILL BE BLOOD.
The only performance on this list that I didn't like was the one that won. The Oscar went to Daniel Day-Lewis—a total travesty. Even though Rich liked this film more than I did, he agrees that DDL was way over the top as "Daniel Plainview" (a name, incidentally, that is nowhere to be found in OIL!), so it was really painful to see him rewarded for it.
If I ruled the world, the Oscar would've gone to Johnny Depp. I thought he was amazing in SWEENY TODD. Even coming into the theatre loving Johnny Depp as much as I do, I was still unprepared for the depth of his characterization. Even now, listening to the SWEENY TODD soundtrack, I get chills just from the power in his voice. I think it's a real shame that Johnny Depp went home empty-handed last year.
Moving over to the Best Actress category, the five candidates were Cate Blanchett in ELIZABETH: THE GOLDEN AGE, Julie Christie in AWAY FROM HER, Marion Cotillard in LA VIE EN ROSE, Laura Linney in THE SAVAGES, and Ellen Page in JUNO. The Oscar went to Marion Cotillard playing French icon Edith Piaf. Even though I didn't think LA VIE EN ROSE was a coherent, well-told film (What? The woman only lives 48 years, and there's not a single scene from the WWII era?!?!?), I don't disagree that Marion Cotillard did a fabulous job (especially given such a shallow screenplay).

Rich and I both thought Laura Linney was absolutely terrific in THE SAVAGES. She's a fabulous actress; we've loved her in just about everything she's ever done, and this was one of the best roles of her career to date. So, nu: why no Oscar? Frankly, I think Fox Searchlight's marketing campaign undermined her chances. To be fair, marketing a prestige Indie is tough work, especially when the main character is a woman, so the decision to describe THE SAVAGES as a story "about a brother and sister" may well have helped its box office stats.
But it's false advertising: THE SAVAGES is NOT a story "about a brother and sister." It's the story of a woman ("Wendy Savage") at a crisis point in her life. Wendy's career is a disaster, her relationship with a married man is pathetic, and she's estranged from her only known relatives (her brother "Jon" and her father "Lenny"). Wendy's alone in the first scene, and she's alone in the last scene, but Jon has almost no scenes of his own. Even his fraught conversations with girlfriend "Kasia" are told from Wendy's POV. Nevertheless, Fox Searchlight campaigned for a Best Actor nomination for Philip Seymour Hoffman (for Jon), hoping, I think, that they would thereby improve Philip Bosco's chances as Best Supporting Actor (for Lenny).
All this "Inside Baseball" serves to make a broader point: year after year, the male categories are always very competitive, while the female categories go begging. Year after year, well-known actresses who are NOT playing lead roles get nominated anyway—not just Julie Christie in AWAY FROM HER this year, but the most egregious recent case when Reese Witherspoon won an Oscar in '06 for essentially playing second fiddle in the Johnny Cash story WALK THE LINE.
As for THE SAVAGES, well, neither Philip got nominated, and Linney was nominated, but she lost. Still, even I have to admit there were two reasons to cheer about Cotillard's win: she definitely played the lead character in her film, and it was sheer pleasure to watch the rare female BioPic that was NOT about Elizabeth Regina! OK, three cheers: she beat out Ellen Page's way-too-cutesy turn as Juno!!!
BEST FOREIGN LANGUAGE FILM
The five candidates for Best Foreign Language Film were: BEAUFORT (from Israel), THE COUNTERFEITERS (from Austria), KATYN (from Poland), MONGOL (from Kazakhstan), and TWELVE (from Russia). Although we had not seen either KATYN or MONGOL when the Oscars were handed out, we've seen them since, so of these five films the only one we haven't seen at this point is TWELVE (from Russia).
The Oscar went to THE COUNTERFEITERS. I met with the director and the lead actor of THE COUNTERFEITERS when they came through town for a Chicago Press Day, and believe me: two nicer guys you'll never meet. But the film itself? Good but not great.

KATYN (from Poland) tells a very important story about the destruction of the Polish officer corps by the Russians at the beginning of World War II, but from my point of view it's told badly and very polemically, so KATYN was a huge disappointment to me.

On the other hand, BEAUFORT ranks very high on our '08 TWOZIE LIST. So I have a bone to pick with my khaverim, many of whom actively campaigned for THE COUNTERFEITERS. Why did you support THE COUNTERFEITERS and thereby undermine BEAUFORT, the first Israeli film to make it to the top five in this category since 1985?!?
Rumor has it that Eli Wiesel and other important members of the Jewish community sponsored benefit screenings of THE COUNTERFEITERS. If so, that's a huge concern to me. In my experience, almost every Holocaust film that gets released receives support from the Jewish community, even films that actually have very anti-Israeli (and maybe even anti-Semitic) messages. (See my rant about Oscar wins for THE PIANIST for more on this.)
BEAUFORT isn't just the first Israeli film to make it to the top five in this category since 1985; it's also extremely well-made and highly relevant for our times. So I'm asking all my khaverim to examine their consciences on this issue: why support THE COUNTERFEITERS and ignore BEAUFORT?
BEST DOCUMENTARY FILM
The candidates in the Documentary category last year were NO END IN SIGHT, OPERATION HOMECOMING, SICKO, TAXI TO THE DARK SIDE, and WAR DANCE. Most of these films are about Iraq, and the winner was TAXI TO THE DARK SIDE. We think it was a good film, and we both think that SICKO was the most disappointing of Michael Moore's recent films. But there were so many more wonderful, wonderful docs that should've been on this list, and it's really a shame that they were overlooked. Now in 2009, we will probably have the opposite pattern: there were actually some excellent films about Iraq, for example, OPERATION FILMMAKER, but they probably won't get to the list because we're all Iraq-ed out now… and that's a shame in so many ways….
So these are my reflections on Oscar 2008, and now on with the show.
© Jan Lisa Huttner (1/15/09)