Newmarket Pictorial Moviebooks:
Gorgeous books which offer a complete shooting script embellished by plentiful full color photographs. Each book also contains essays by the filmmakers as well as fascinating historical and technical background information.

Newmarket Shooting Script Series:
Complete shooting script accompanied by interpretive essays, and relevant background features (selected reviews, authors notes, etc).
NEWMARKET
PICTORIAL MOVIEBOOK© SERIES

NOTE from FF2:
If you love any of the films listed below,
you owe it to yourself to purchase the companion book!

NEWMARKET
SHOOTING SCRIPT© SERIES

NOTE from FF2:
Listed below are recent titles which have been recognized by AMPAS in the either
the adapted or the original screenplay category.


Click here for the complete list of Shooting Script titles.
© Jan Lisa Huttner (12/12/03)
******************
Jan's chat with Newmarket Moviebook editor
Linda Sunshine
about her new COLD MOUNTAIN book!
Jan: Welcome back to FILMS FOR TWO, Linda. I can't believe it's been a full year since our first conversation about your FRIDA book! Now, please describe some of the challenges you faced in creating this new book about COLD MOUNTAIN.
Linda: COLD MOUNTAIN is a movie that takes so you so deep into a specific time and place that you get completely swept up. The details don't call attention to themselves, but everything is so effective that you are totally "there."
The source is Charles Frazier's novel which is set during the Civil War. It's about a confederate solider who decides that he's not going to fight for a cause that he doesn't believe in anymore – about his 200 mile journey back home and the people that he encounters along the way. So what I tried to do in our book was show for each character here's what the costume designer had to do and here's what the production designer had to do and on and on. I interviewed all the people director Anthony Minghella assembled -- a team of people who typically work together on all his movies.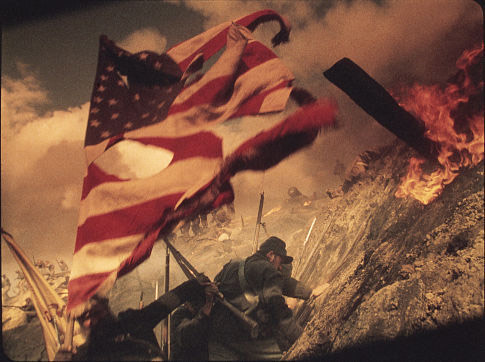 Photo by Phil Bray - © 2003 Miramax Films. All Rights Reserved.
Jan: So these are the same folks who created THE ENGLISH PATIENT and THE TALENTED MR. RIPLEY, the same crew?
Linda: Yes, except for multiple Oscar-winner Dante Ferretti, the production guy. I believe this was the first time he's worked for Minghella.
Jan: Why should people care about the techniques behind the illusions, Linda? How does knowing about technique enhance the movie-going experience?
Linda: Everyone who really loves movies is interested in the process. Personally, I'm fascinated by how and why certain decisions are made. For example, we include a whole section with Ferretti's original production designs. You can see the process of how he went about building the sets. The photographs are also amazing. Brigitte Lacombe, a photographer, is a friend of Anthony Minghella, and she was behind the scenes shooting black and white photographs. So we have a whole set of those.
I wrote a big discussion about how Minghella selected his cast. He said that the essence of the film was a triangle, so he couldn't pick one actor without knowing who the other two were going to be. When he made his decision, it was based on the three of them together (Kidman, Law & Zellweger). According to Minghella, if he had had to change any one of them, if one had had a conflict or just didn't want to do it, then the other two wouldn't have worked in connection to the whole thing.
Photo by Phil Bray
© 2003 Miramax Films.
All Rights Reserved.

Jan: Since I've become a film critic, I've made the conscious decision never to read a source book first. When I know that a novel is being made into a film, I deliberately wait. Most people who see the film are going to see it with "fresh eyes," so that's how I want to see it too, without bringing in any assumptions from having read the book. So I'm guessing here, but based on the previews, it looks like most of the screen time that Nicole Kidman shares with Jude Law is in flashback, whereas the realtime relationship she's having is the one with Renee Zellweger. Is that right?
Linda: I had a long conversation with Walter Murch (the film's editor) about this "time" problem. They actually did the movie sequentially first, and it didn't work. So then they went back to the idea of a flashback. It's very seamless when you watch it, but it's a very complicated issue, and Murch talks a lot about it in our book.
Murch is considered one of the best editors in the film business, and he's had a huge influence on Minghella. They've work together on all of Minghella's movies. I was really eager to talk to him. After all, this is the guy who edited THE GODFATHER movies!
The other thing I specifically want to tell you about is the soundtrack. The score was written Gabriel Yared who did the score for THE ENGLISH PATIENT, but Minghella also hired T-Bone Burnett, who created the Grammy-winning soundtrack for O BROTHER WHERE ART THOU? Minghella asked Burnett to create period music, and I think this film is going to do for mid 19th Century music what O BROTHER did for the 1930s.
When I met with Burnett, he told me in detail about all the research he did. For example, there's one character in the film who plays the fiddle, so Burnett had to create the right music for him from the 1860s. The origins of the music date back to English folk songs, but the influence goes all the way up to Bob Dylan's style of folk music of the 1960s. You can hear all this when you listen to the film's soundtrack. I even included the lyrics to some of these songs in our text.
The Civil War is a fascinating period in American history, and our book tries to identify the historical elements that were used in the movie -- the music, the costumes, all the different elements that go into making a movie, and how much research all these people did behind the scenes to bring a feeling of authenticity to the screen.
Jan: So "getting it right" was important to them?
Linda: It was crucial for everyone who worked on COLD MOUNTAIN –
to get it right! So it was like FRIDA for me. My hope, when I did the FRIDA book, was that after you watched Julie Taymor's film, you would want to know more about Frida Kahlo's work as an artist.
Jan: You bet, that's exactly what happened to me. I think your FRIDA book sets a very high standard for describing the creative challenges of the filmmaking process. But, let me challenge you now. Most of FRIDA takes place in Mexico City during the first part of the 20th Century. That's a world most Americans knew very little about before they saw Taymor's film. But the Civil War? That's been covered from GONE WITH THE WIND to GODS & GENERALS, not to mention the Ken Burns series on PBS, blah, blah, blah. What's in COLD MOUNTAIN that you think is new? What new vision do these filmmakers create that most people haven't seen before?
Linda: Nicole Kidman's character, Ada, has to figure out how to survive. When the film begins, she doesn't know how to do anything, she wasn't brought up to know anything practical about how to work the land. When Renee Zellweger comes into the movie, she shows Ada how to farm the land and how to take care of things. So all of that stuff had to be historically accurate: how to run a farm, how to till the land, how to use the tools, all that had to be totally accurate.
Jan: So we don't just see Scarlet O'Hara shaking her fist at the sky: "I'll never be hungry again!" We actually see the mechanics of farming?
Linda: All the mechanics.
Jan: So unlike most war films, which rarely concern themselves with trying to create a realistic portrait of "the home front," this one does?
Linda: Absolutely – focusing on what was happening during this particular period in this particular place in this particular time. Charlie Frazier is an historian. This was his first novel, and he brought all his historical knowledge to it.
A big part of the movie for me is the relationship between these two women -- Ada and Ruby. They're opposites. One can do all the mechanical stuff and she knows everything there is to know about farming, but she has no emotional life. The other one is all emotional life without any knowledge of how to work the land. So they both have to learn from each other. The relationship between these two female characters is as important as the male/female love story.

Photo by Phil Bray
© 2003 Miramax Films.
All Rights Reserved.
Jan: Well, when I see the trailers, I think: "Oh, goody; there's romance for the women and explosions for the men." That's the way it's being marketed… But from what you're saying, Linda, this is a movie that actually talks about the home front and gives importance to the home front in a way that most movies about war neglect.
Linda: Absolutely. Everyone who worked on COLD MOUNTAIN had respect for the home front.
Jan: One last question, Linda. Most of Newmarket's Pictorial Moviebooks contain a complete shooting script, but this one's all exposition. Where's the screenplay?
Linda: MIRAMAX Books will distribute the screenplay as a separate volume – we had too much to say and too many great pictures to show!
© Jan Lisa Huttner (12/20/03)
Click here to read Jan's previous chat with Linda about her role in
FRIDA: Bringing Frida Kahlo's Life & Art to Film.